A Complete One-Day Backpacking Guide To Chiang Mai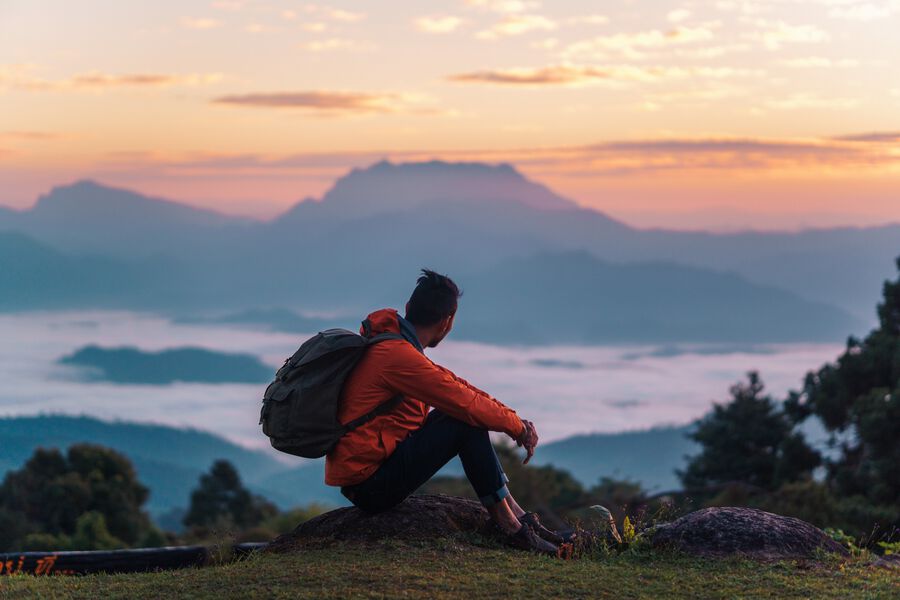 14 Best Things To Do In Chiang Mai According To A Thai
A Complete One-Day Backpacking Guide To Chiang Mai
The once prosperous capital of the 700 years old Lanna Kingdom in the northern part of Thailand, Chiang Mai is an ancient city with a perfect blend of the laid-back north, incredible mountains, and an array of historically rich architectures and activities waiting for you to explore.
With so many Chiang Mai travel guides out there, here is my take, as a Thai, on the best things to do in Chiang Mai for backpackers. Without further ado, let's begin with an overview of all the things you can do around Chiang Mai city center.
Are you in a Rush?
You can save this page to your Pinterest board for later. Feel free to follow BucketListly Blog's boards and get the latest pin directly from there as well.
 SAVE FOR LATER
Chiang Mai Itinerary Map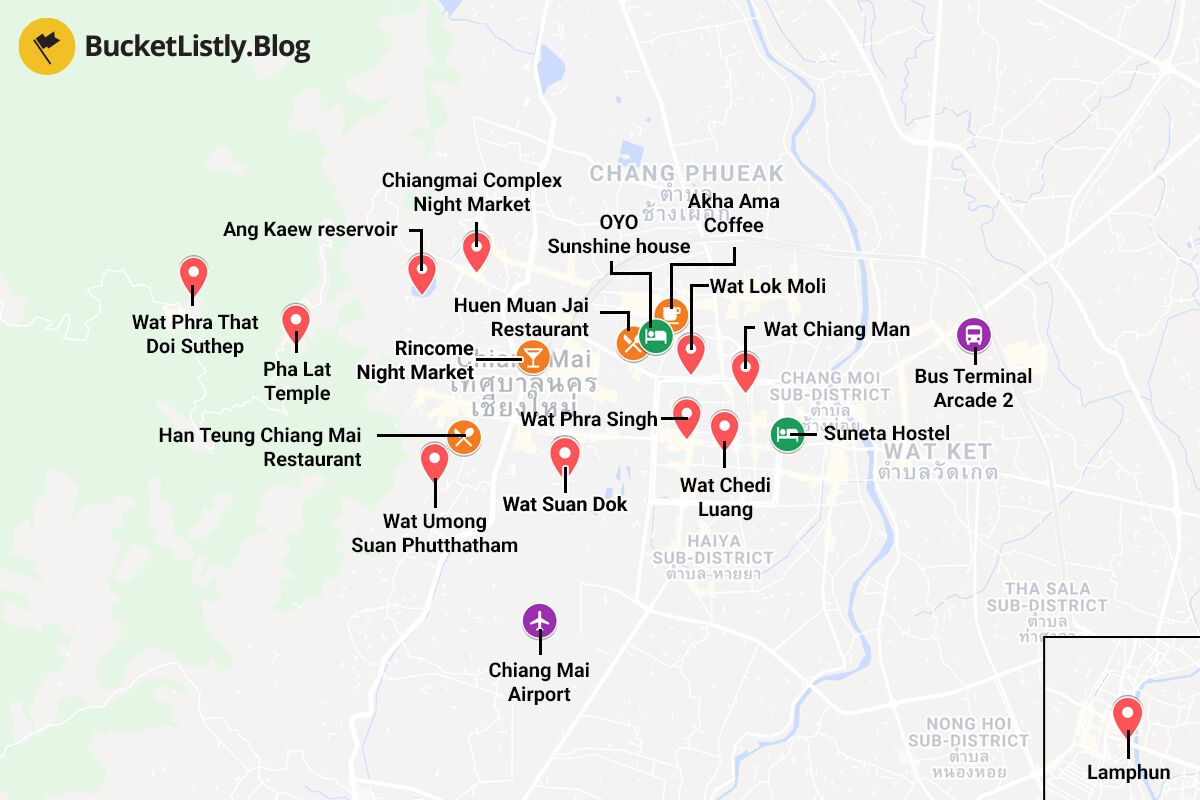 When To Visit Chiang Mai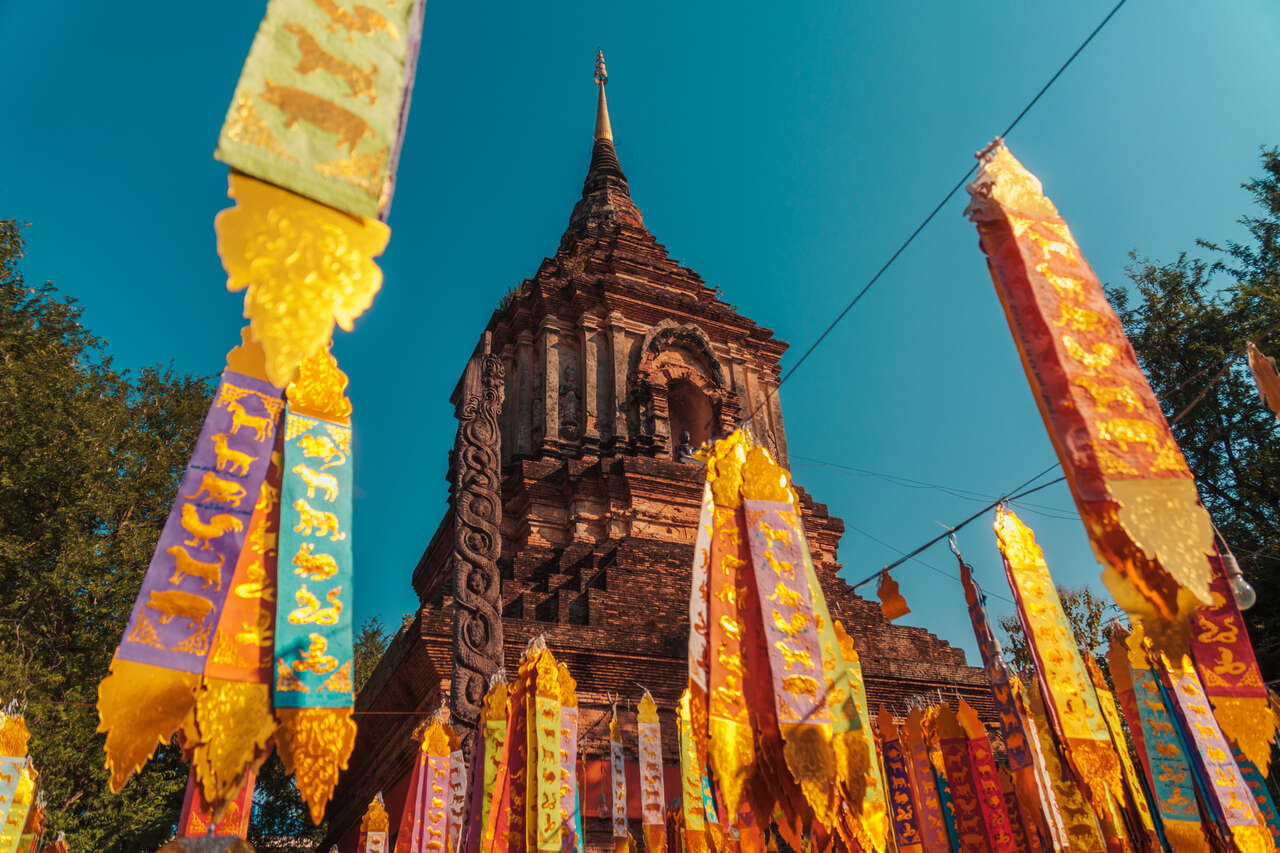 The best time to visit Chiang Mai is from November to January where the weather is cooler and less humid due to Thai's northern climate making it much more enjoyable to ride a motorbike around Chiang Mai.
That said, Thailand in recent years has suffered a lot from air pollution due to the burning season and it is extremely prevalent during Thailand's winter period (December – January) so even though the weather is cooler, your visibility might not be the best. Be sure to buy a face mask if you decided to visit Thailand during this time.
March – April is the hottest and humid period of the year so if you can't handle heat very well, avoid visiting during this time. The air quality may be a bit better during this time but it's not guaranteed.
All the other months are considered to be a rainy season which, even though the weather is a little more manageable than the summer months, you will also be seeing a lot more rain which might prevent you from enjoying the outdoors. Air quality during this time should be better due to rain.
As you can see, the best time to visit Thailand used to be during its wintertime BUT now that the air quality is getting worst and worst, you will have to decide which is more important to you as a traveler, good weather but bad air quality or vice versa.
Where To Stay In Chiang Mai
Budget – Suneta Hostel Chiang Mai – 9.6 USD/Night (Dorm)
Mid-Range – OYO Sunshine House – 17 USD/Night (Standard Double Room)
How To Get To Chiang Mai, Thailand
Getting To Bangkok, Thailand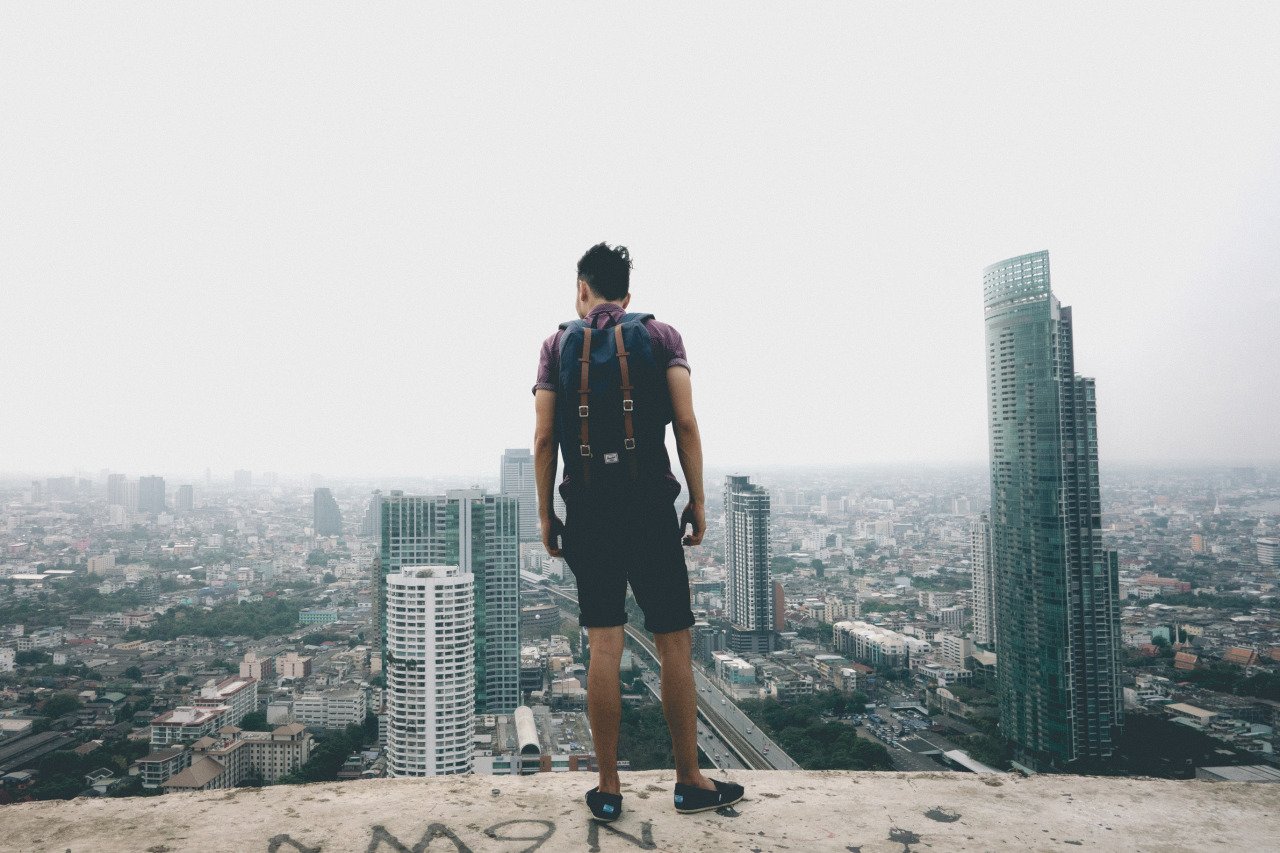 In order to get to Chiang Mai, first, you will have to get to Bangkok, the capital city of Thailand. Thankfully, Bangkok is a large hub in the region and so you should have no trouble finding a flight from your home country to Suvarnabhumi International Airport or Don Muang International Airport (budget airlines only), Thailand.
From the US, unfortunately, there are no direct flights to Chiang Mai or Bangkok so you will have to rely on transit flights by Emirates, Qatar, or Turkish Airlines from the East Coast or ANA Airlines or Korean Air from the West Coast.
From Europe, you can fly from most popular European hubs like London, Paris, or Frankfurt via Thai Airways or local carriers like British Airways, Air France, or Lufthansa to Bangkok and then you can fly domestically to Chiang Mai. You can also go with Etihad, Qatar, or Emirates if you don't mind transiting.
From within Asia, there are several low-cost airlines offering several routes from many hub cities like Singapore, Kuala Lumpur, Tokyo, Jakarta to Chiang Mai that transit through Bangkok. AirAsia and Thai Lion Air are great low-cost options and they also provide direct routes from places like China to Chiang Mai.
To find a cheap flight to Bangkok, I would recommend you use Skyscanner or Expedia to look for the cheapest route and schedule so you can compare and pick the best one.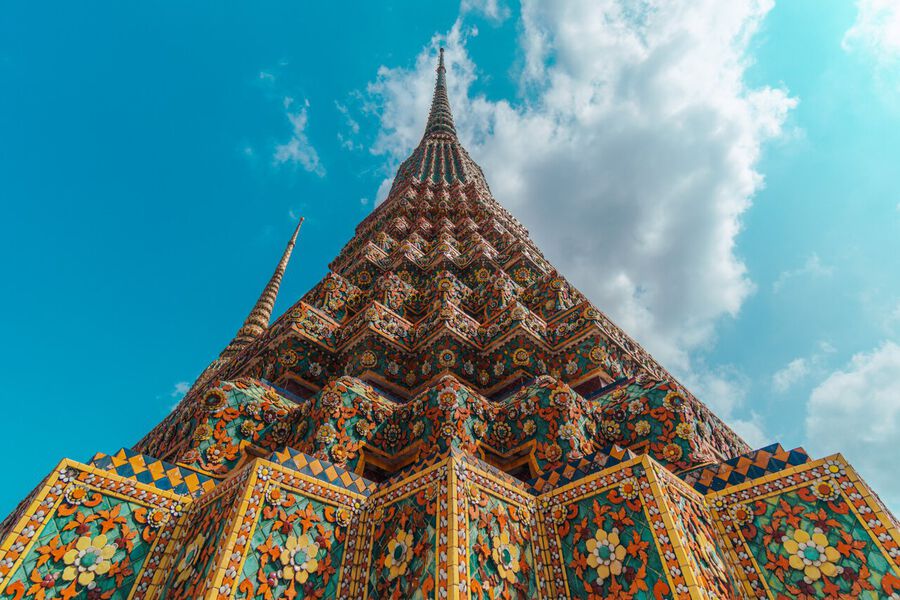 Looking for a travel guide to Bangkok?12 Hours In Bangkok
Getting From Bangkok To Chiang Mai, Thailand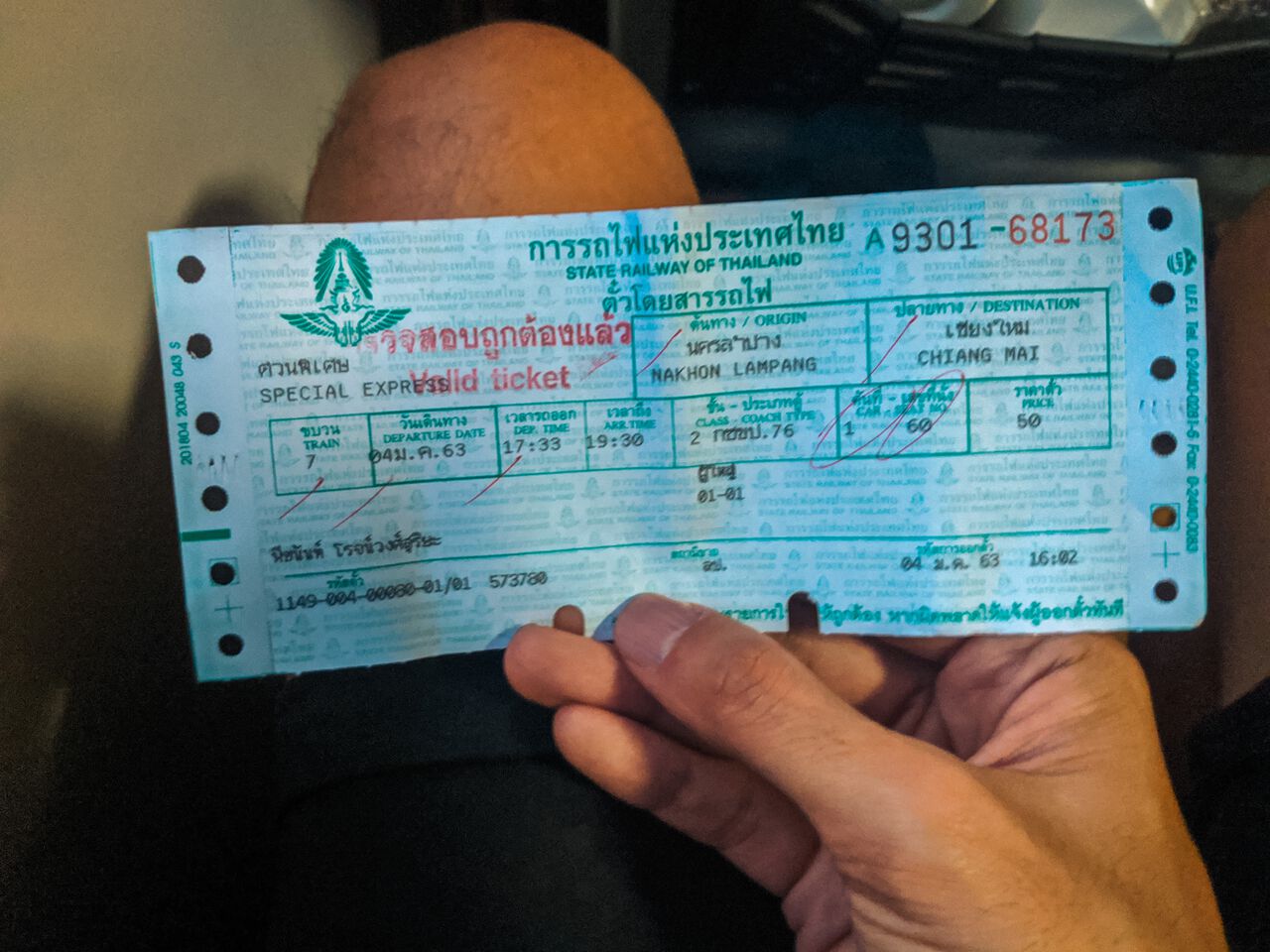 By Air: The fastest way to get from Bangkok to Chiang Mai is to fly from Don Muang Airport to Chiang Mai International airport to one of the many low-cost airlines in Thailand. For AirAsia, there are over 13 flights per day and can cost as low as 492 THB which is even cheaper than taking a bus or a train. There are also Thai Lion Air and Nok Air that offer the route so be sure to check them out too.
By Bus: If you are not in a rush, you can also get a bus from Morchit Bus Terminal in Bangkok and it will take you about 10 hours to reach Chiang Mai Bus Terminal Arcade 2. The bus leaves from Morchit Bus Terminal every hour from 5:30 – 22:00 and it should cost about 400 – 800 THB per person.
If you are looking for a VUP bus from Bangkok to Chiang Mai, you can book through here: Book a VIP bus from Bangkok to Chiang Mai, Thailand.
By Train: You can also take a train from Hua Lamphong Train Station in Bangkok to Chiang Mai Train Station which can take anywhere from 11 – 15 hours. It is a long ride and you are not even saving that much as the price for a ticket is about 400 – 500 THB. There are 7 trains running between the 2 stations from 08:30 – 22:00 every day.
To get the train ticket, I would recommend you go to Hua Lamphong train station a few days before and get it from there as there is no official way to book the train ticket online quite yet and the route can be quite packed at times.
To book a train ticket from Bangkok to Chiang Mai, you can book through here: Book a train from Bangkok to Chiang Mai, Thailand.
Getting From Lampang To Chiang Mai, Thailand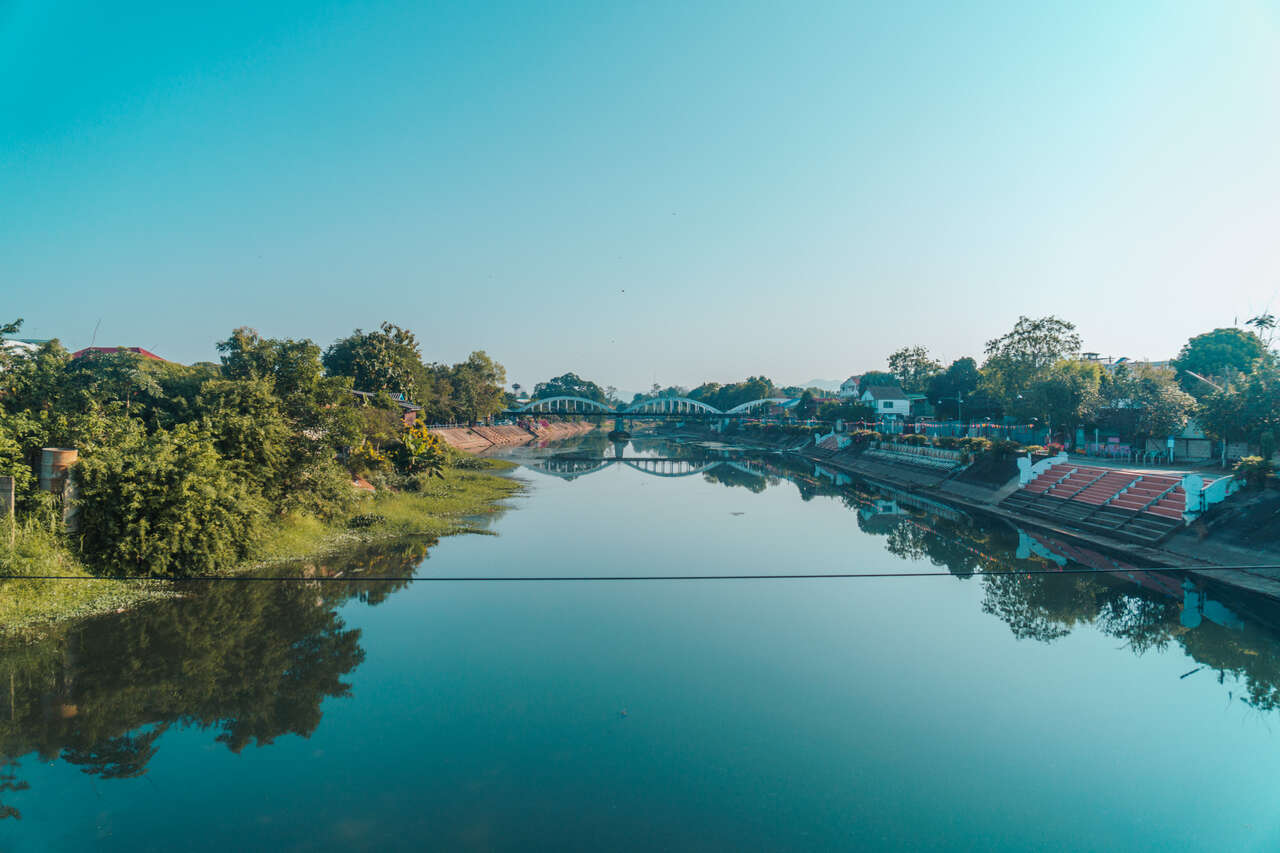 If you are currently in a backpacking journey through Thailand and you found yourself in Lampang, there are several ways you can get from Lampang to Chiang Mai.
By Bus: Even though, there are buses connecting Lampang and Chiang Mai every hour, some of them come all the way from Bangkok and so they might be full fast. You can buy the ticket right at Lampang Bus Terminal but expect to wait in line for a while before you can get the ticket. The journey should take about 1 hour 45 minutes and cost around 75 – 100 THB per person.
By Train: There are 7 trains connecting Bangkok to Chiang Mai and all of them pass through Lampang and so you can hop on one of them at Lampang Train Station to get to Chiang Mai in about 2 hours. The ticket for a second class seat you cost around 50 THB. Come a few hours before your intended departure time as it can get full pretty quickly
By Song Taew: There is also a Song Taew as your last resort, waiting for you at Lampang Bus Terminal looking for people to fill the car up. It is not as comfortable as the other 2 options and not as cheap, but in case both options above are full, you at least have a way out of Lampang. The journey takes about 3 hours and costs 150 THB per person.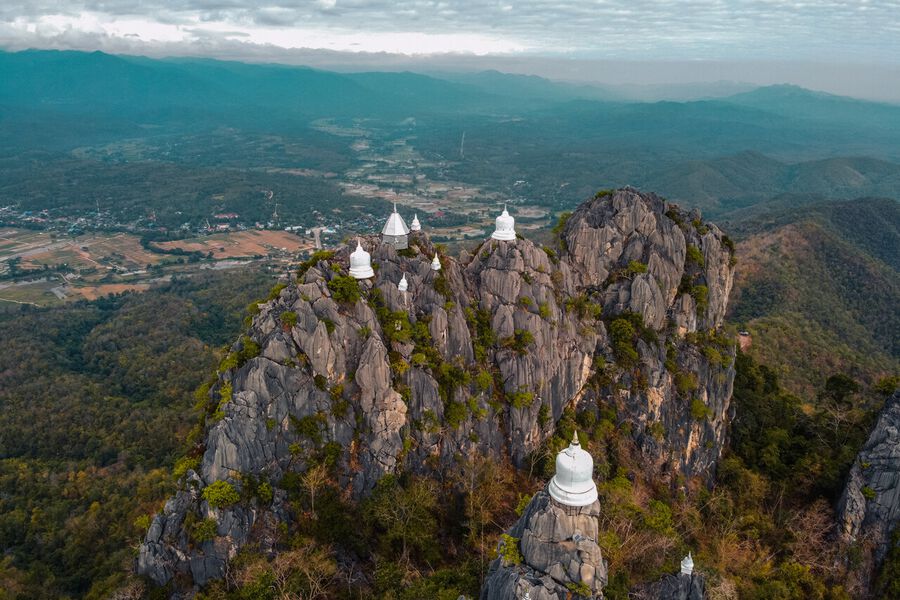 Looking for a complete travel guide to Lampang?A Complete Backpacking Guide To Lampang
How To Get From Chiang Mai Bus Terminal To Your Accommodation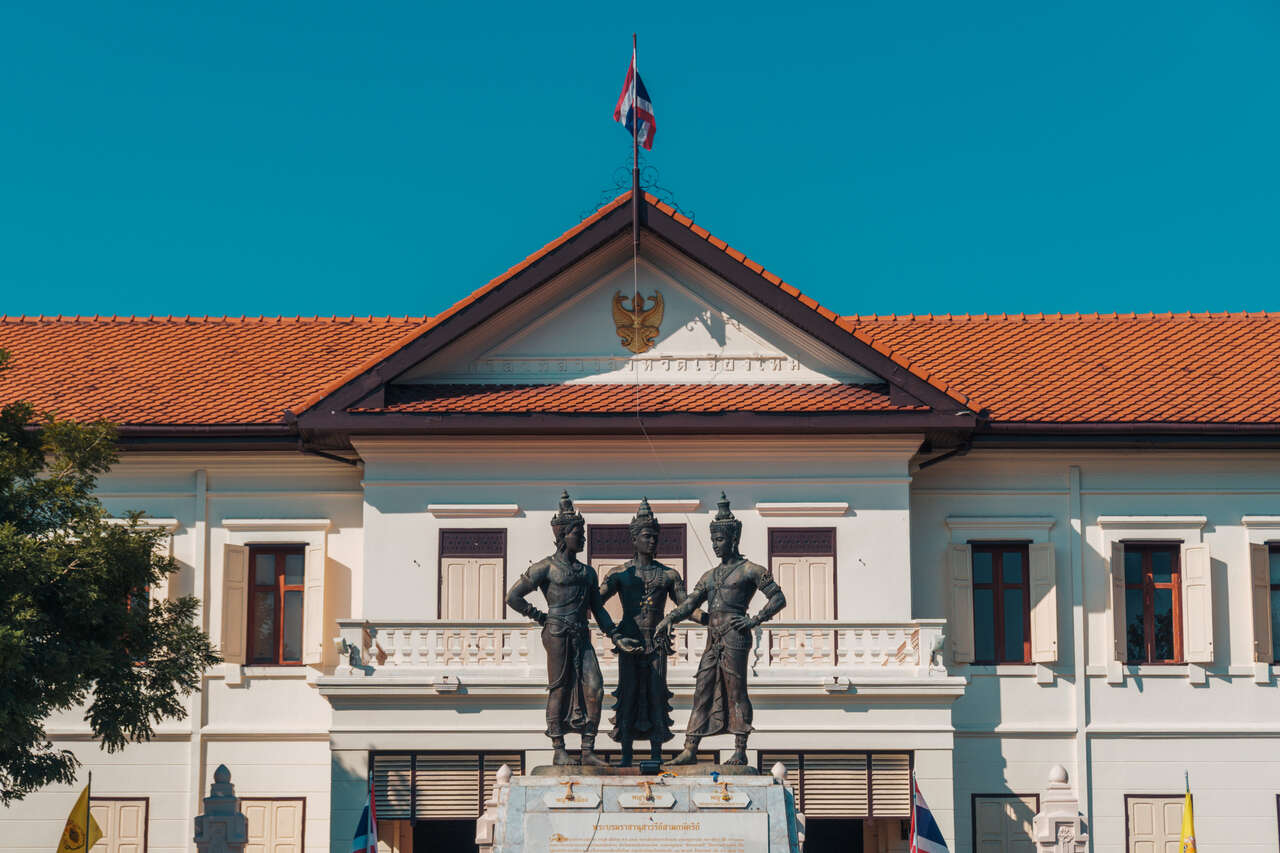 Chiang Mai is massive and extremely crowded and so the easiest way to get from Chiang Mai Bus Terminal Arcade 2 to your accommodation is to hail a taxi with Grab application available on Android and iOS.
It should cost around 100 – 120 THB to get from the bus terminal to the city center and depending on the traffic, it could take from 15 minutes to an hour to arrive.
How To Get Around Chiang Mai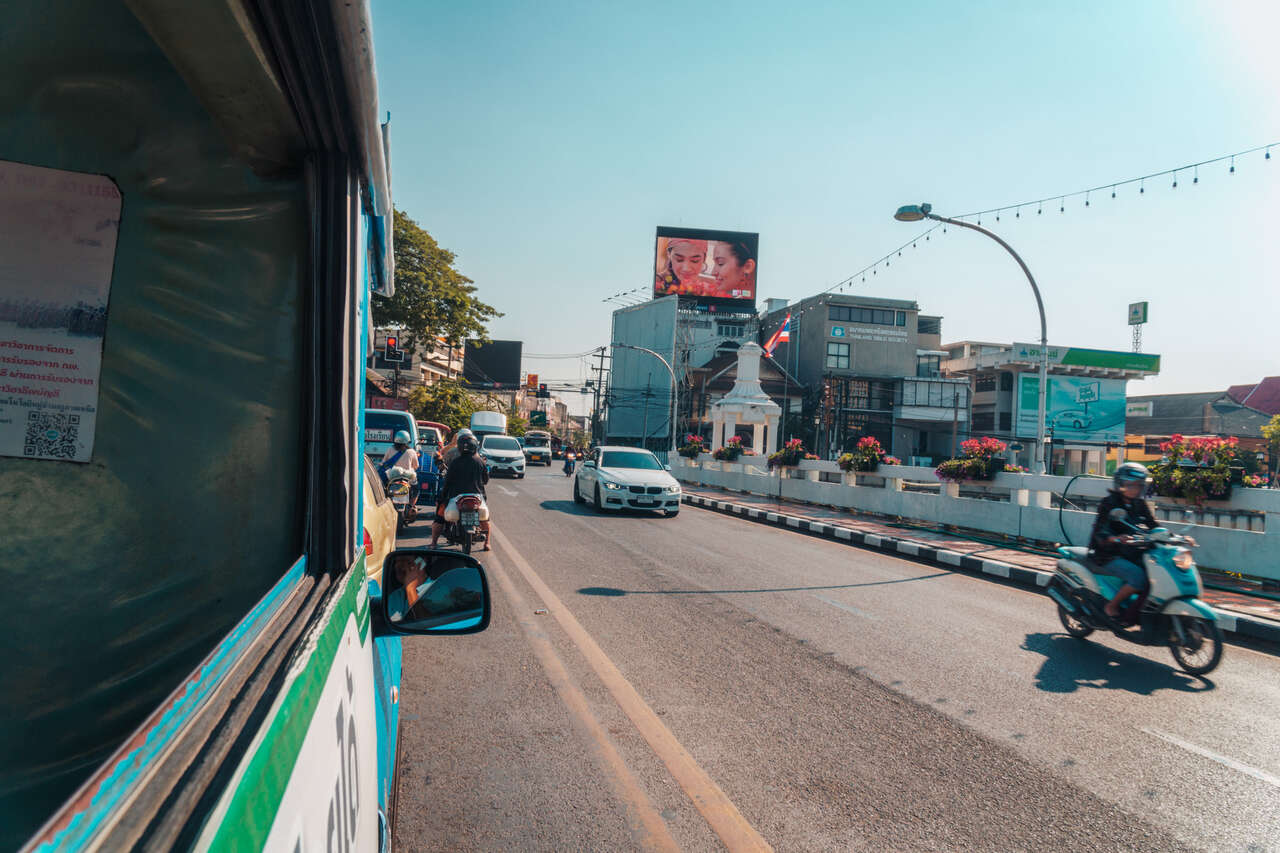 By Motorbike: With this itinerary, you will have to rent a motorbike, which I think is the best way to get around Chiang Mai as you will be covering quite a distance and you are also going up the mountain to Wat Phra That Doi Suthep which is quite far from the city center.
You can rent a motorbike from one of the many bike rental shops around Chiang Mai city center or you can rent one from your accommodation if they provide you with one. I stayed at OYO Sunshine House and they let me rented their new motorbike for 250 – 330 THB for a day.
By Red Song Taew: You can also get around by the red Song Taew that roams around the city center. You can expect to pay around 30 THB per person for going anywhere within the city wall and around 50 – 60 THB per person for outside. You can also use them as a taxi by asking the driver directly and negotiate the price and you can sit up front just like a taxi driver.
How Many Days To Spend In Chiang Mai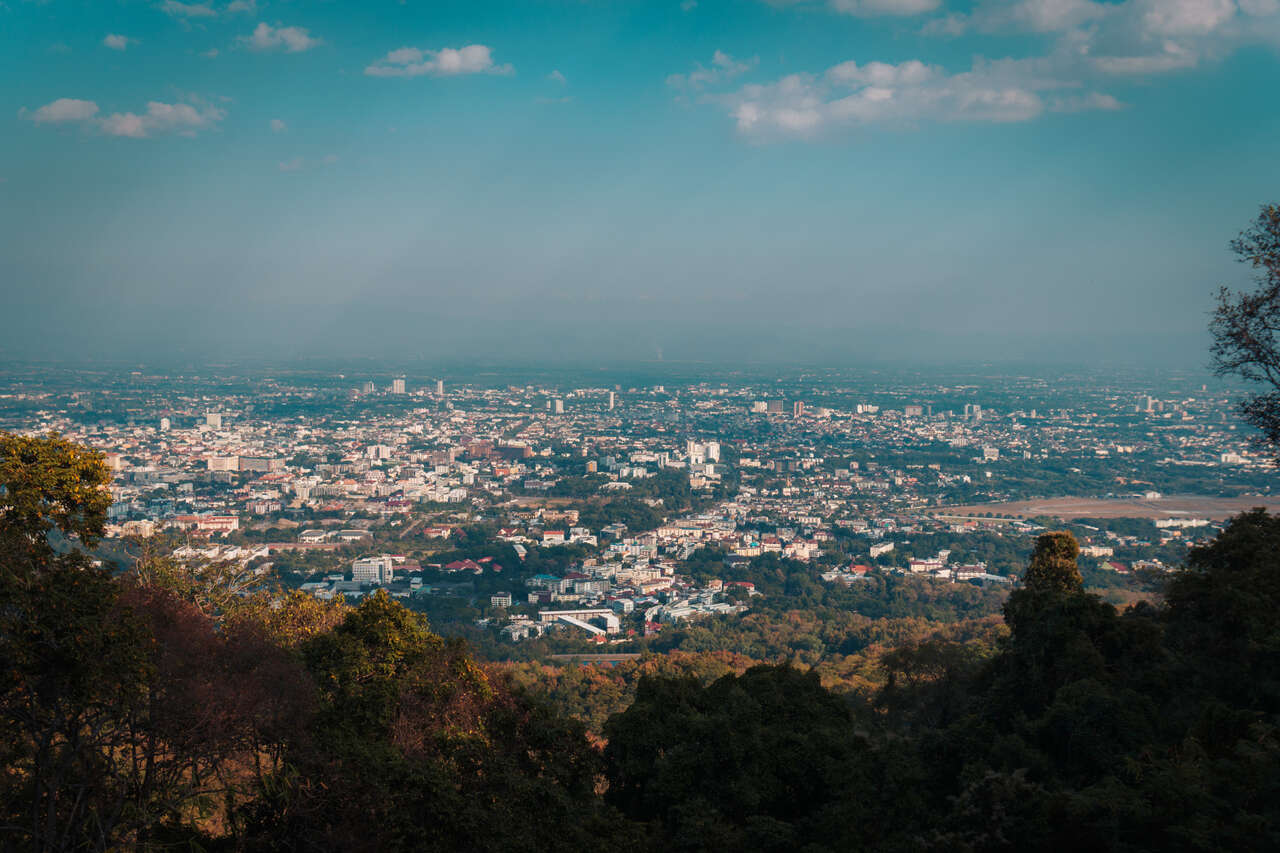 You can expect to spend at least 2 nights in Chiang Mai to see all the attractions listed in this guide but if you want to go outside of Chiang Mai as well, say to Lamphun, you will have to spend at least 3 nights in Chiang Mai where you can then make a day-trip to Lamphun.
Day 1: Visit all the attractions within the city wall in the morning, go outside and explore Chiang Mai outside of the city wall, before going for sunset up at Wat Doi Suthep on the mountain, and then end the day at a night market.
Day 2 (Optional): You can visit Lamphun as a day trip by leaving early in the morning, explore all Lamphun's attractions, and arrive back in Chiang Mai by 5 PM.
How Much Money Do I Need For Chiang Mai
From the rough itinerary above, we can calculate approximately how much money you will be spending for a one-day itinerary in Chiang Mai as follows:
Accommodation: With a total of 2 nights in Chiang Mai, you will be paying around 20 USD (629 THB)
Food: Food costs about 50 THB minimum in Chiang Mai so you can expect to pay around 150 THB for one day.
Transportation: Since you will be renting a motorbike for the day, you can expect to pay 500 THB including gas for transportation.
Activities: Most temples in Chiang Mai have a 40 THB entry fee and since there are around 5 temples you will be entering, you can expect to pay around 200 THB for activities.
Total Budget for 2 days in Chiang Mai: 1,479 THB (47 USD)
Is It Safe In Chiang Mai, Thailand?
Chiang Mai is a big city and even though Thailand is safe in general, always second guess people who approach you and try to offer you something that is too good to be true, because to be honest, if it is too good to be true, it probably is. That is a sure way to avoid any scam attempts from taxi drivers or other scammers that might approach you.
And as always, please do exercise precautions like you would when traveling in any foreign country. Do not leave your belongings unattended and watch out for your belongings at all times.
Internet In Chiang Mai
There are 3 major carriers in Thailand, AIS, DTAC, and True, all of which offer a pretty similar range of traveler's packages as well as coverages. I personally use AIS as I have been with them since my first phone and they have a lot of Support Center around Thailand and their coverage hasn't failed me yet so if you are looking for a reliable carrier, I can recommend AIS.
There are 3 packages for tourists, 5 GB for 5 days at 160 THB, 15 GB for 8 days at 299 THB, and 30 GB for 15 days. Depending on how long your trip to Thailand will be, you can pick one of these 3 packages that fit your itinerary the most.
With these 3 packages, you can top-up more in case you need more data or calls for your trip. More often than not, 5 GB is more than enough for me to travel around Thailand for a month.
For more information about Thailand's local sim card: Thailand's Prepaid Data Sim Card.
Travel Insurance
If you are looking for travel insurance to go along with your trip to Thailand, I would recommend WorldNomads.com, which is what I use to look for travel insurance that fits my kind of adventure.
What To Pack For Chiang Mai, Thailand
As you know, I am a light traveler and packing light for a trip like this is an art in and of itself. Here are a few tips on what to pack for your trip to Chiang Mai, Thailand:
SEE MY PACKING LIST: 47 TRAVEL ESSENTIALS
14 Best Things To Do In Chiang Mai According To A Thai
Admire The Detail Of Wat Lok Moli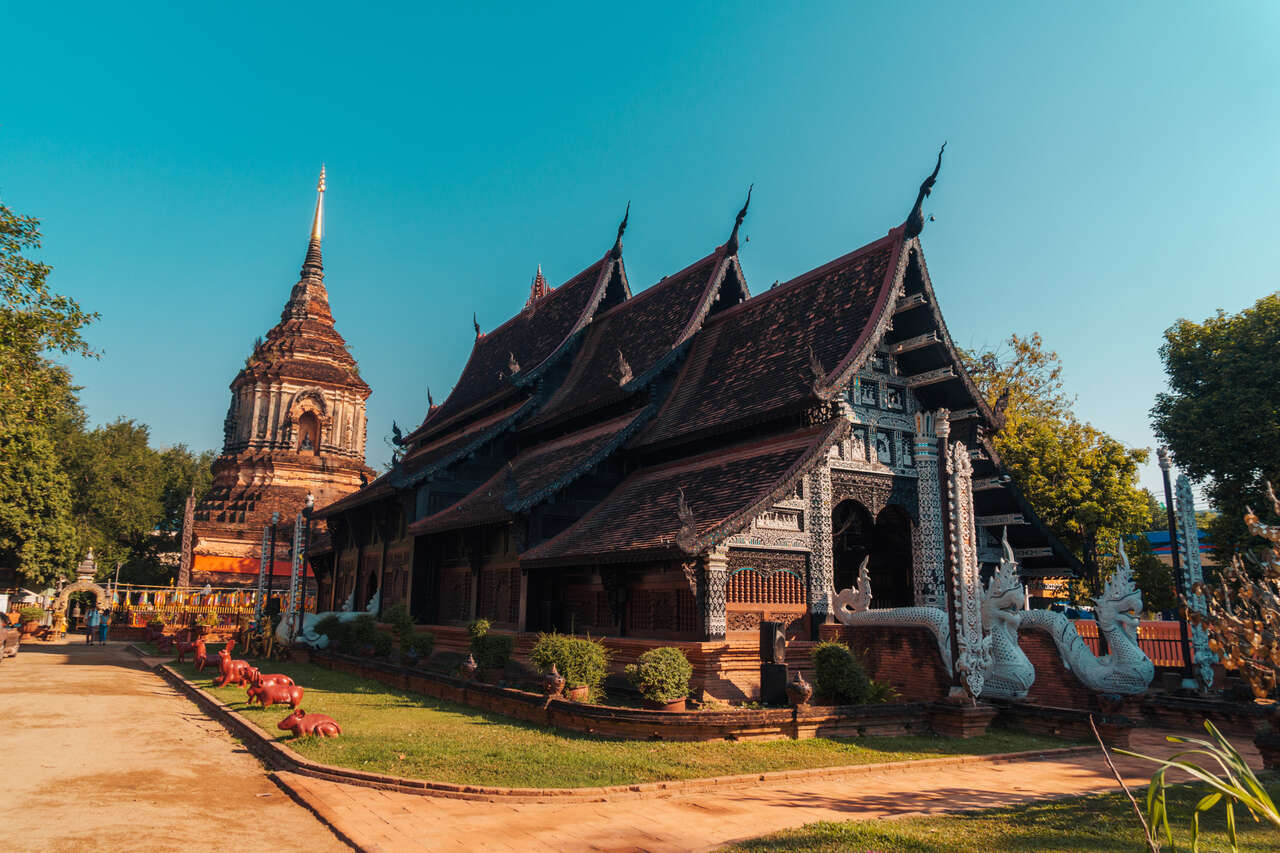 The first temple you will likely stumble upon on your first day in Chiang Mai is Wat Lok Moli, one of the oldest standing temples in the city built in the 14th Century. The temple is located just outside of the city's wall to the north.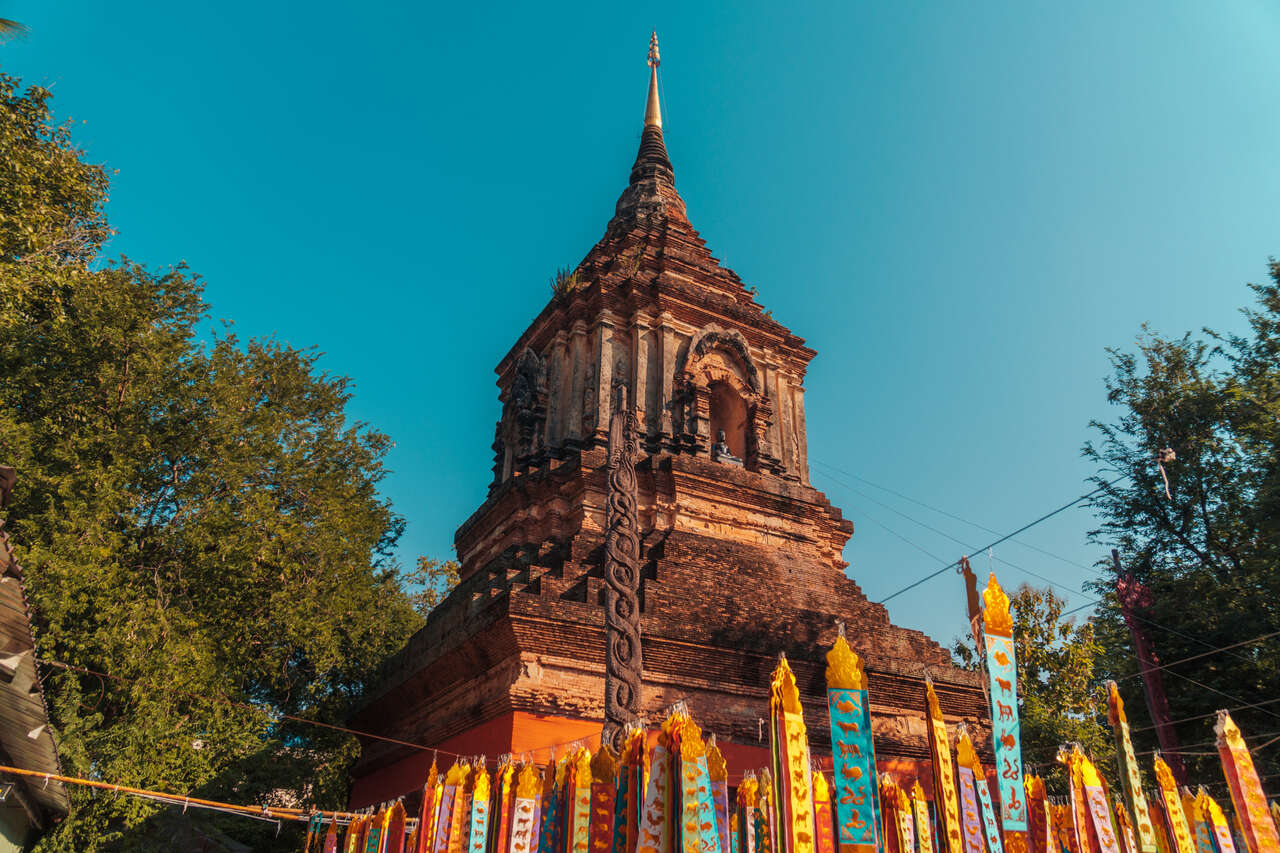 The temple is known for its massive chedi that dominated the area. It was built in the 16th Century and it is still in a considerably great condition compared to what you would come to expect from a structure this old.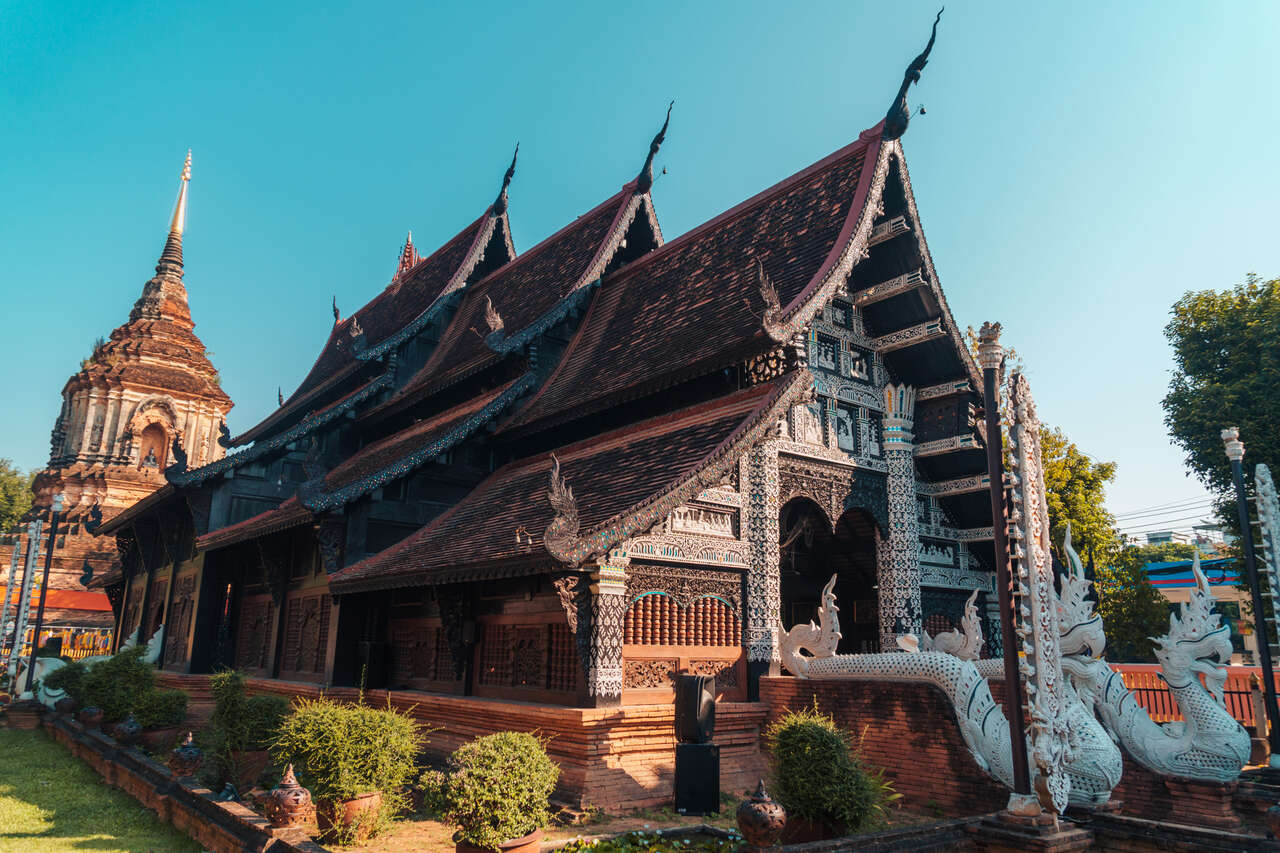 In front of the chedi, you will also find a Lanna-style temple built in teak wood and adorned in a traditional Lanna style wood carvings. This temple was actually built recently in 2003 in the process of restoration and expansion of the temple.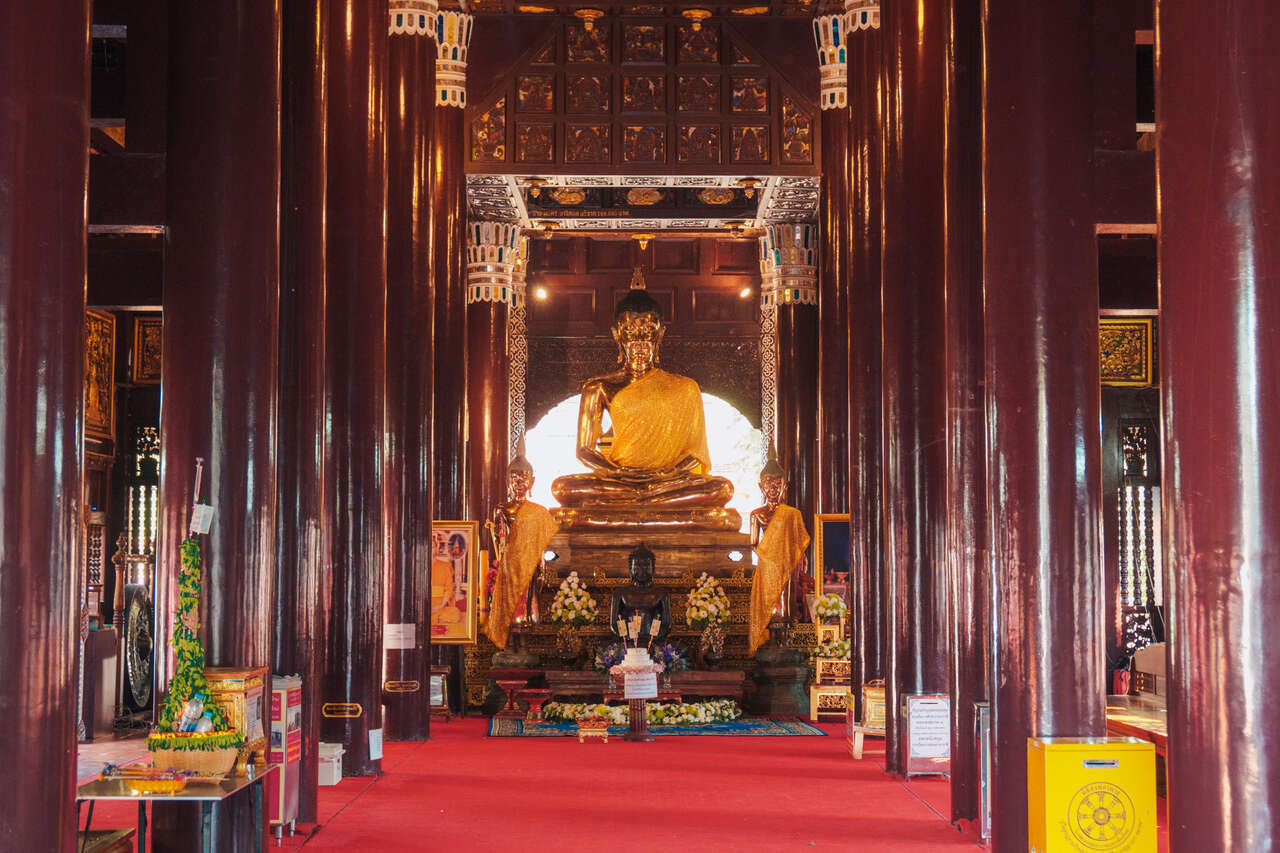 Within the beautiful teak wood temple, you will find a large Buddha image seated at the opposite side of the entrance. The pillars and walls are painted in a dark crimson color, giving it its unique Lanna-style atmosphere that you can not find in central Thailand.
The temple is open from 6 AM to 5 PM every day and you do not have to pay to enter. You can simply ride your motorbike into the temple and you can park it on your left, right when you entered the temple courtyard.
Relax At Wat Chiang Man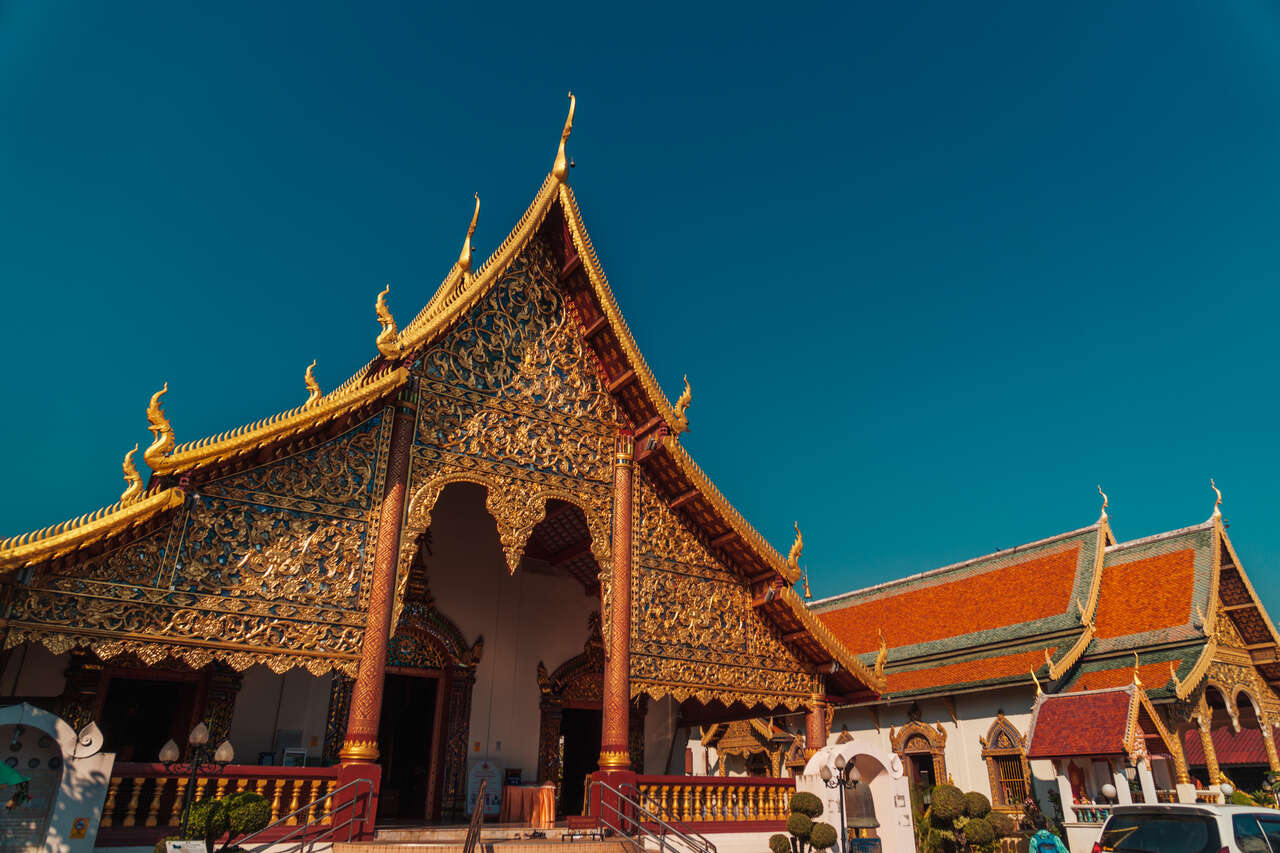 Located not too far from Wat Lok Moli, within the city's wall of Chiang Mai, you will find another impressive temple called Wat Chiang Man, the oldest temple in Chiang Mai that dated all the way back to 1296, the time of the founding of the city.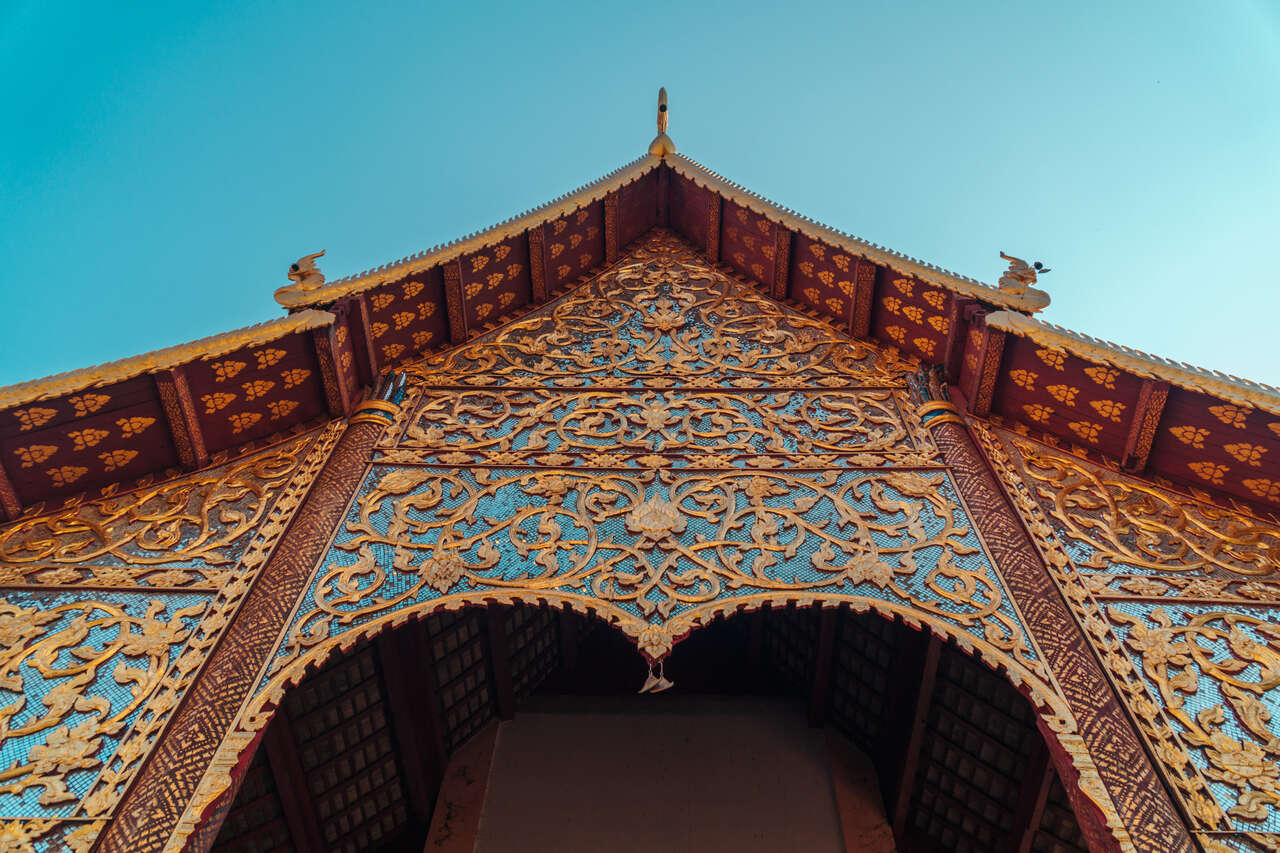 King Mengrai, the founder of Lanna Kingdom, decided to build his city on the spot and constructed Wat Chiang Man as the first temple in the city. The temple comprised of an old large chedi and an assembly hall that holds the oldest Buddha image in Chiang Mai.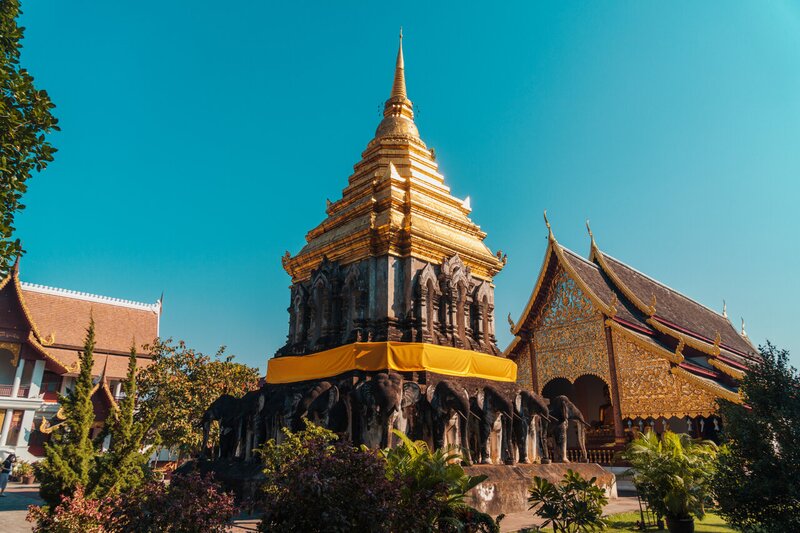 The chedi of Wat Chiang Man is one of the oldest remaining structures of the temple and it is called Chang Lom Chedi which translated to "elephants surrounding the Chedi".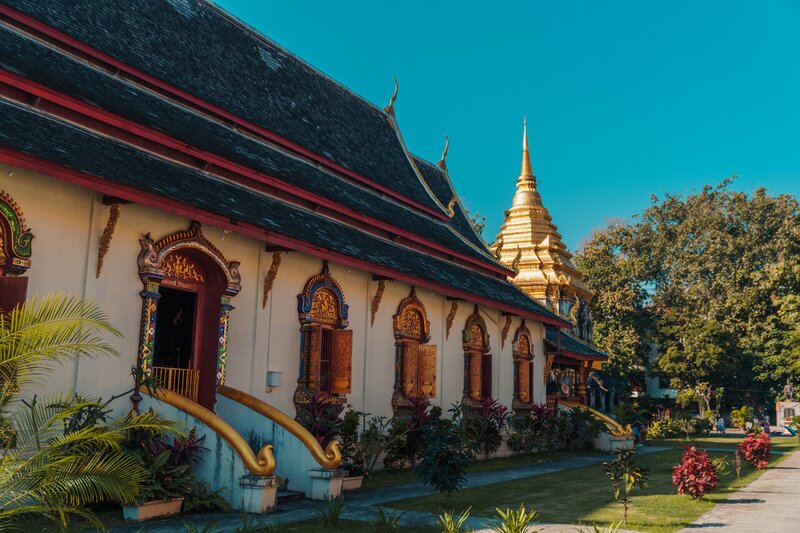 The chedi is built in a beautiful mixture of Lanna style, as evidenced by the golden paint covering the top part of the chedi, and the Singhalese style originated from Sri Lanka that can be seen in the design of the bottom part of the chedi.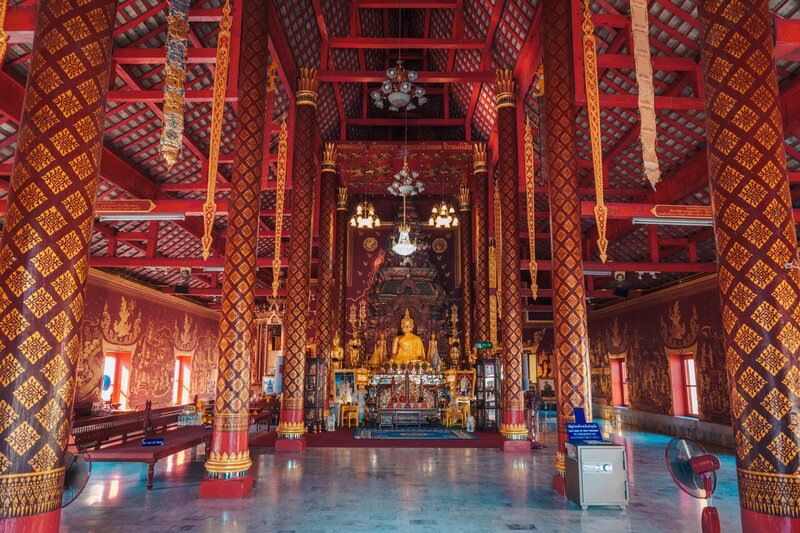 The temple is open from 6 AM until 5 PM and the admission is free again. God, I love it when attractions like these are free for foreigners. Some of the entrance fees for foreigners I saw in Sukhothai are a little overpriced in my opinion.
Be Blown Away By The Scale Of Wat Chedi Luang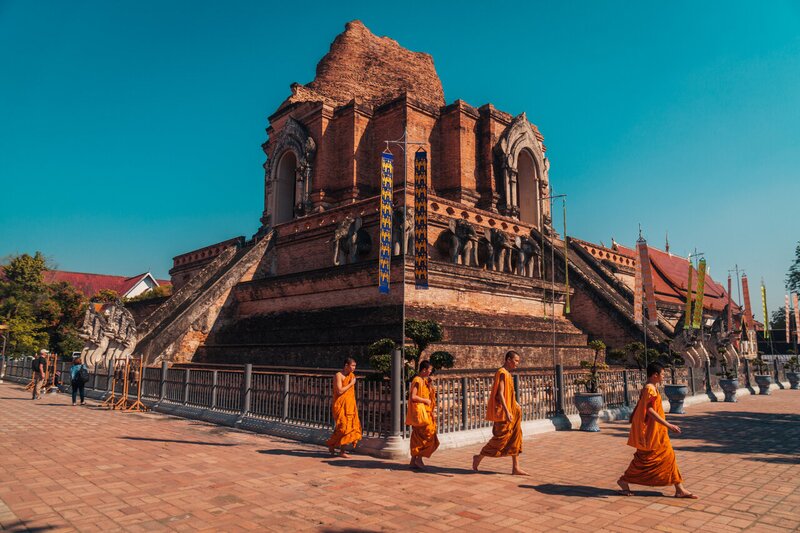 Just a little north from Wat Chiang Man, you will find one of the most iconic landmarks of Chiang Mai, the massive remaining chedi of Wat Chedi Luang or as it is known as the "temple of the great stupa".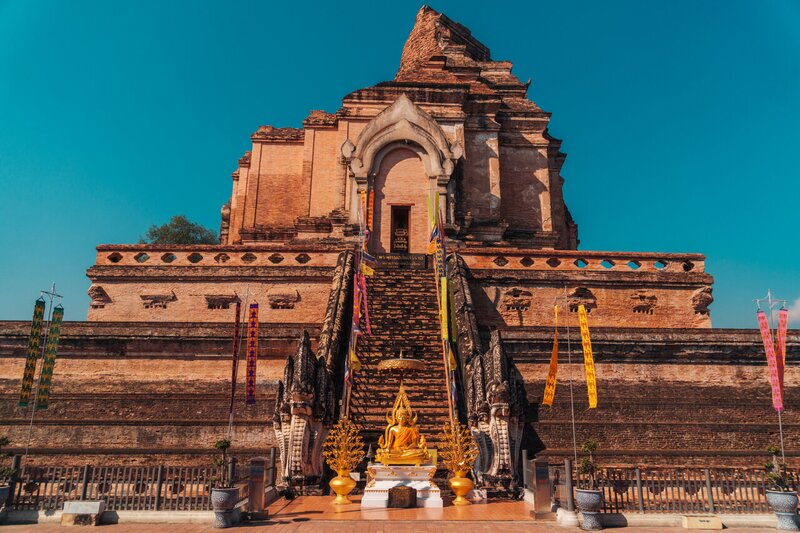 I've seen photos of Wat Chedi Luang before I visited Chiang Mai but the real scale of the place as I stood by the foot of the chedi blew my mind away. No wonder why they called it the Great Stupa.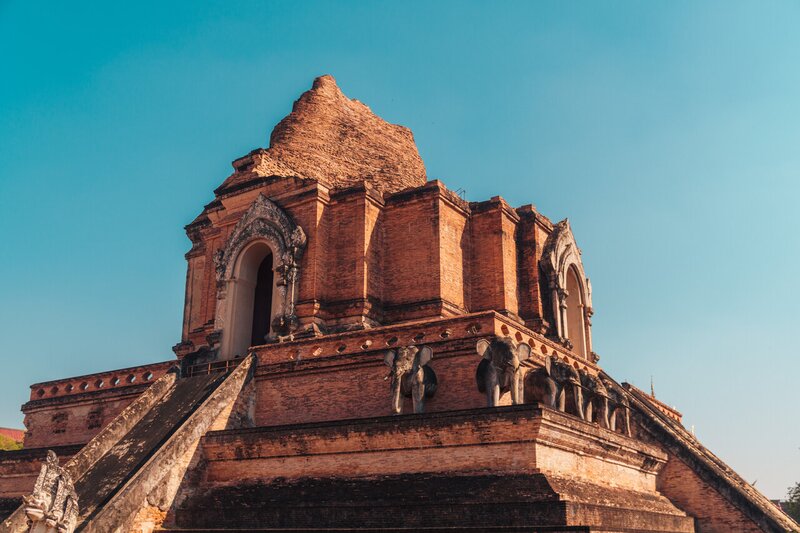 It took almost a decade to complete this chedi. The construction started in 1391 and it was completed in 1475, almost 85 years in the making. Back when it was intact, it is said that the chedi reached up to 85 meters in height and 44 meters in width, making it the largest old structure in the entire city.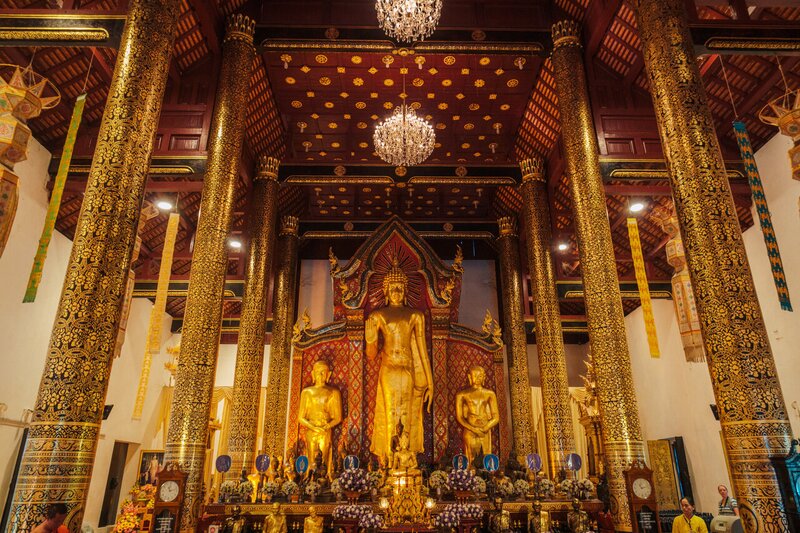 Wat Chedi Luang isn't just comprised of the great stupa, you will also find 2 temples within the courtyard, one is a huge and impressive building with a golden facade containing a large Buddha image called Phra Chao Attarot, and another, a smaller temple nearby which is as pretty temple as the large one.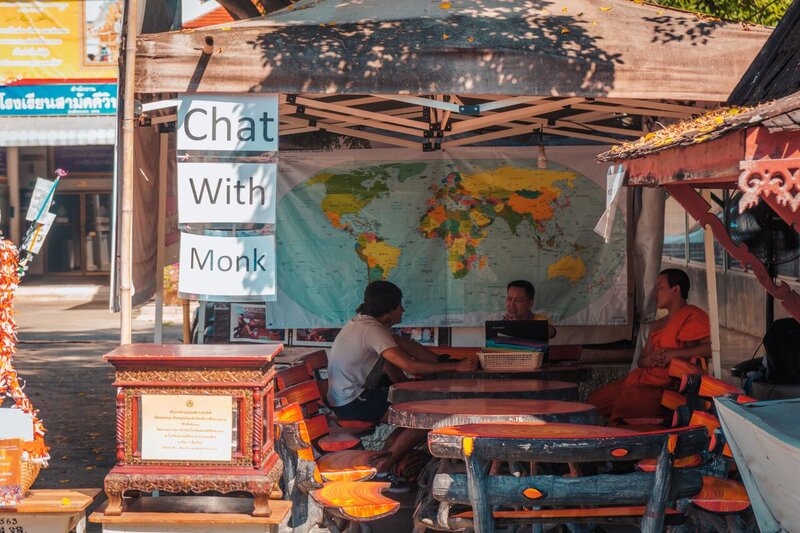 Within the temple, I saw a dedicated area where you can start chatting with a monk. If you are curious about Buddhism and their lives, this is a good place to start talking to them and learn more about Buddhism. The temple opens from 6 AM to 6 PM and it is free to enter.
Visit Wat Phra Singh (Gold Temple)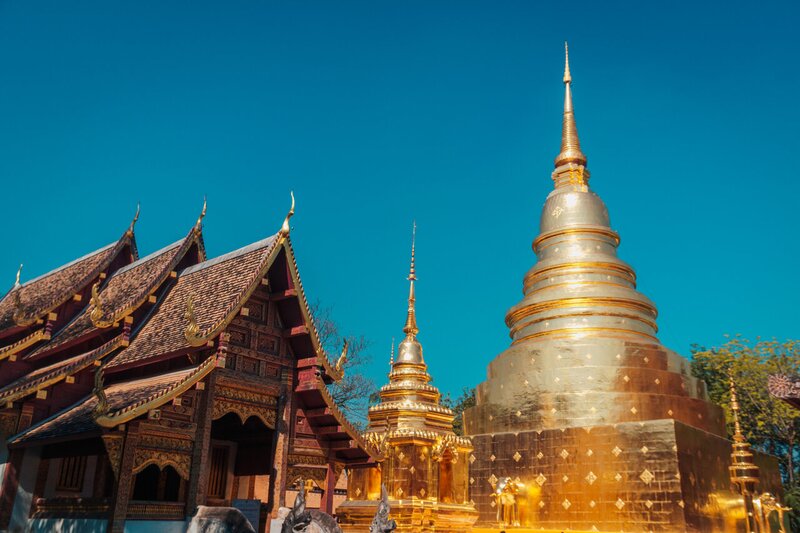 The last temple you will visit within the vicinity of the old ancient wall of Chiang Mai is Wat Phra Singh, a temple built in the 14th Century that displays the stunning classic Lanna architectural style proudly with its blindingly gold chedi and several teak wood temples, all within the temple's courtyard.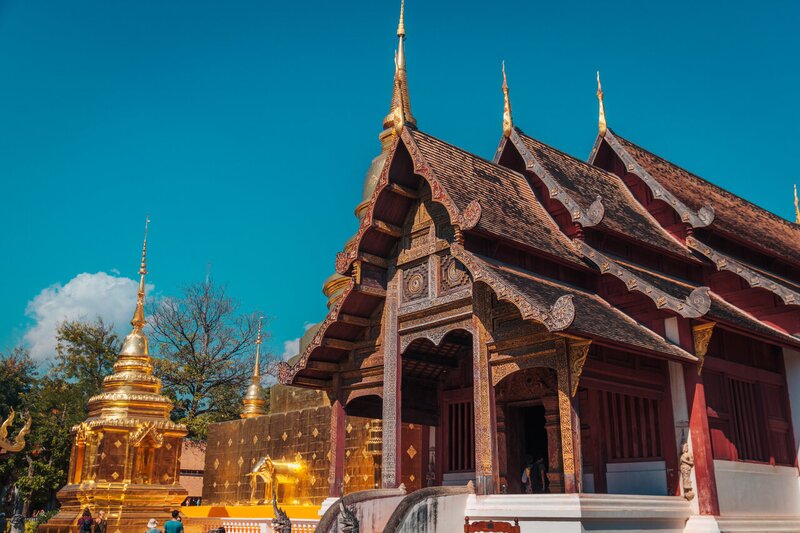 One of the most prominent architecture is the huge golden chedi that reflects sunlight in all directions. It is so blindingly beautiful that you have no choice but to stare at it until your eyes are sore.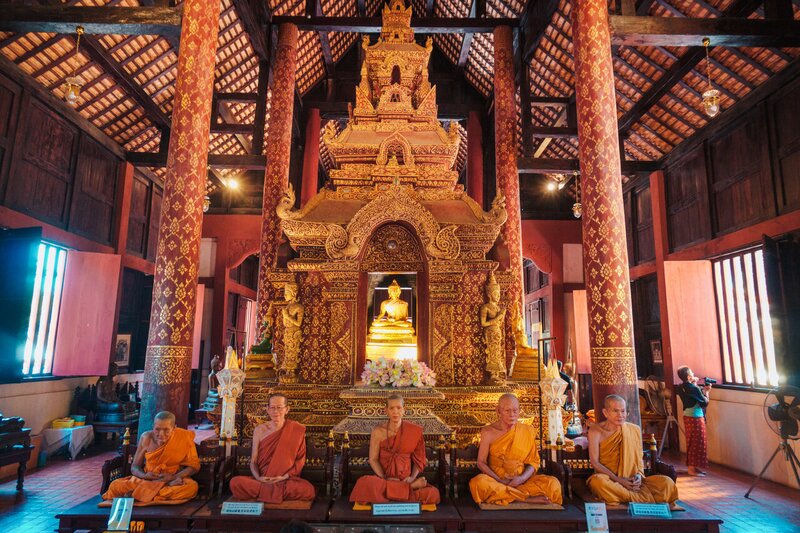 The temple comprised of the golden chedi, the main prayer hall, the Lai Kham prayer hall that contains the Phra Singh Buddha image of which the temple's name was derived from, and the Luang prayer hall that housed the revered Phra Chao Thong Tip Buddha image.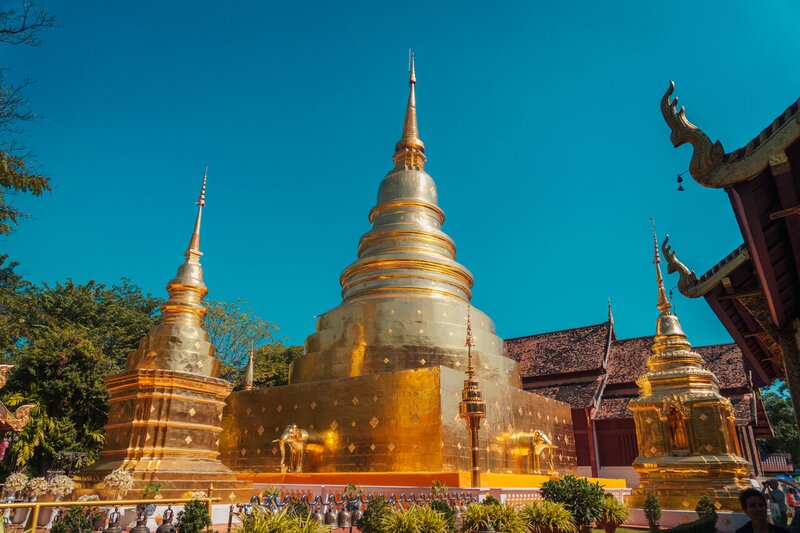 The temple opens from 6 AM to 8 PM and you will have to pay 50 THB to get into the temple ground. Since there is a ton to see in this temple, I think the 50 THB price tag is definitely worth it.
Walk Around Wat Suan Dok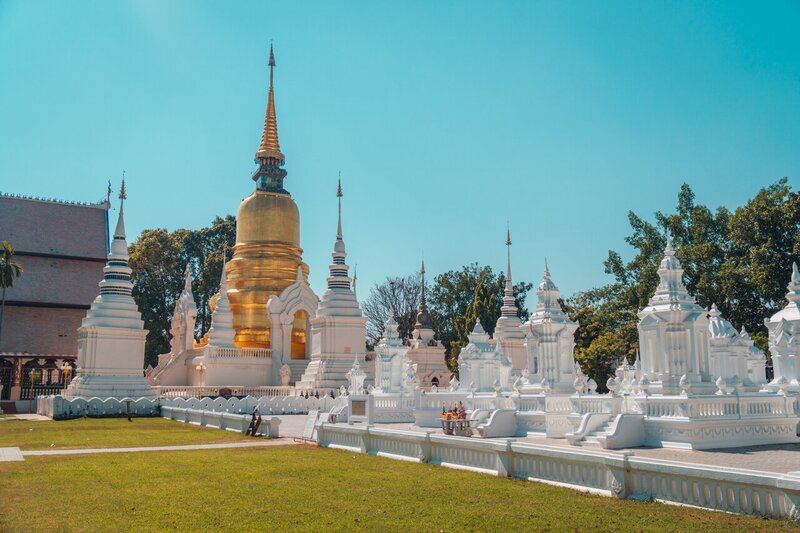 After spending the morning exploring all the attractions within Chiang Mai's old wall, it is time to go out with your motorbike and see what the rest of Chiang Mai has to offer. On our way towards the mountain, we should stop at Wat Suan Dok, a 14th Century temple known for its numerous beautiful white pagodas scattered throughout the temple ground.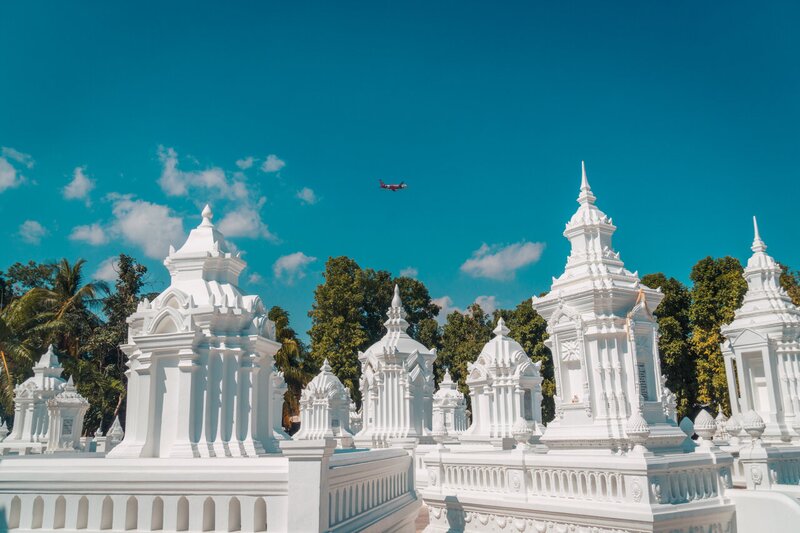 Within the temple ground, you will find the 48 meters high golden Sri Lankan style chedi that contains the relic of Buddha, and a large number of white pagodas containing the ashes of several generations of Chiang Mai's royal family.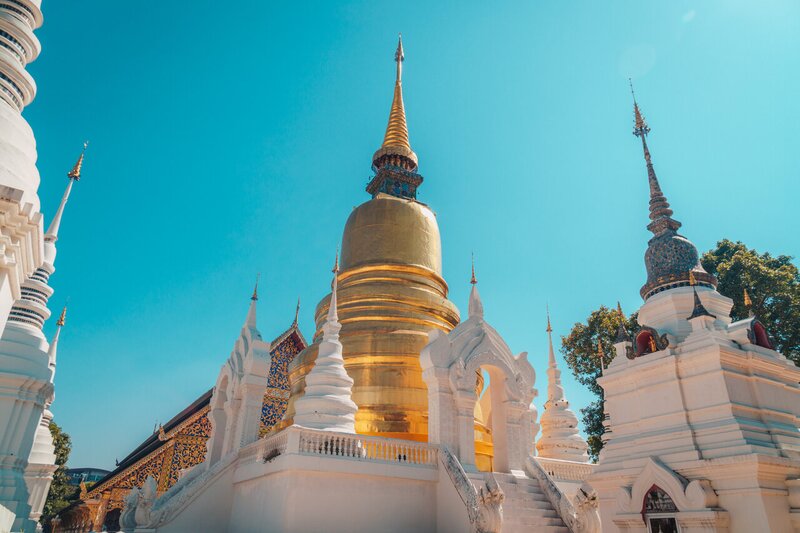 It is like a Christian graveyard and so please refrain from taking selfies and fun photos within Wat Suan Dok and be respectful when walking around all the white pagodas. The temple is open from 6 AM to 5 PM and the entrance fee is free.
Visit Wat Umong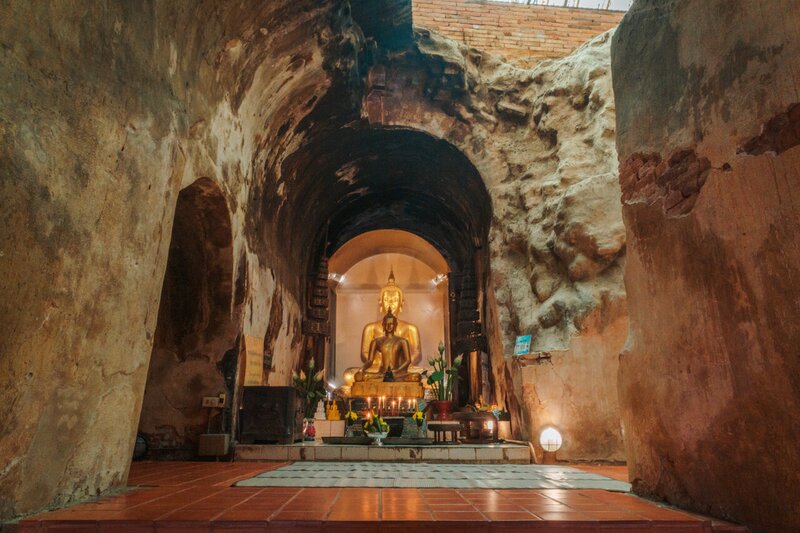 After Wat Suan Dok, continue west along the road and maybe stop by Han Teung Chiang Mai for lunch before continuing on to our next temple that is probably the most unique temple you will find in Chaing Mai.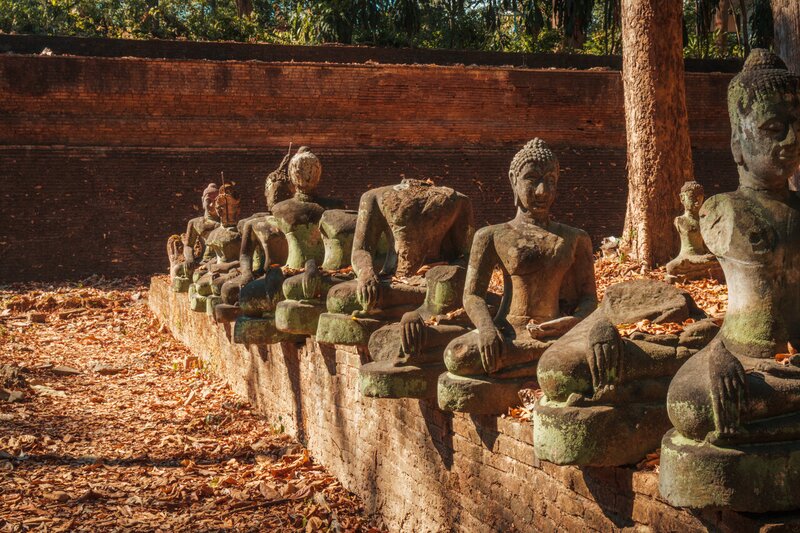 Wat Umong which translates to the Tunnel temple is, you guessed it, a temple built inside a system of tunnels deep inside a forest on the foothill of Doi Suthep, the looming mountain you can see towering Chiang Mai.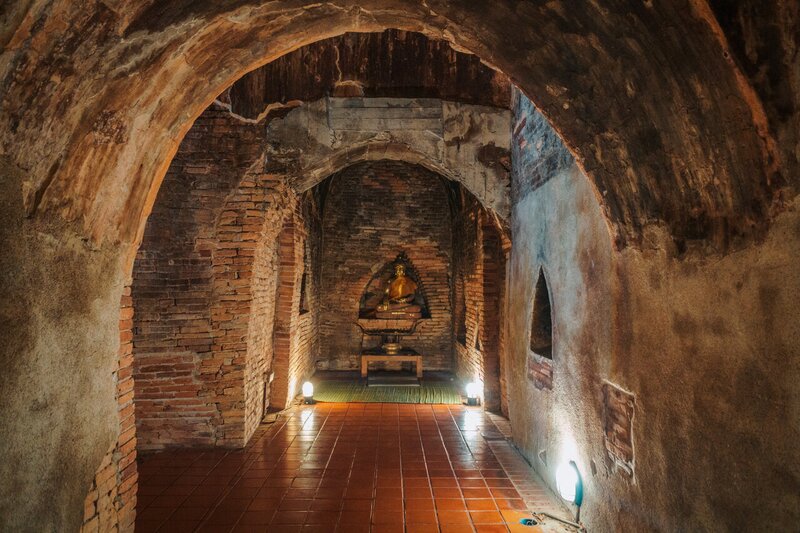 According to legends, Wat Umong was found in the 13th Century under King Mengrai's reign who is the founder of Lanna Kingdom. As the city of Chiang Mai grew, monks found it harder and harder to meditate so the king decided to pick a new location for a temple and dug a series of tunnels to house shrines and Buddha images for the monks to meditate peacefully.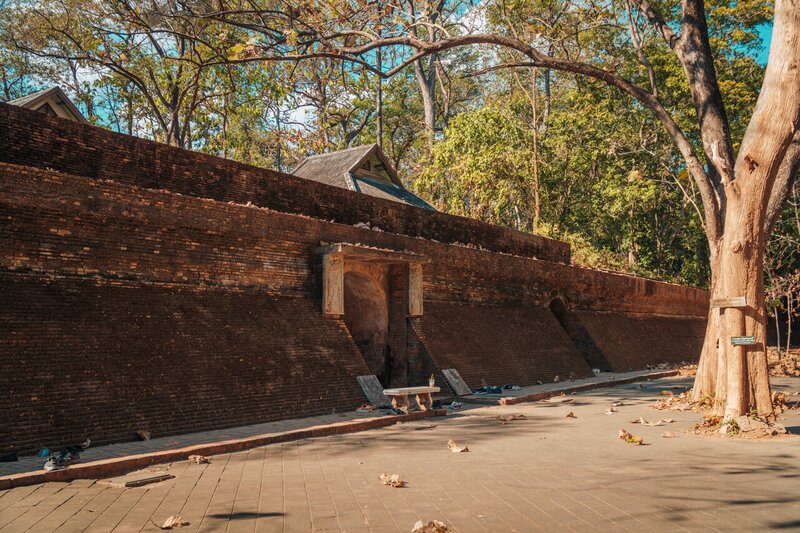 At Wat Umong, you will find 3 entrances to a connected tunnel containing several Buddha images for devotees to pay their respect to the Buddha. Above the mound where the tunnel is dug, you will find a large bell-shaped chedi constructed in a Lanna architectural-style that has recently been restored.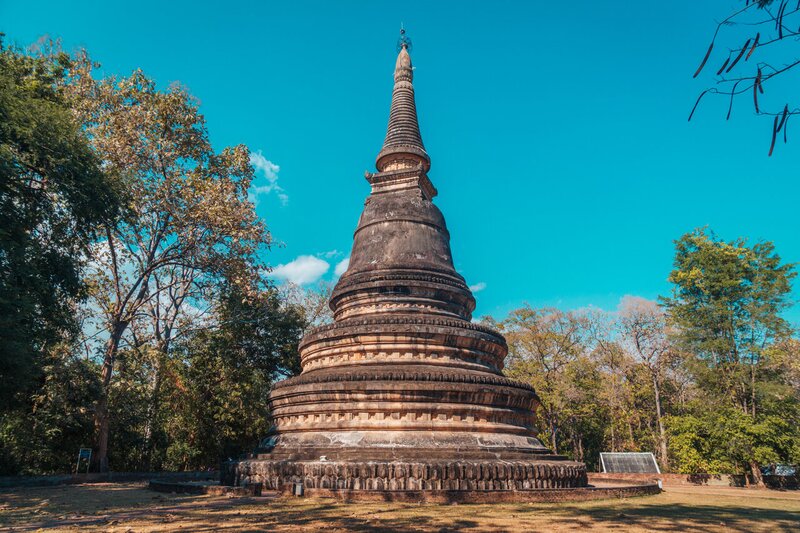 The temple ground opens from 6 AM to 5 PM and the entrance is free of charge. Even though the temple is a little far from the city center, I think you will appreciate the uniqueness and the solitude of the surrounding once you are there.
Relax By Ang Kaew Reservoir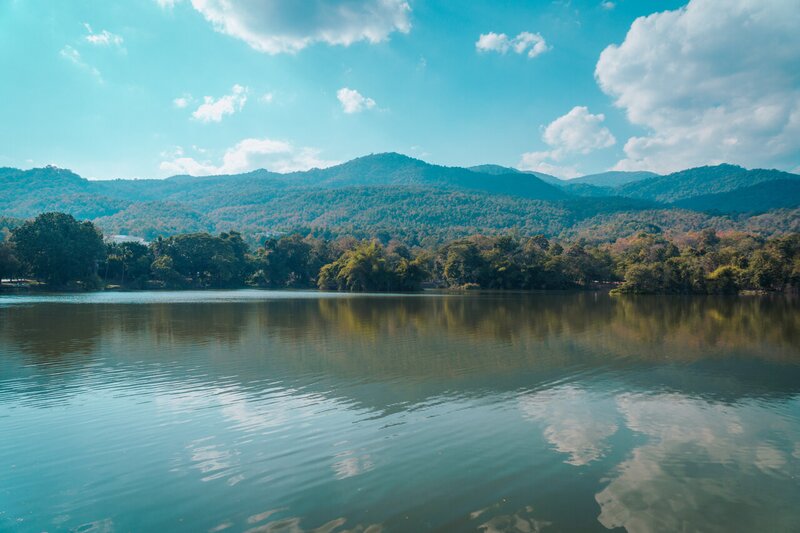 After a whole day of exploring temples, it is time to take a break at a little and enjoy the nature of Chiang Mai. At the foothill of Doi Suthep, within the vicinity of Chiang Mai University, you will find Ang Kaew Reservoir, a massive body of water surrounded by beautiful vegetation and forest.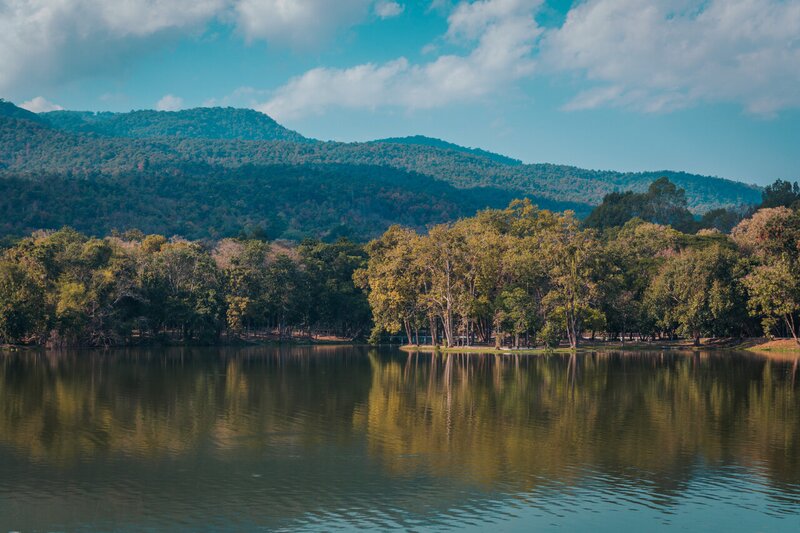 This is the perfect place to lose yourself in when you find Chiang Mai to be a little too loud and overwhelming. After riding a motorbike on the road for several hours that day, I appreciated that a place like this exists for me to stroll around and relax away from the bustling city of Chiang Mai.
Explore Pha Lat Temple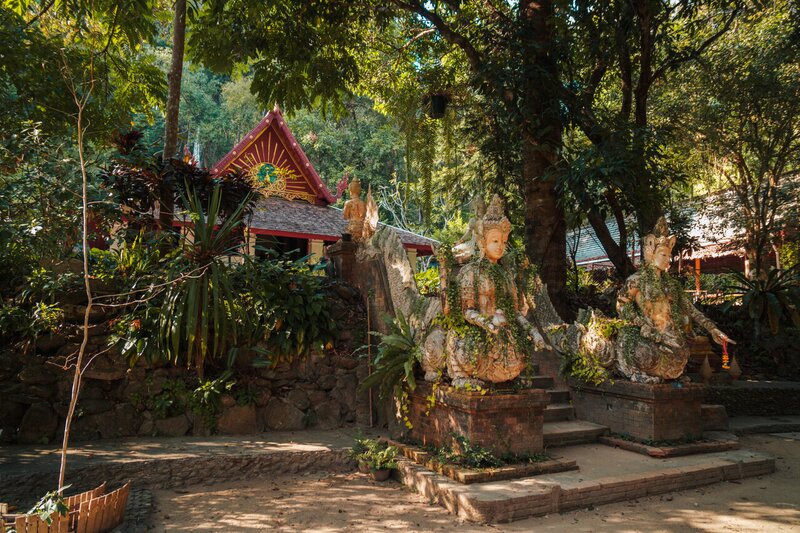 As you may have guessed it, we are moving closer and closer to the top of Doi Suthep where we will be spending our sunset time at Wat Phra That Doi Suthep but before we do that, you will have to take your motorcycle up to the top.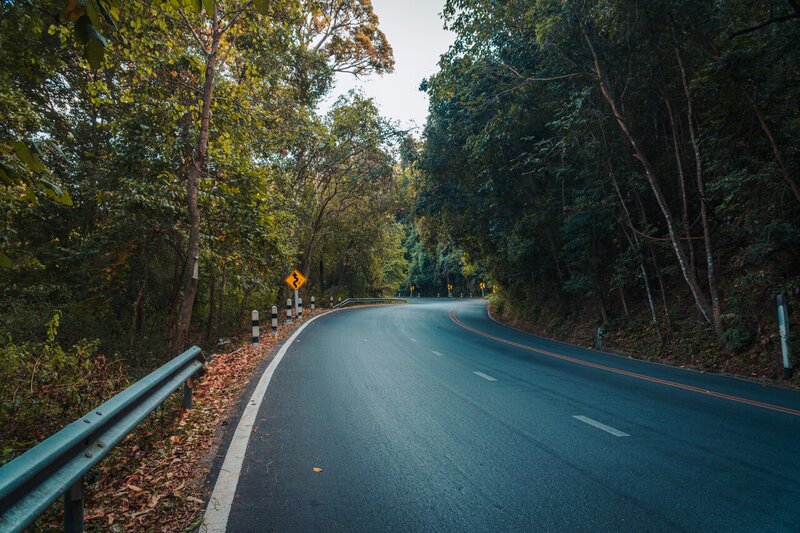 Do not worry. The road is in great condition throughout and it is wide and safe enough for you to take your scooter up to Wat Doi Suthep but before we arrive at the top, be sure to stop by Pha Lat Temple first.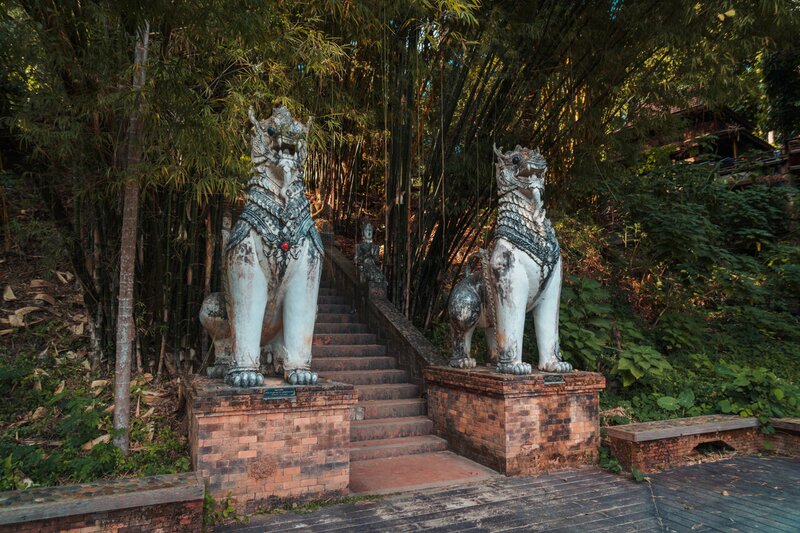 Wat Pha Rat is a less known temple located along the way from the base of Doi Suthep and Wat Pra That Doi Suthep temple. Nestled in lush green forest, the temple serves as a great place for monks and people to meditate in solitude away from the crowdedness of most community temples in the city.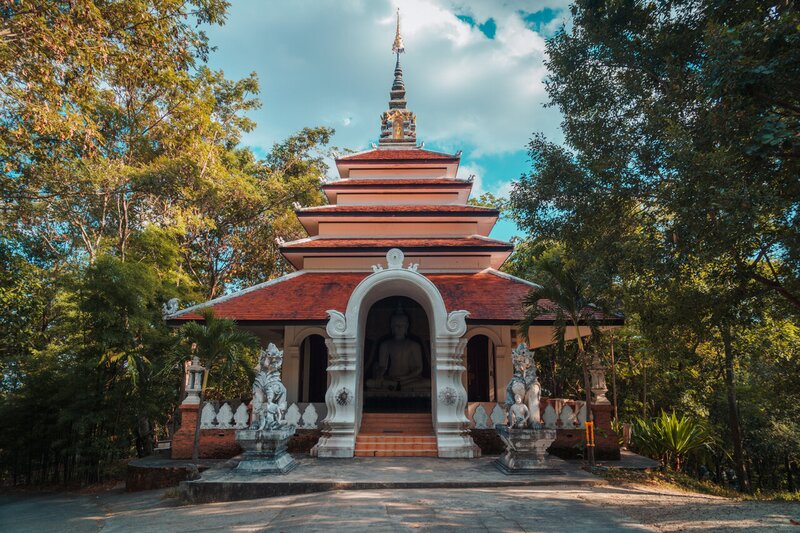 Within the temples, you will find many sculptures of mythical creatures that you can find everywhere in Thailand like the nagas, the singhs (lions), and the half-man version of both mythical creatures.
Enjoy The Evening At Wat Phra That Doi Suthep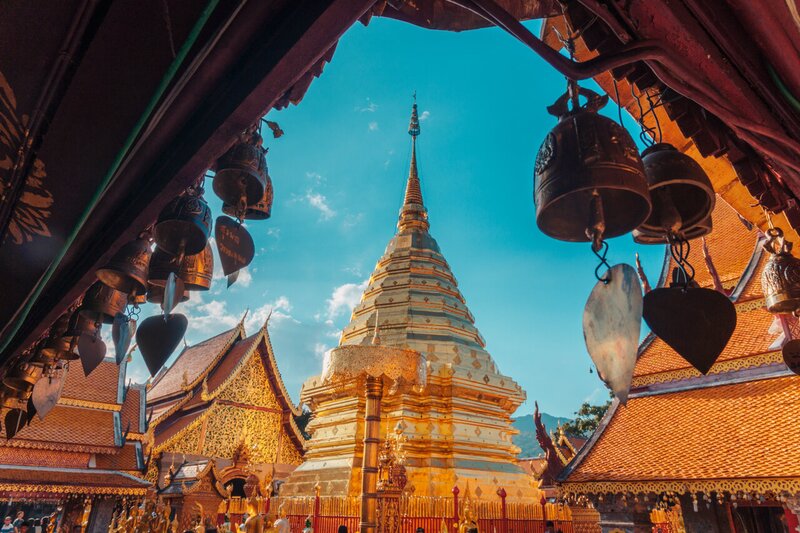 After spending your time at Pha Lat Temple, continue along the winding road up to the top of Doi Suthep mountain and you will find Wat Phra That Doi Suthep, one of the most important temples in Northern Thailand, waiting for you.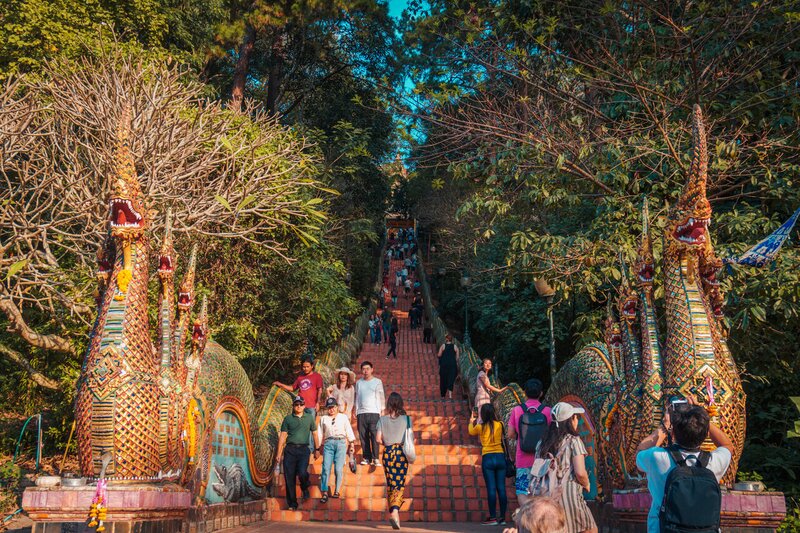 Before you get to the temple, you will first have to ascend the 300+ steep steps that go up to the temple from the parking lot. Once you arrive at the top, you will have to continue onward into the temple's ground where you will find a stunning golden chedi surrounded by 3 halls housing several Buddha images.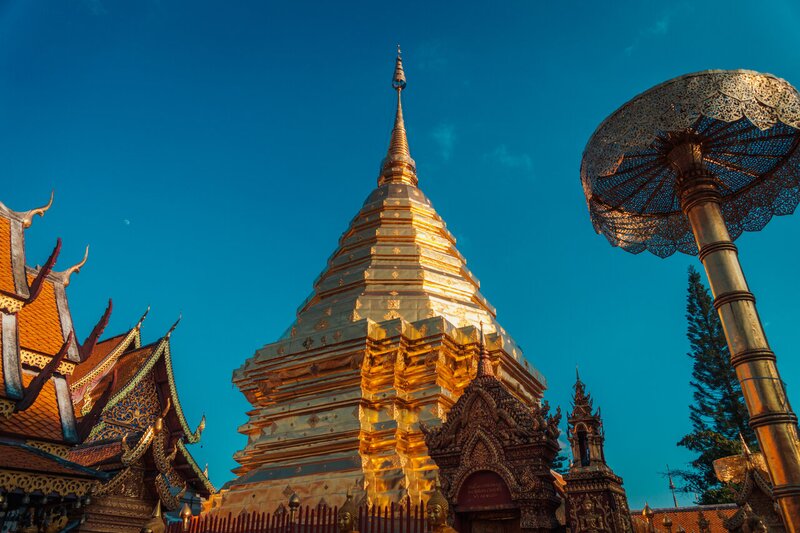 Legends have it that once, there was a monk from Sukhothai who possessed the relic of Buddha, came to Lanna to offer it to the king. During the process, the relic split into 2 pieces, one is currently enshrined at Wat Suan Dok, and another is thought to have been the reason why they built Wat Phra That Doi Suthep on the spot, to enshrine the rest of the relic.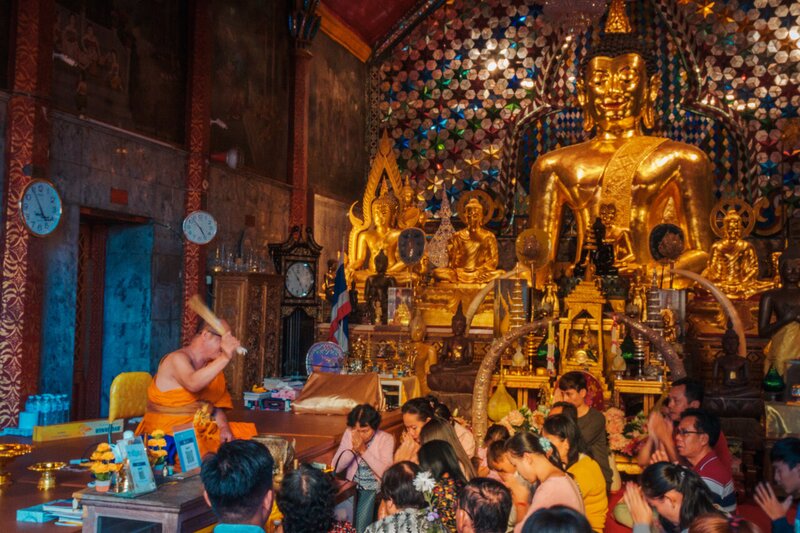 Apparently, in order to determine the location of this new temple, they decided to put the relic on a white elephant and set it free through the forest. The elephant somehow ended up at the top of Doi Suthep mountain before it collapsed and died, and that is why the temple is built there in the 14th Century.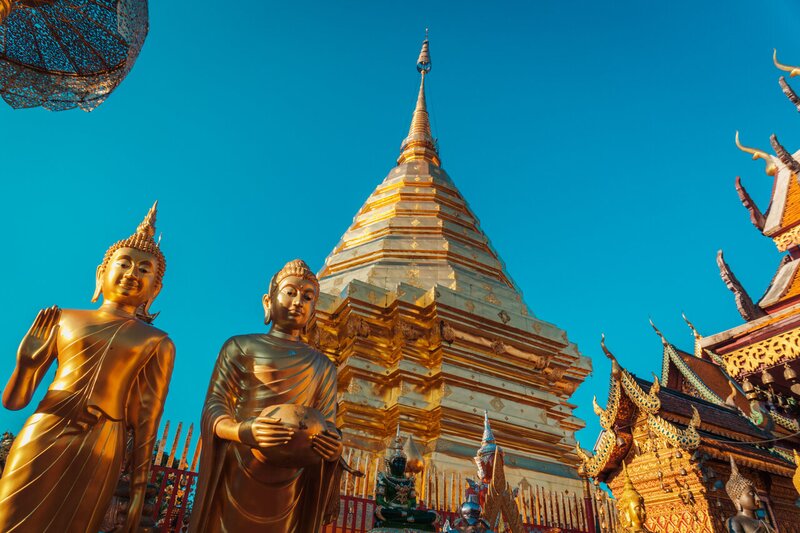 The temple is open from 5 AM to 8 PM making it the perfect place to experience either the sunrise or the sunset over Chiang Mai. I was there during the sunset and the light was perfect for photography. The entry fee is 30 THB for foreigners.
Eat Street Food At The Chiangmai Complex Night Market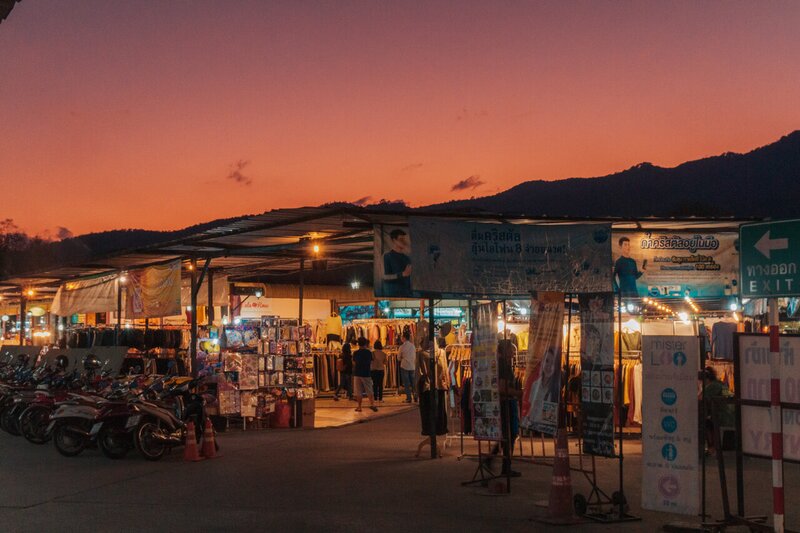 Just before you return your motorbike and end the day, on your way back from Doi Suthep, be sure to stop by Chiang Mai Complex night market for a little stroll and some street food.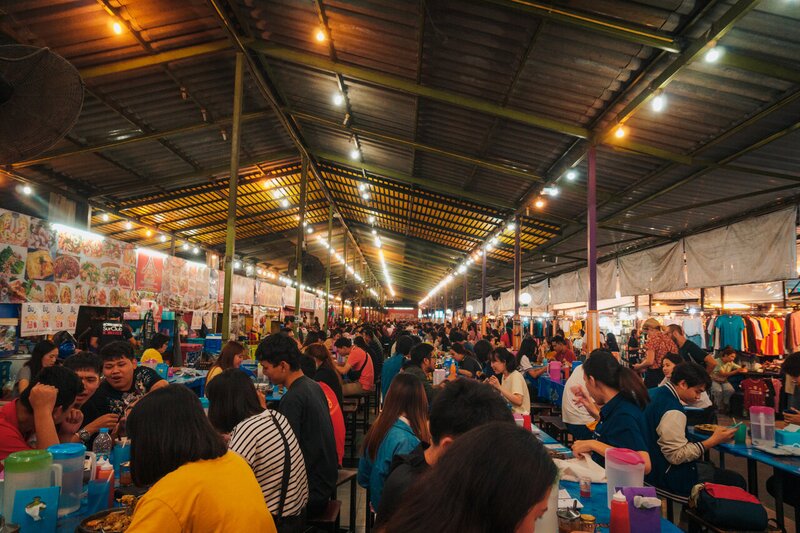 This night market is popular among the university students of Chiang Mai due to its close proximity to the popular University of Chiang Mai and you will find all kinds of delicious street food, snacks, or reasonably priced items to buy from the flea market next to it.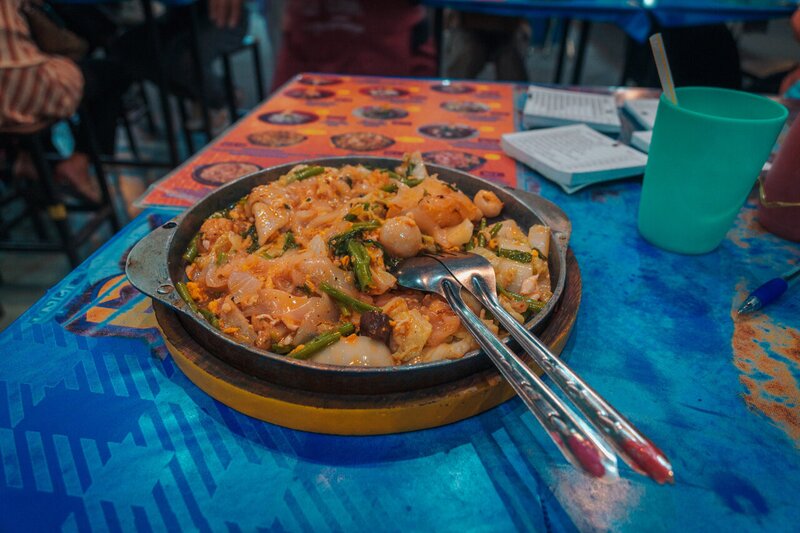 I got myself a dry seafood sukiyaki dish at one of the street food stalls at Chiang Mai Complex night market as a reward of exploring the city of Chiang Mai on a motorbike, all in one day.
Attend The Yi Peng Festival During Loy Krathong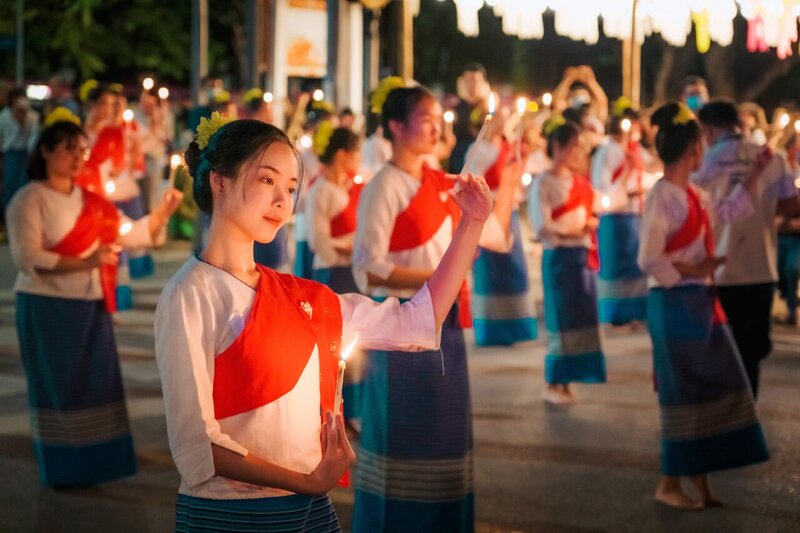 If you are there during the Loy Krathong period which is around the end of October and beginning of November (for the exact date, be sure to check for updates here), you will be able to attend the famous floating lantern event, the Yi Peng Festival in Chiang Mai.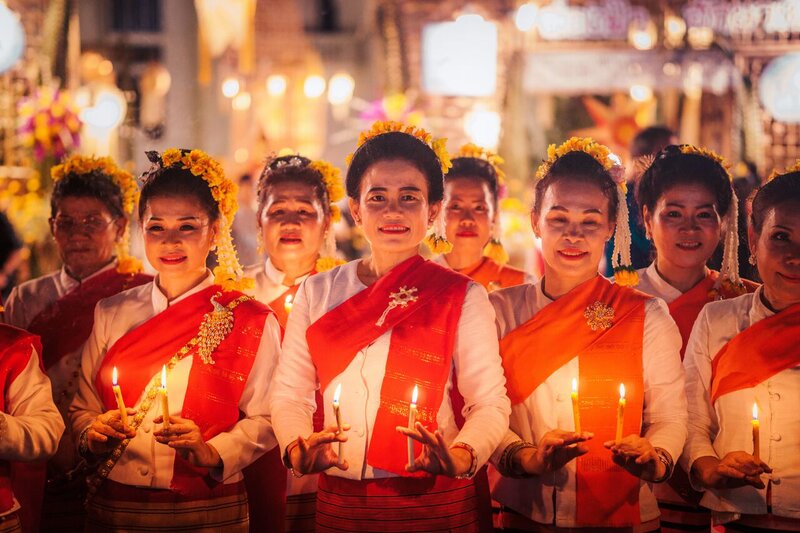 Unfortunately, if you want to see the floating lanterns, you will have to attend one of the many private organized events that often cost over 100 USD to attend and are located outside of the city due to the fact that in recent years, the remnants of these floating lanterns have caused quite a headache for the locals and so they decided to ban it.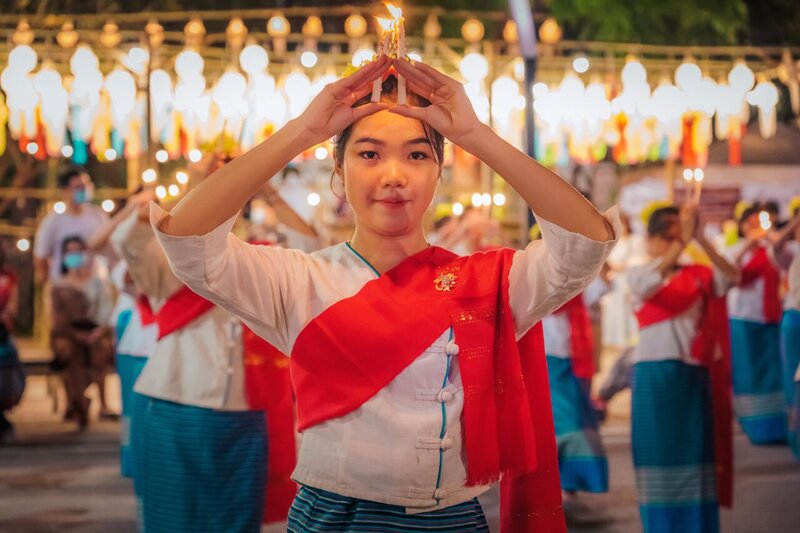 Fortunately, the Yi Peng Festival is so much more than just the photogenic floating lanterns, within the city, you will find parades, local dance performances, and plenty of beautiful photo opportunities that are not harmful to the local community and they are free to attend.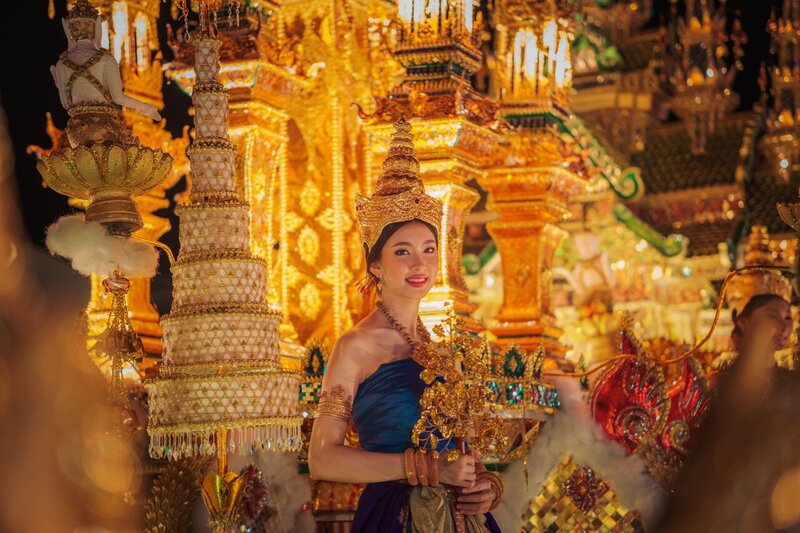 The local event often takes place in front of the Three Kings Monument where they will close off the road and bring out the volunteers to perform the local dance. You will also get to see several performances by local universities' students which often consisted of tradtional folk dances, music, and parades.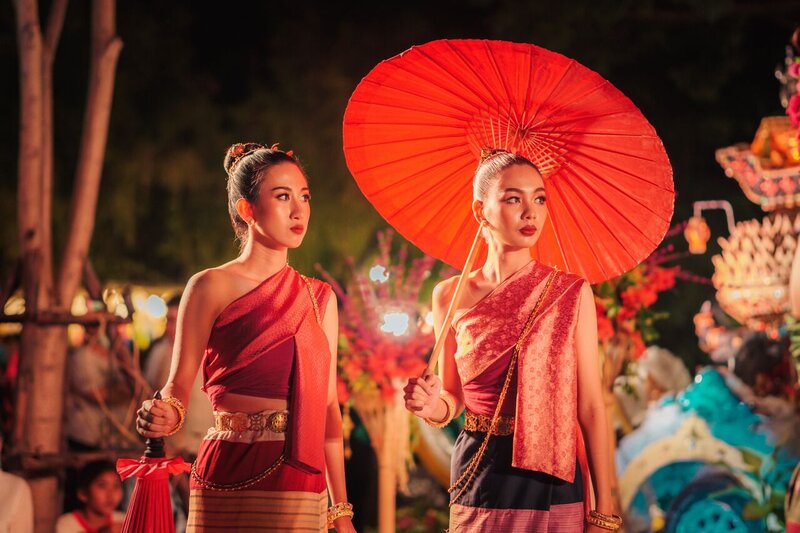 There's so much happening at this event that it can easily occupy you hours to see them all. The local Yi Peng event usuaully starts at 6 PM and goes on until 11 PM.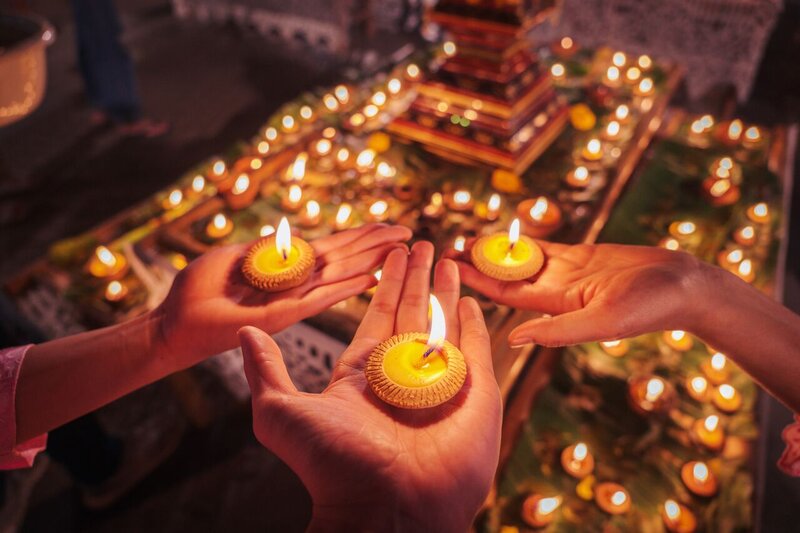 You can also go to the rivers and float your Krathong out into the water, which is how Loy Krathong are usually celebrated all over the country except that in the north, they also let go of the floating lanterns.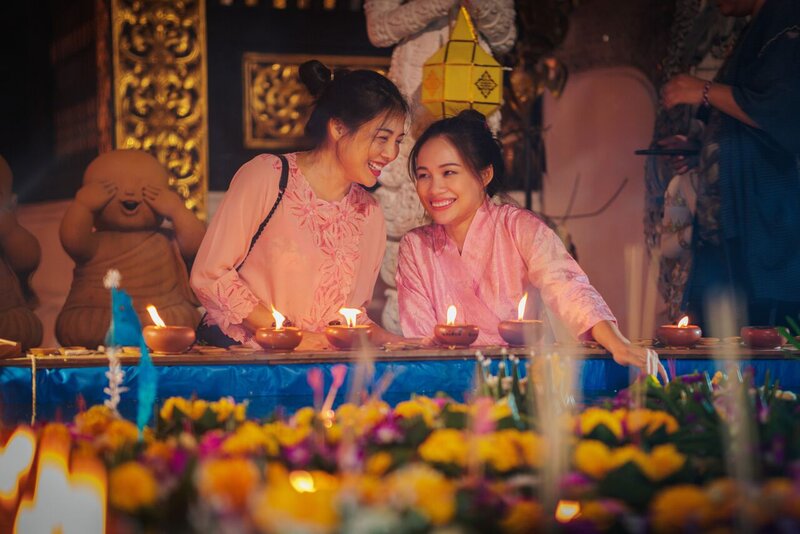 All in all, if you are able to align your visit with the Yi Peng Festival, you are guarantee to have an incredible time in Chiang Mai and if you decided to attend the local festival as I did instead of those overpriced organized tours, you are in for a treat!
Learn About The History Of Lanna At The National Museums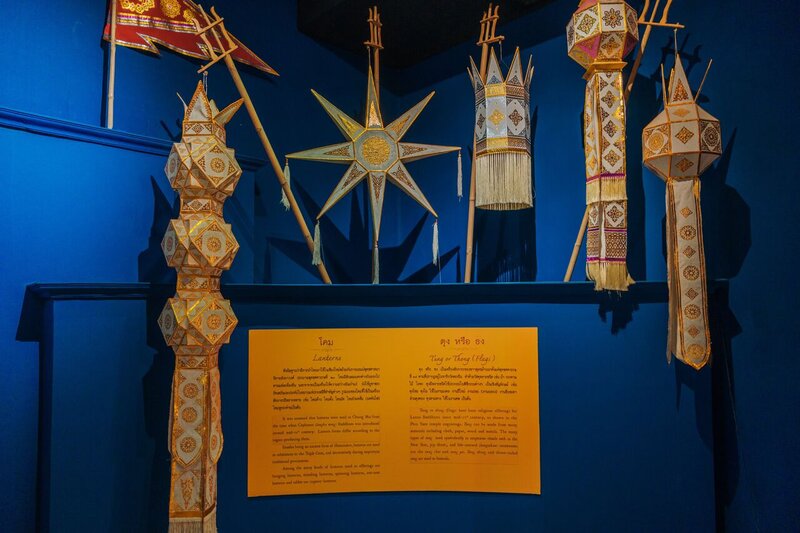 There are 3 museums you can visit in the city center, all of which are well worth your attention. The first one I would recommend you visit is the Lanna Folklife Museum, which is a museum dedicated to the beautiful work of art and folklores of the ancient kingdom of Lanna. Wonder what the colorful lanterns you see all over Chiang Mai and the north are all about? You will find the answer right here.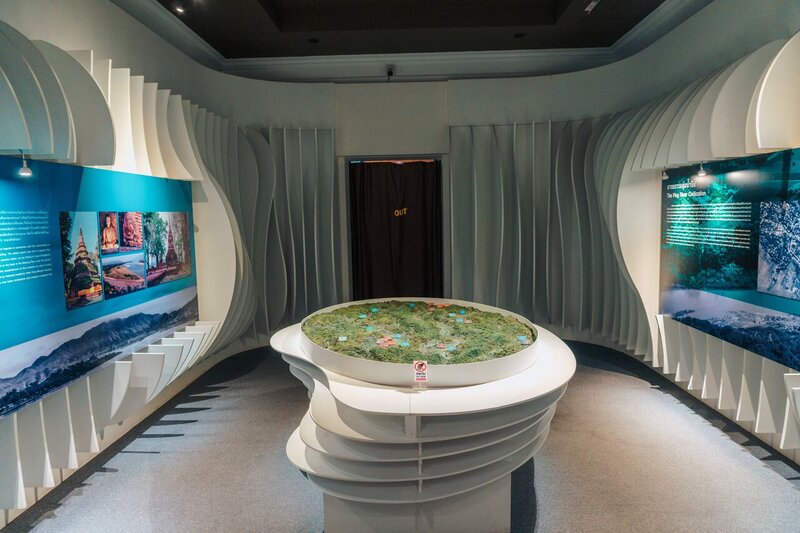 For a deeper dive into the city's diverse culture, another museum located just across the street that I recommend you visit is the Chiang Mai City Arts & Cultural Center which will give you an overview of the city's history since its founding to the modern days as well as the cultures that developed during those times.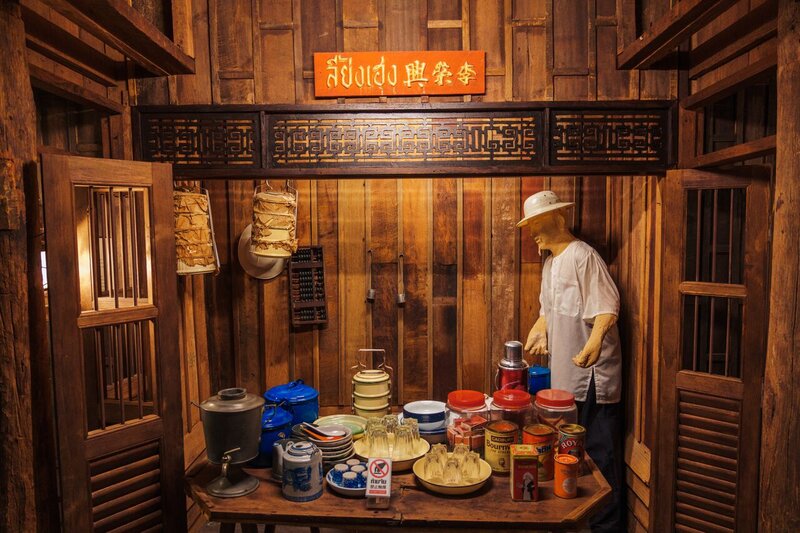 The exhibition is very well laid out with the introduction of the culture to all the mixed people living in the area. If you are planning to explore the hills of Northern Thailand further, say if you plan to do the Mae Hong Son loop, the information you will find here will allow you to see just how diverse and differet the hill tribes are. It's a great information to acquire to you embark on the journey into the hinterlands.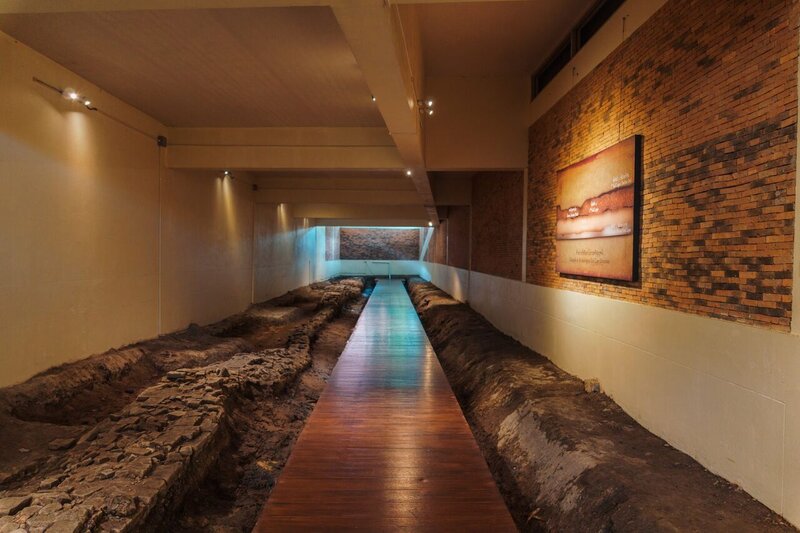 Last but not least, there's the Chiang Mai Historical Centre where you will get to learn about the history of Chiang Mai city, the notable figure that made Chiang Mai what it is today. There are also some parts of the old wall's foundation that can be seen inside the museum.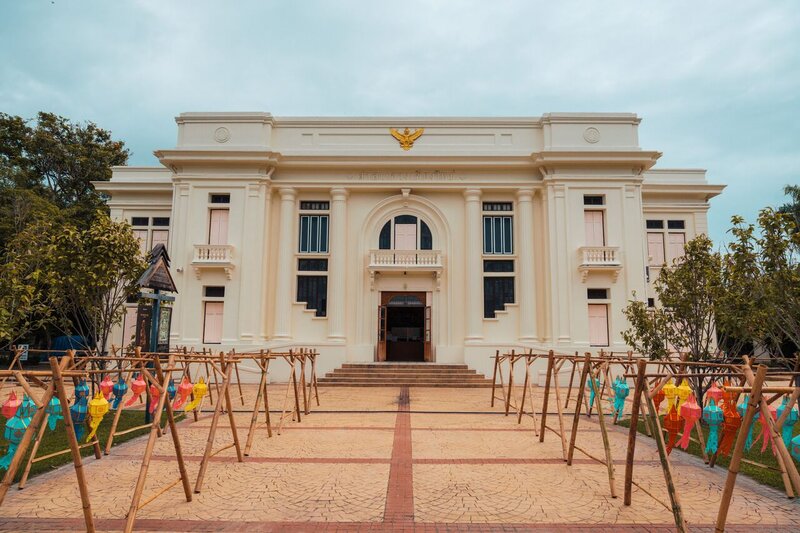 All these 3 museums are opened from 8:30 AM to 5 PM everyday except Monday, and for each individual museum, the entry ticket is 90 THB each for foreigners, 20 THB for Thais but if you want to visit all 3 museums as I did, you can purchase a combined ticket for 180 THB for foreigners or 40 THB for Thais.
Stroll Around The Sunday Walking Streets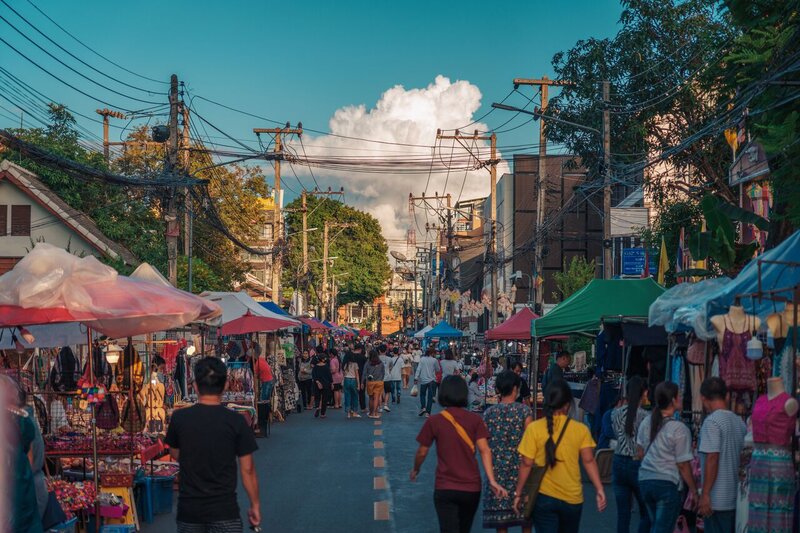 If you are in Chiang Mai on a Sunday, you will also get to see the streets of the old city center turned into a Sunday Walking Street full of shops and street food cart for you to indulge yourself in. The walking street goes for miles and it will take you sometime to cover them all.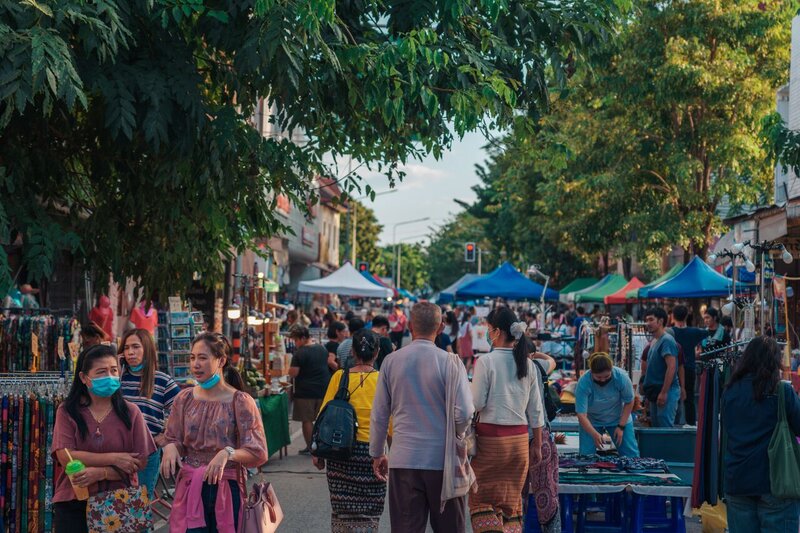 Along the streets, you will also find several temples where all the street food carts are so be sure to keep an eye out for them. The walking street starts at 6 PM and goes on until 9 – 10 PM on Sundays.
Spend A Day In Lamphun (Optional)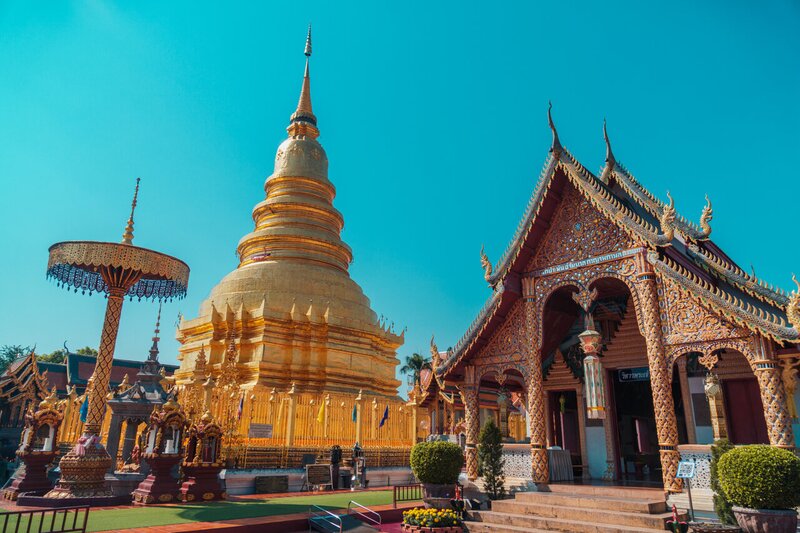 If you have an extra day in Chiang Mai, I would recommend you go and visit a nearby lesser-known, yet a historically significant city, Lamphun. Lamphun used to be the capital city of an ancient Mon kingdom of Haripunchai, one of the last and most northern Mon kingdoms in the area.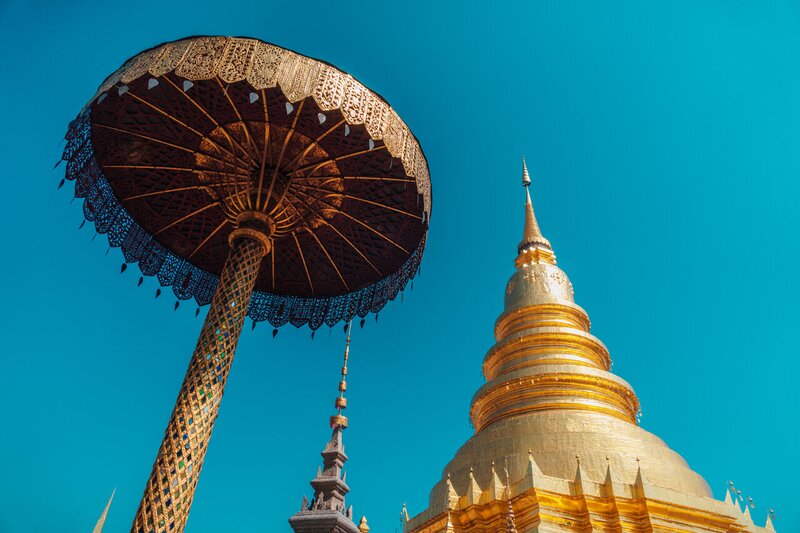 The city dated even before the time of the founding of Siam's first kingdom, Sukhothai making it the oldest city in the country. It is said that the city was found way back in the 9th Century during the Mon reign of the area back when Siam was part of the Khmer Empire still.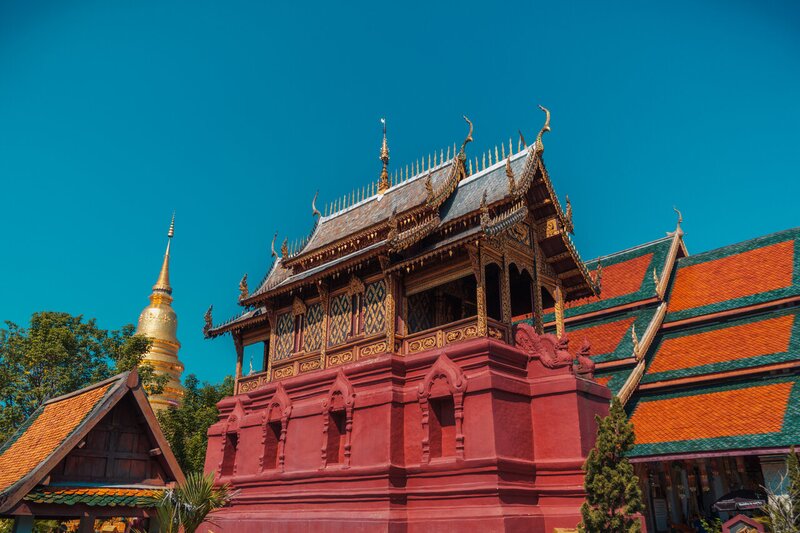 One of the most popular and well-known temples in Northern Thailand that you must visit is Wat Phra That Hariphunchai which is located in the center of Lamphun city. The temple was built in the early 12th Century by a Hariphunchai King to enshrine another Buddha relic found here.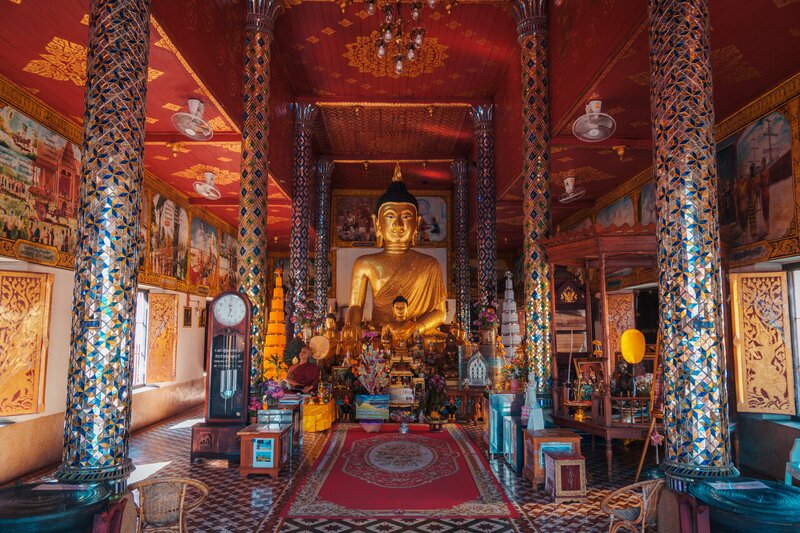 In the 13th Century, the city was sieged by King Mengrai and his Lanna Kingdom took over Lamphun and expanded the temple even further and converted many structures into Lanna style.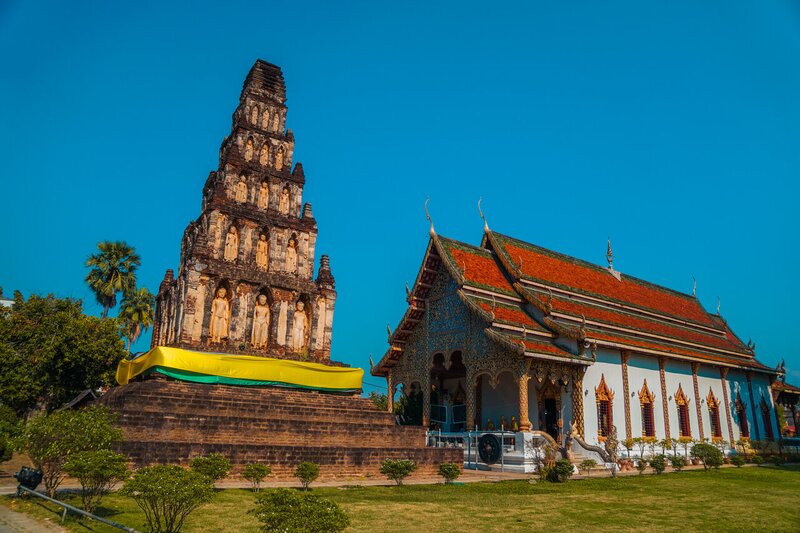 There are also several temples in Lamphun that are worth a visit such as the colorful Wat Mahawan Woramahawihan, Wat Chammathewi and its ancient 21 meters high chedi as old as the city itself, and several other attractions to keep you occupied for a day.
Getting From Chiang Mai To Lamphun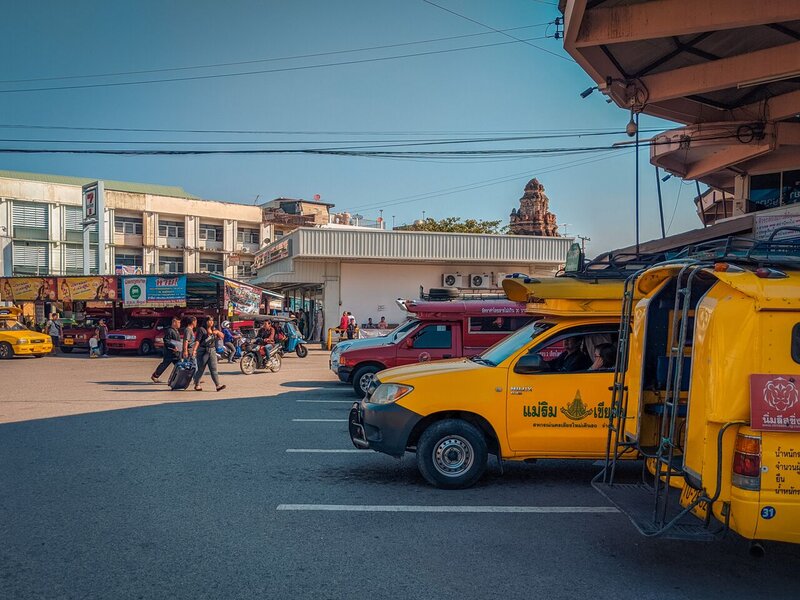 From Chiang Mai, you will first have to make your way to the Talad Warorot Song Taew stop west from the city center, right by the Ping River. From the city center, you can catch a yellow song taew from Chiang Mai Bus Terminal 1 (Chang Phueak Bus Terminal) to Talad Warorot for 10 THB and should take about 10 minutes. Make sure you ask the driver whether they are going to Talad Warorot or not before getting on.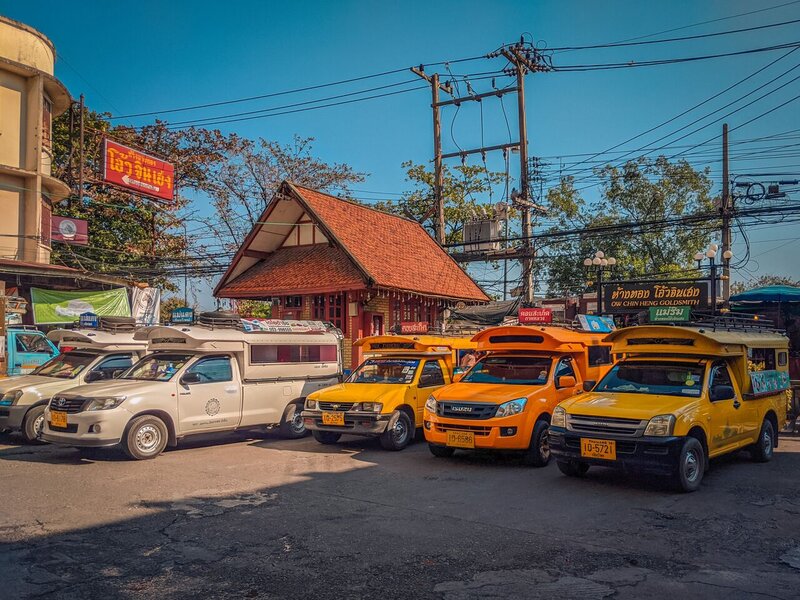 From Talad Warorot, you can then get on a blue Song Taew often park in front of the Song Taew stop along the road by the river and the blue Song Taew will take you to Lamphun in 1 hour and for 20 THB.
Once you arrive in Lamphun, the Song Taew will drop you off in front of Hari Phun Chai National Museum which is where you will have to be to get back to Chaing Mai. The blue Song Taew connecting Chiang Mai to Lamphun runs from 5 AM to 8 PM every 30 minutes so be sure to be back in time for the last bus back.
Once you get back to Talad Warorot from Lamphun, you can then find a yellow Song Taew that goes to Mae Rim where you can then drop yourself back off at Chiang Mai Bus Terminal 1 (Chang Phueak Bus Terminal) just like before or you can just call Grab Taxi and get back to your accommodation from Talad Warorot.
Looking for a complete guide to Lamphun?7 Best Things To Do In Lamphun
What To Eat And Drink In Chiang Mai
Sip A Morning Coffee At Akha Ama Coffee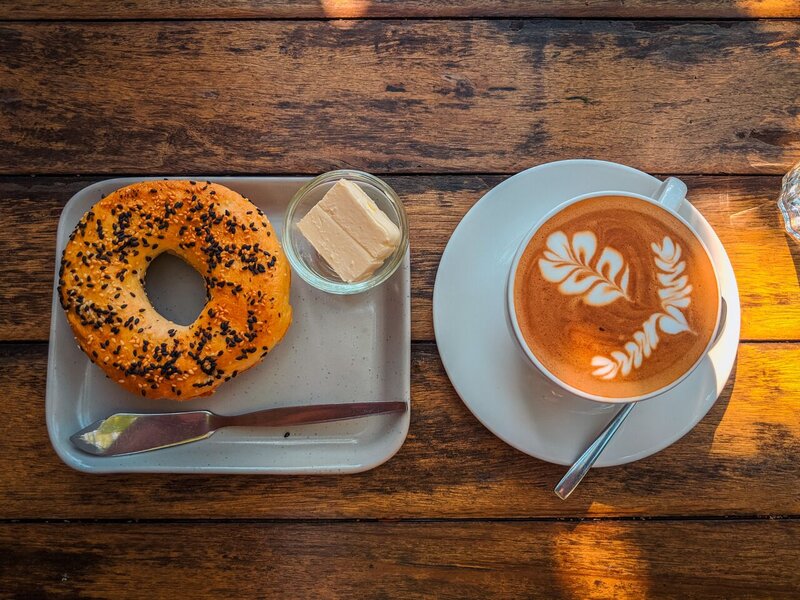 Chiang Mai is one of the most popular locations for digital nomads who live and die by how great the supply of coffee is and so you will find an abundance of nice cozy cafes for you to pick from.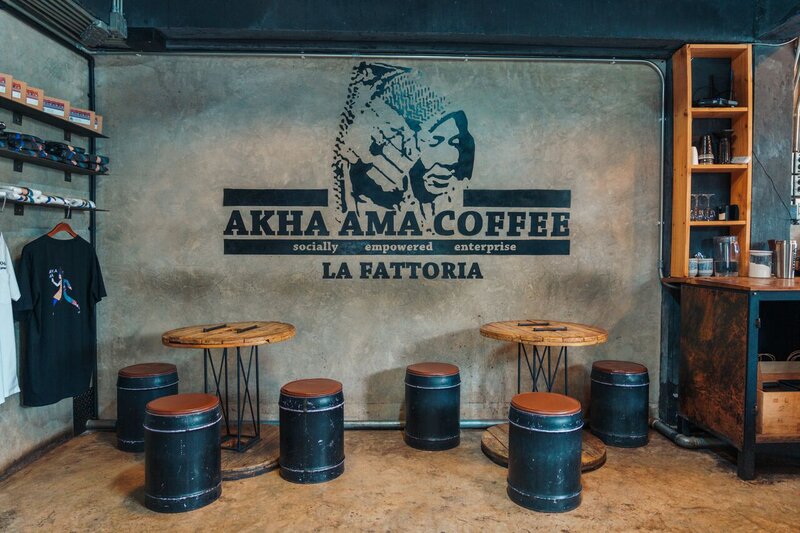 One of my favorite cafes is Akha Ama Coffee located in a quiet street just outside of the city wall, away from the crowds. They also have another branch more centrally located by Wat Phra Singh so you can check that out too. They serve a mean and delicious cup of latte with some light snacks to go with it. They have both outside and inside seating areas and are perfect for those who are just looking for a quiet place to relax and catch up on books or work.
Have Lunch At Han Teung Chiang Mai Restaurant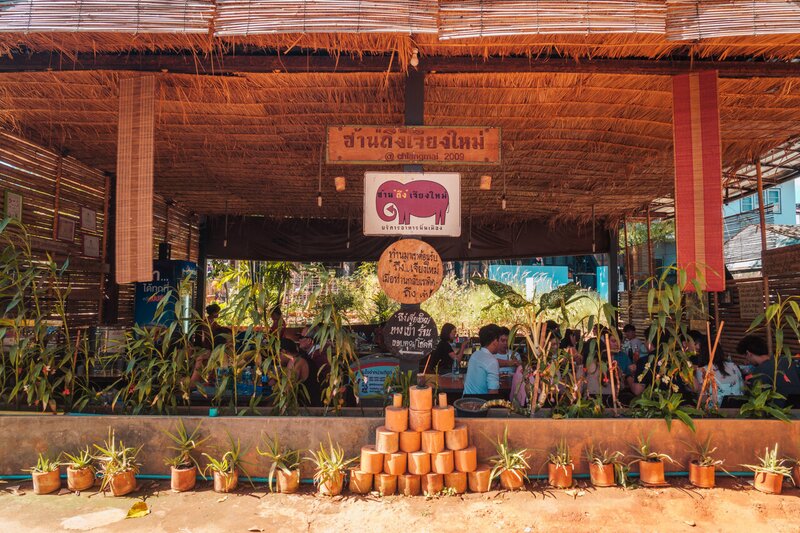 One of the most popular restaurants among the locals, which was also recommended to me by my friend from Lampang, is Han Teung Chiang Mai Restaurant, a local restaurant that still maintains the spiciness and deliciousness of the unique palette of the Northern Thai food.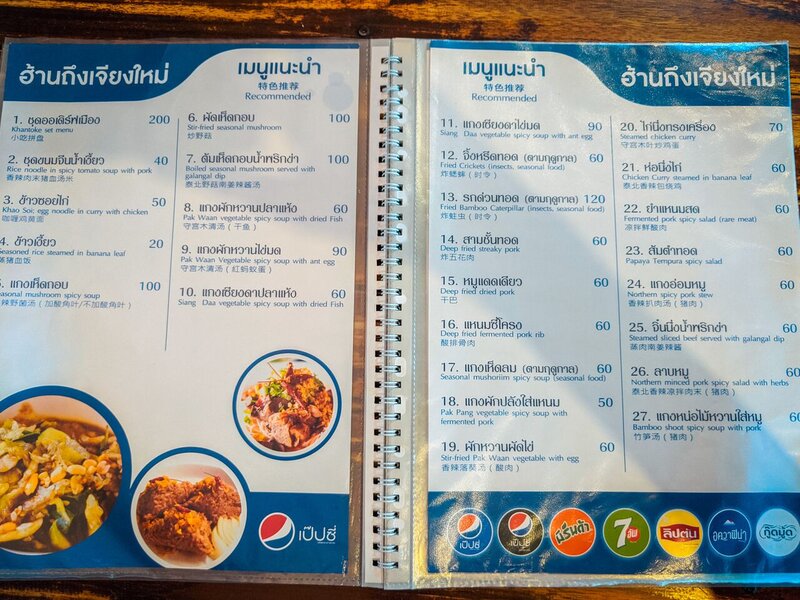 It is also extremely cheap and a ton of options for you to choose from which makes it even better so that you can try many things at once even if you are traveling solo.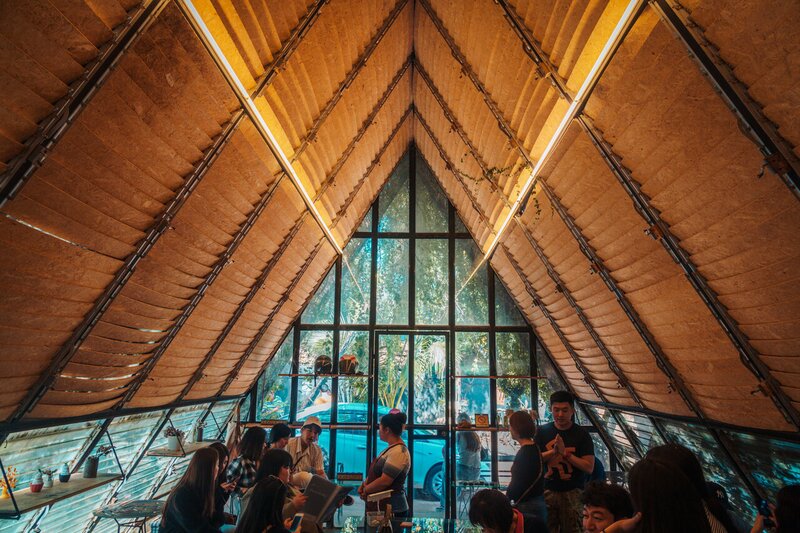 The restaurant opens from 9 AM to 8:30 PM and in order to get a table (it gets crowded at lunchtime and dinnertime), you will have to wait for a queue at its cafe in front of the restaurant. Thankfully, while you wait for you to be seated, you can order the food right away so by the time you have the table, your food will be ready for you.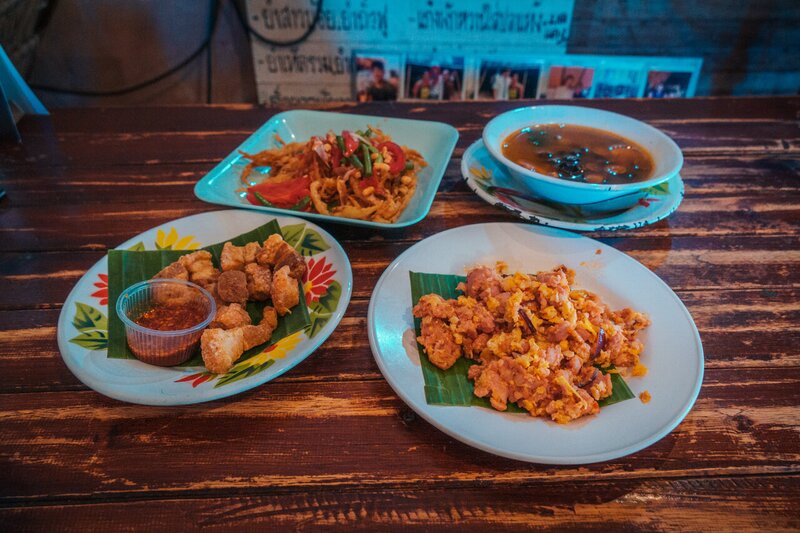 Dishes I recommend here are Deep Fried Steaky Pork, Papaya Tempura Salad, and stirred-fried fermented pork with egg. They are all delicious and not too spicy (by a Thai standard 😉).
Dine At Huen Muan Jai Restaurant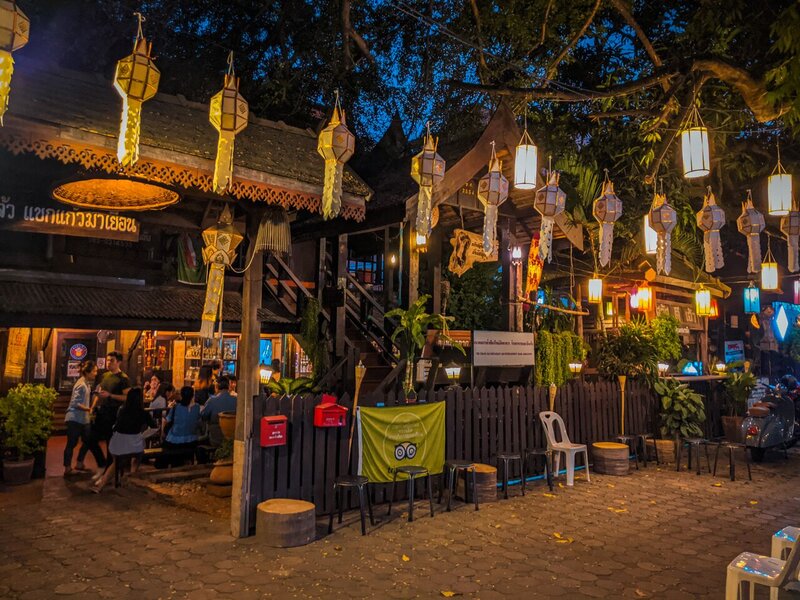 If you are looking for a restaurant that is not too far from the city center, you can also try Huen Muan Jai Restaurant, another popular local restaurant that serves northern-style Thai food like Khao Soy, Lab Moo, Northern-style sausages, and many more for you to try.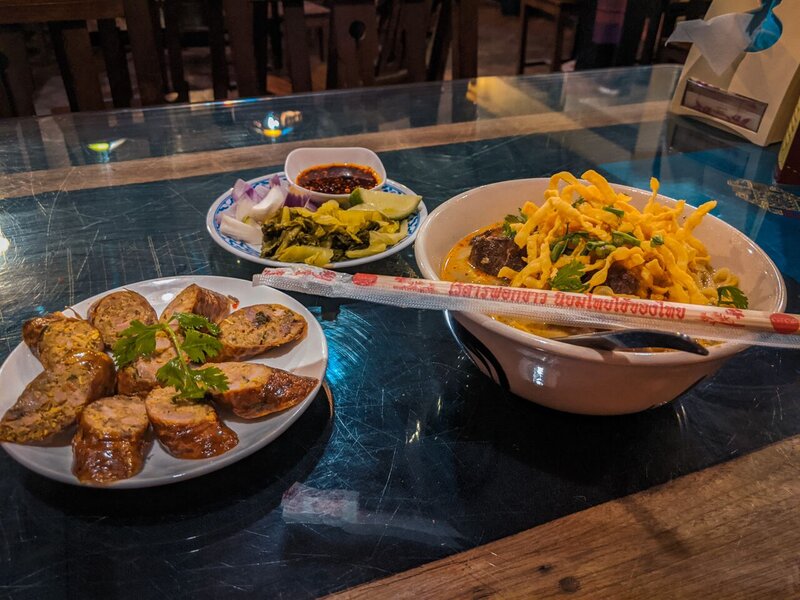 The restaurant opens from 11 AM to 9 PM and it gets extra busy at around 6 – 7 PM and you might have to wait in line for a bit to get a seat. That said, once you get your seat, the service and food come pretty swiftly and so no need to worry about the wait time.
Drinks At Rincome Night Market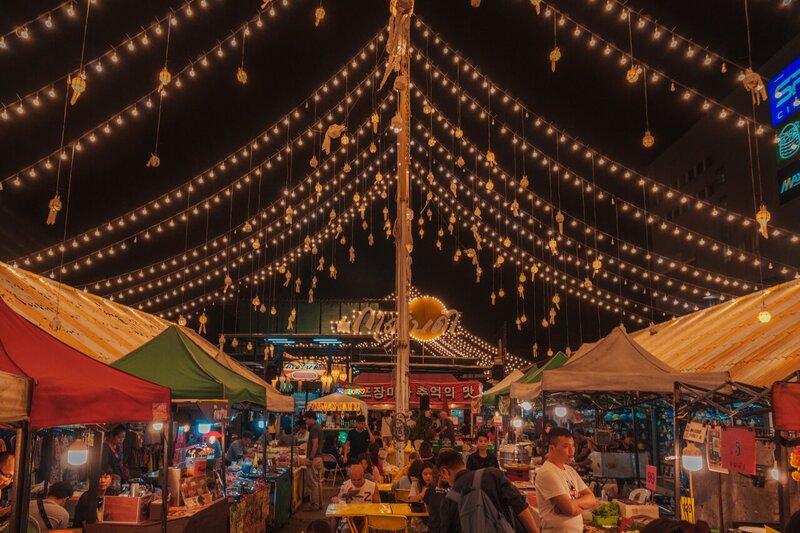 If you are looking for a place for a drink or two, a great local night market with a ton of street food and drinks for you to indulge yourself in is Rincome Night Market located right by MAYA shopping mall.
The atmosphere is pretty nice, given that the outdoor weather is cool enough, with a ton of lights and space for you to enjoy the breezy air of the north with a good glass of beer before ending your day in Chiang Mai.
And there you have it, a complete travel guide to Chiang Mai with a one-day itinerary of things to do in the city and an extra day in Lamphun. Are you excited to visit Chiang Mai? If you have any questions, please do not hesitate the ask in the comments below.
Now that we have all the information we need, it's time to plan your trip to Chiang Mai, Thailand! Here are some resources to help you get your trip going:
Are you planning to travel to Chiang Mai, Thailand independently? Be sure to check out my guide on How to Plan For Your First Solo Trip here.
Further Reading For Thailand
Looking for more information for your trip to Thailand? Here is a collection of articles about Thailand that you might find useful: