Ang Thong Things To Do Itinerary Map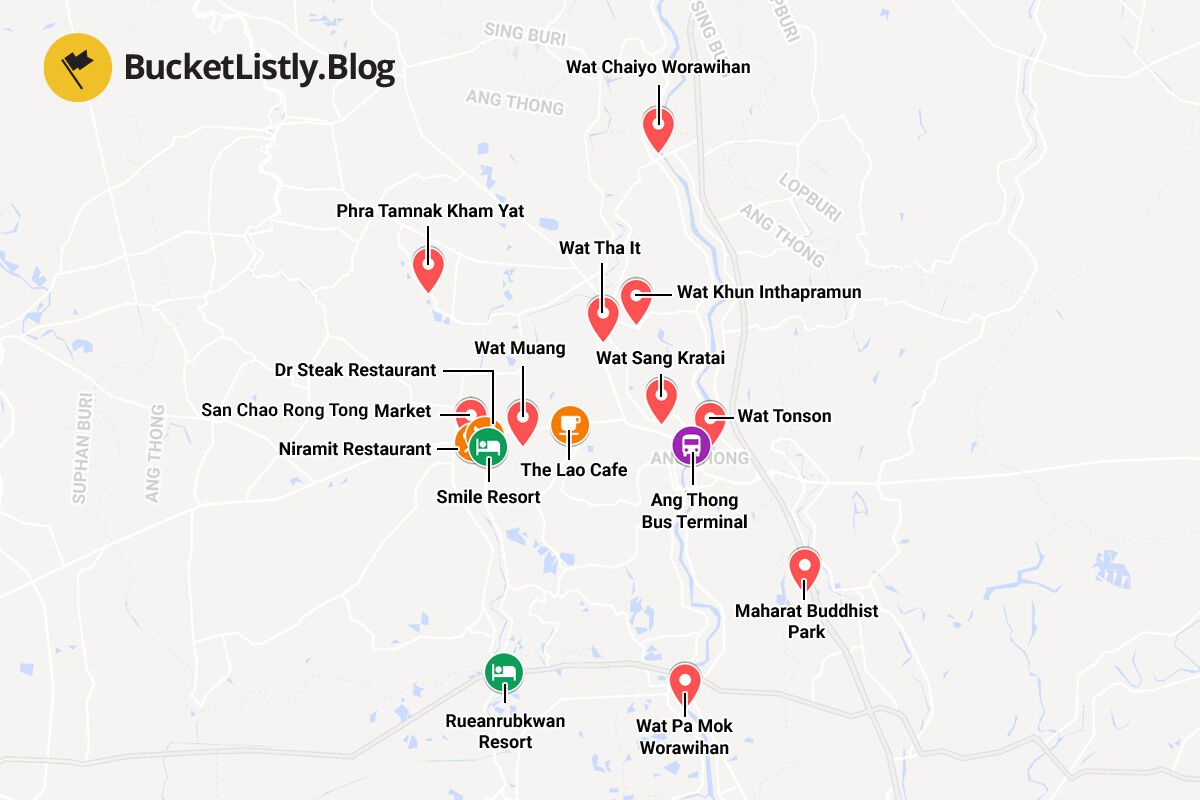 Thailand Travel Video
When To Visit Ang Thong, Thailand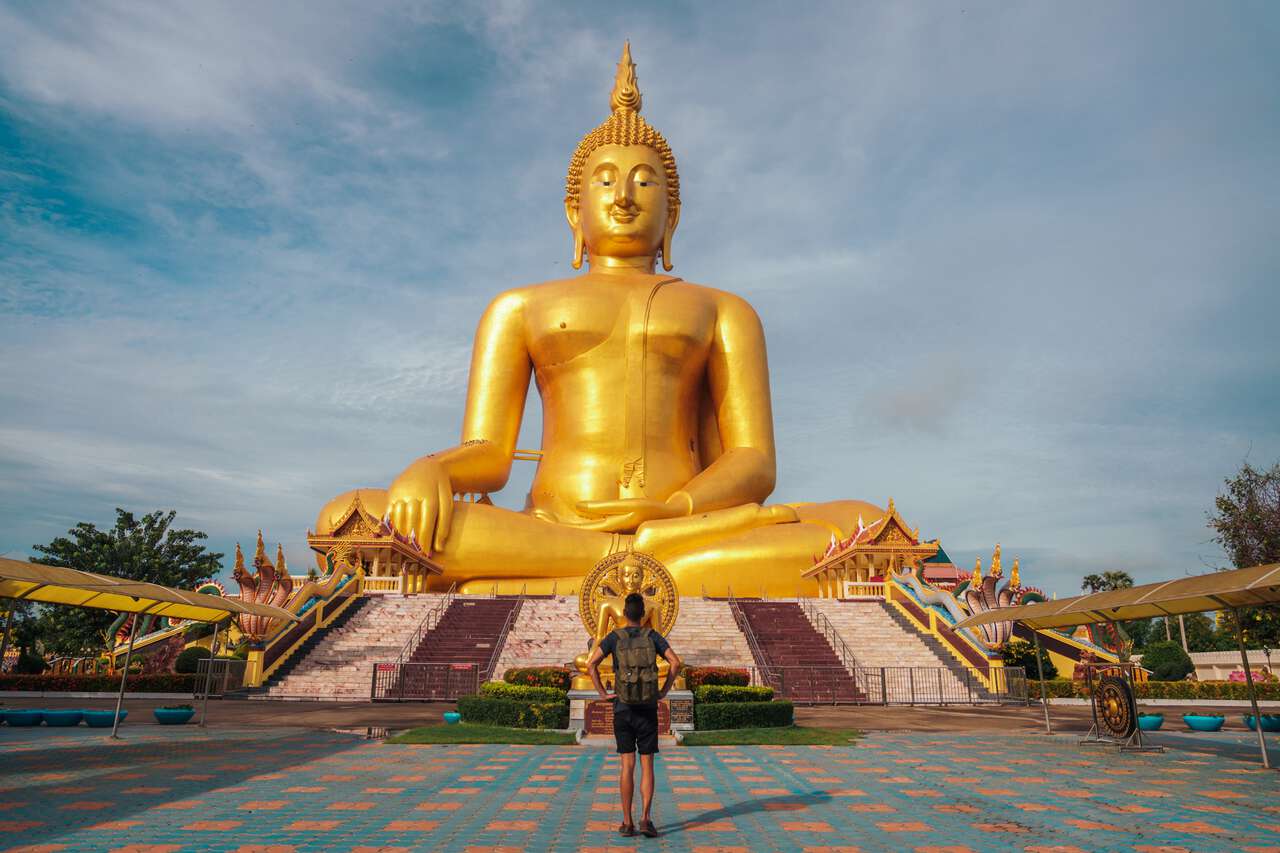 The best time to visit Ang Thong is from November to January where the weather is cooler and less humid due to Thailand's climate making it much more enjoyable to ride a scooter or walk around.
That said, Thailand in recent years has suffered a lot from air pollution due to the burning season and it is extremely prevalent during Thailand's winter period (December – January) so even though the weather is cooler, your visibility might not be the best. Be sure to buy a face mask if you decided to visit Thailand during this time.
March – April is the hottest and most humid period of the year so if you can't handle heat very well, avoid visiting during this time. The air quality may be a bit better during this time though but it's not guaranteed.
All the other months are considered to be a rainy season which, even though the weather is a little more manageable than the summer months, you will also be seeing a lot more rain which might prevent you from enjoying the outdoors. Air quality during this time should be better due to rain.
As you can see, the best time to visit Thailand used to be during its wintertime BUT now that the air quality is getting worst and worst, you will have to decide which is more important to you as a traveler, good weather but bad air quality or vice versa.
Where To Stay In Ang Thong, Thailand
Budget/Mid-Range – Smile Resort – 19 USD/Night (Standard Double Rooms) – Highly recommended. Very near Wat Muang. Located in a quiet street by the main road. Easy access to Dr. Steak Restaurent. Lovely owner. You can also rent a bike here to bike to Wat Muang in the morning.
High-End – Rueanrubkwan – 140 USD/Night (Family Room with Garden View)
How To Get To Ang Thong, Thailand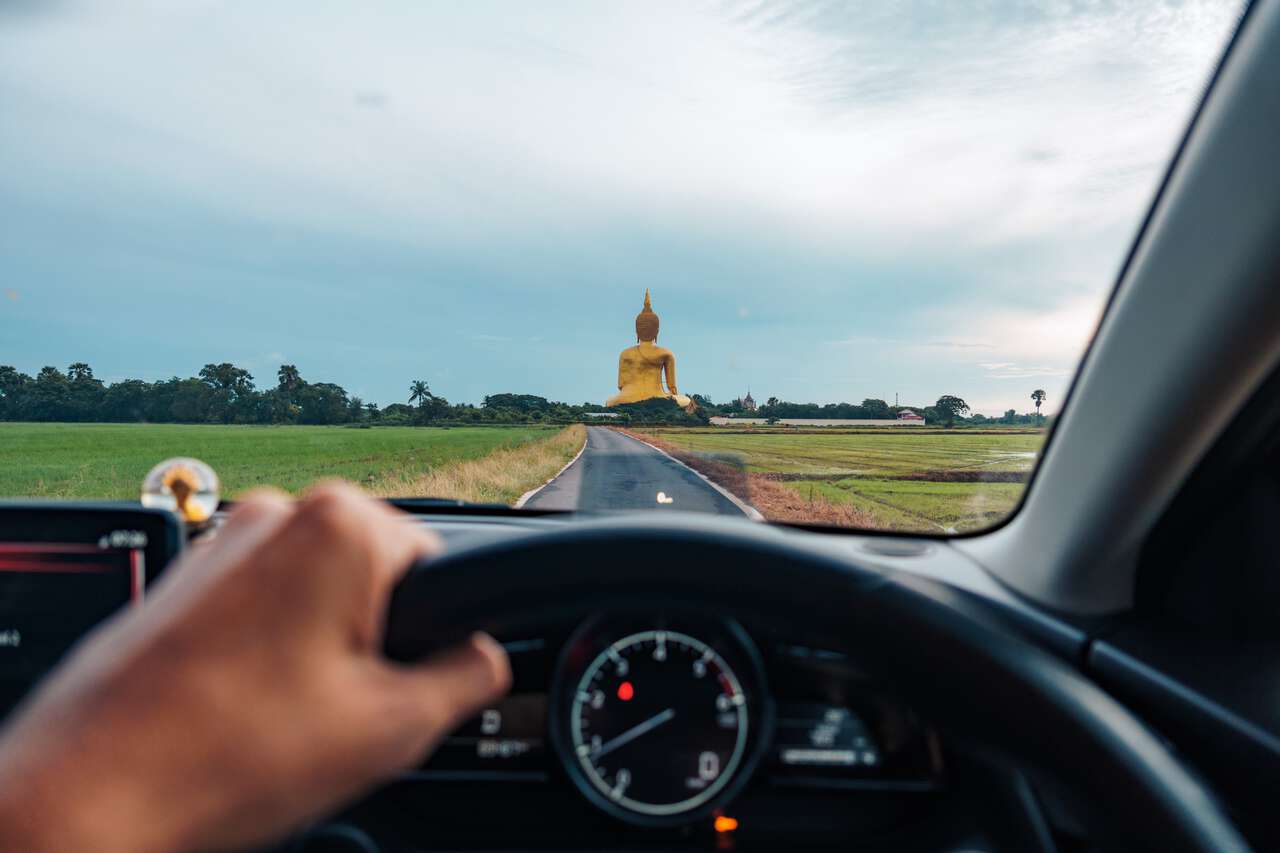 Ang Thong is located 105 km north of Bangkok and in order to get from abroad to Ang Thong, you will first have to get yourself to Bangkok, the capital city of Thailand. Thankfully, Bangkok is a major hub in Southeast Asia and so there are several ways you can get to the city from where you live as follows:
From the US, unfortunately, there are no direct flights to Chiang Mai or Bangkok so you will have to rely on transit flights by Emirates, Qatar, or Turkish Airlines from the East Coast or ANA Airlines or Korean Air from the West Coast.
From Europe, you can fly from most popular European hubs like London, Paris, or Frankfurt via Thai Airways or local carriers like British Airways, Air France, or Lufthansa to Bangkok. You can also go with Etihad, Qatar, or Emirates if you don't mind transiting.
From within Asia, there are several low-cost airlines offering several routes from many hub cities like Singapore, Kuala Lumpur, Tokyo, Jakarta to Bangkok. AirAsia and Thai Lion Air are great low-cost options.
To find a cheap flight to Bangkok, I would recommend you use Skyscanner or Expedia to look for the cheapest route and schedule so you can compare and pick the best one.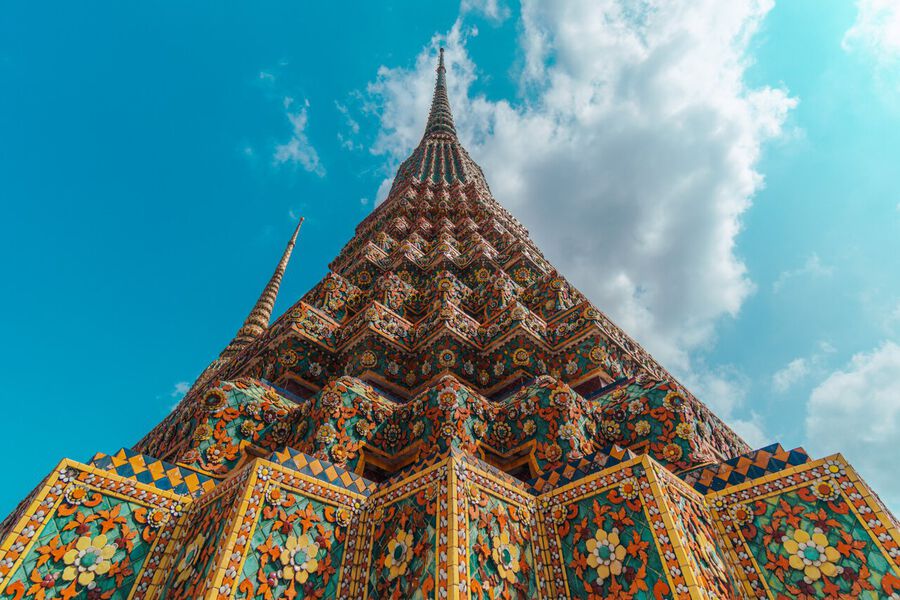 Looking for a travel guide to Bangkok?12 Hours In Bangkok
Getting From Bangkok To Ang Thong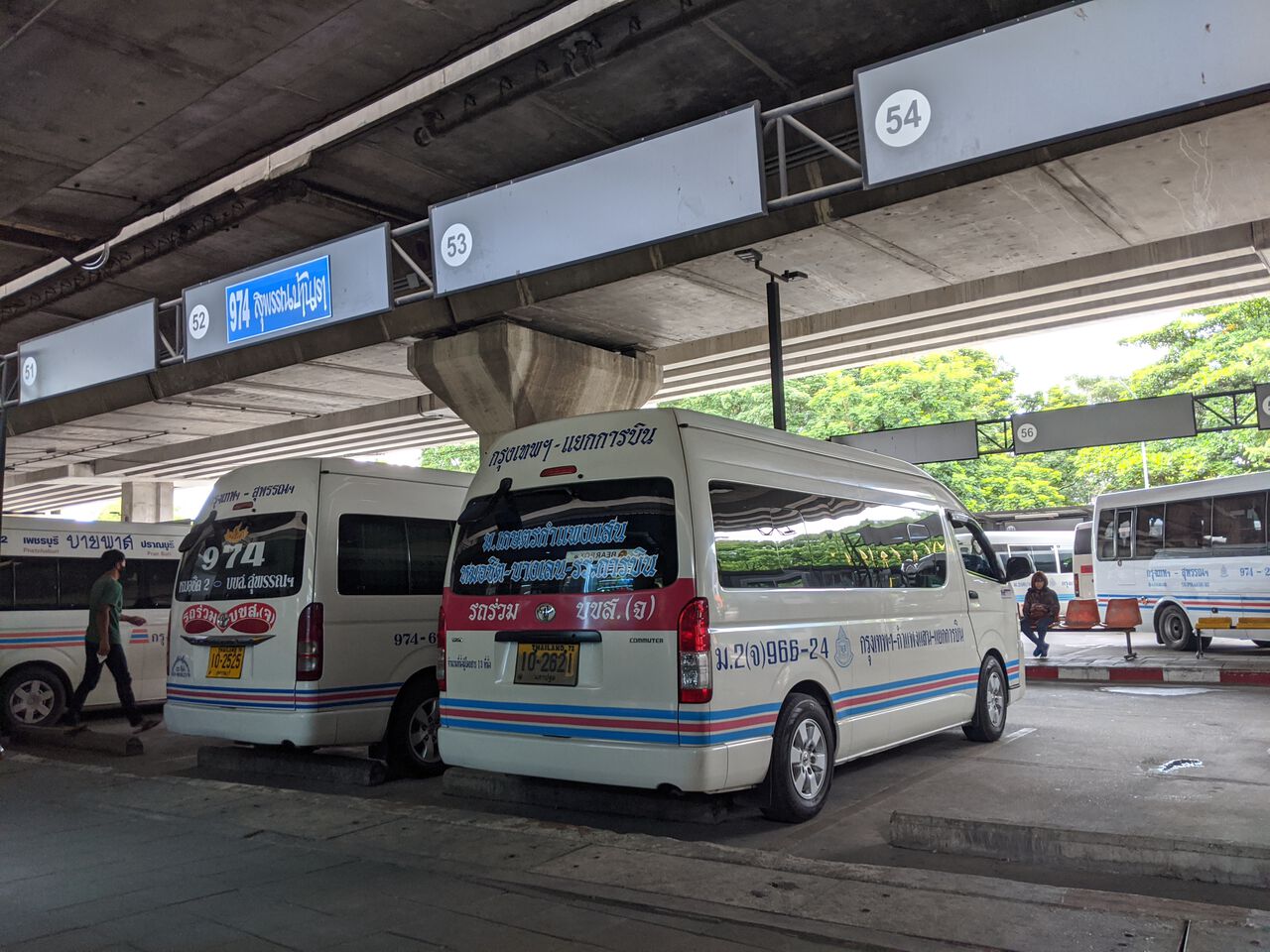 NOTE: if you are planning to follow this itinerary, I would recommend you skip this section and instead, go and rent a car from Bangkok following my instruction under How to Get Around Ang Thong and drive from Bangkok straight to Ang Thong as you won't find many options for car rental places in Ang Thong City.
For those who are just looking for a way to get to Ang Thong via public transport, you can continue on and follow the instruction below to take a bus to Ang Thong.
To get a bus/van, You will have to take a minivan from the Mini-Bus stand across the road from the Morchit Bus Terminal.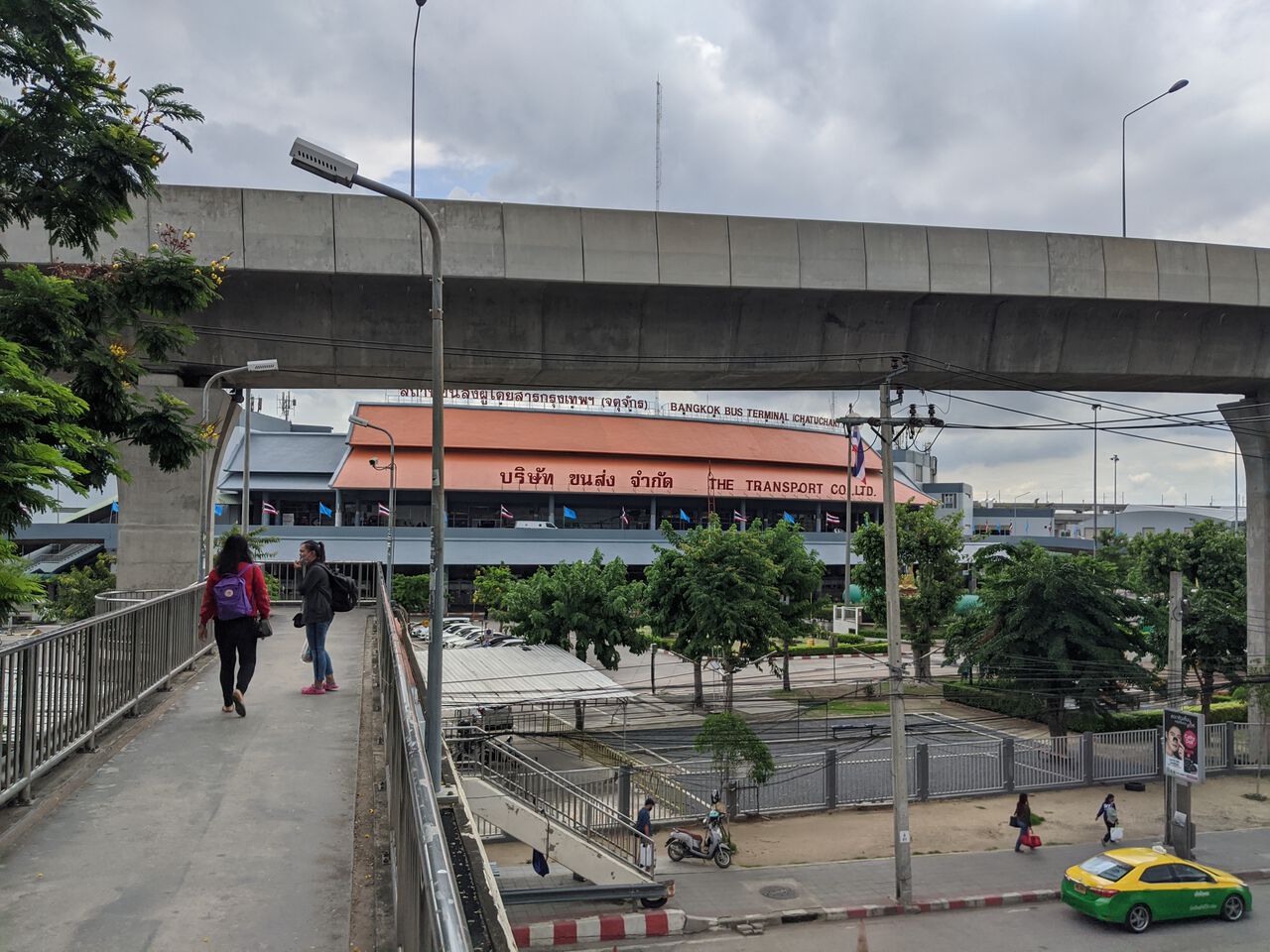 You can reach Morchit Bus Terminal from almost anywhere in Bangkok via either MRT station Kamphaeng Phet station or BTS Morchit station and then from there, you can take a taxi to Morchit Bus Terminal. The taxi should cost no more than 50 THB.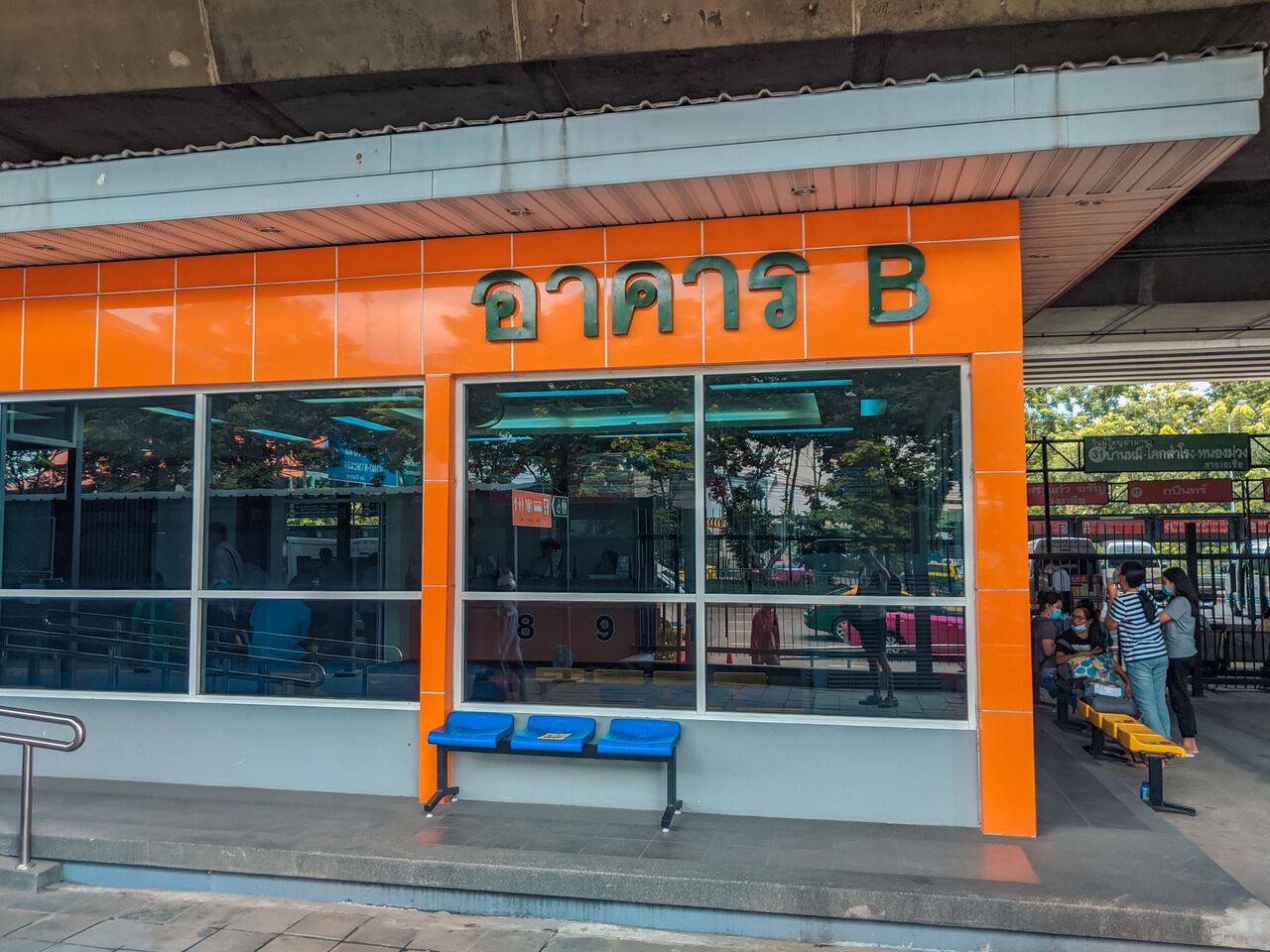 Once you arrive at the Morchit bus terminal, cross the road to the mini-bus stand with the footbridge and go to Building B to buy your ticket at one of the kiosks inside. Once you arrive at Building B, the people and the kiosks will direct you to the right one. Just tell them that you want to go to Ang Thong and you should be on your way.
The mini-bus and vans from Bangkok to Ang Thong leaves every hour from 5 AM to 9 PM every day. The journey will take around 2 hours and the ticket will cost about 80 – 120 THB. When you buy your ticket, they will ask you where you want to get dropped off.
You do not have to reserve your ticket beforehand as Ang Thong doesn't get as many tourists as other places but for the peace of mind, you can browse through some of the available options with the link below:
BOOK A BUS FROM BANGKOK TO ANG THONG
How To Get Around Ang Thong Province, Thailand
As with most lesser-traveled province in Thailand, tourist attractions are all scattered throughout the province with no way to get there but with your own vehicle. This is also the case here in Ang Thong and I recommend you rent a car before you embark on this journey.
Renting A Car To Explore Ang Thong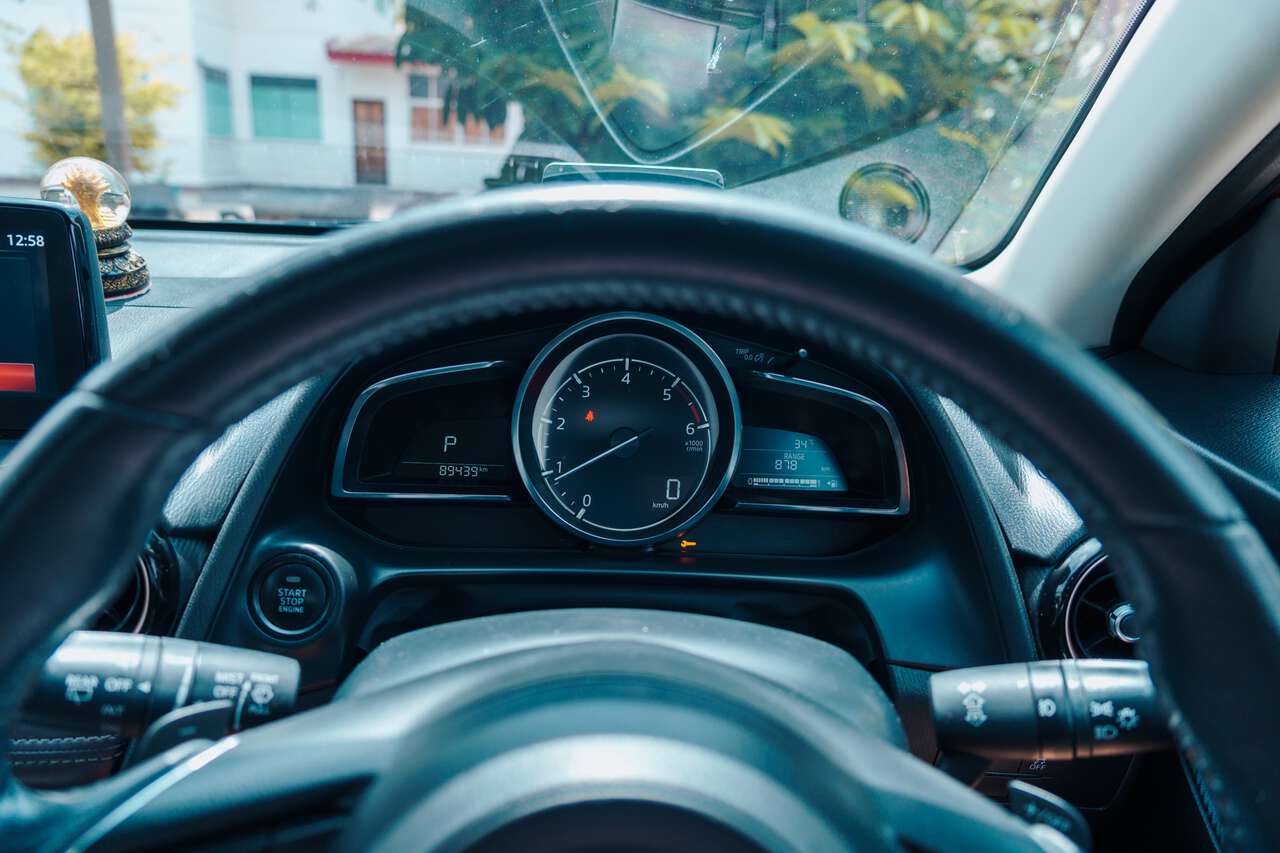 Now, if you want to rent a car to explore Ang Thong, you won't find many options within Ang Thong city itself as it isn't a big city so I would recommend you rent a car straight from Bangkok and drive to Ang Thong yourself.
You can rent a car in Bangkok from Rentalcars.com where you can pick up from either the Suvarnabhumi Airport or Don Muang Airport. Don Muang Airport is on the way to Ang Thong so maybe, picking up there is a better option.
The car rental price in Bangkok ranged from 790 THB – 1500 THB per day. Hit the link below to browse through available car options to drive to Ang Thong.
To rent a car in Thailand, you will need a valid driving license (foreign driving license is fine), a 3,000~ THB deposit (you will get it back when you return the car), and all you have to do is fill in the form, set up a pick-up/drop-off time and place, and you are on your way.
How Many Days Do I Need For Ang Thong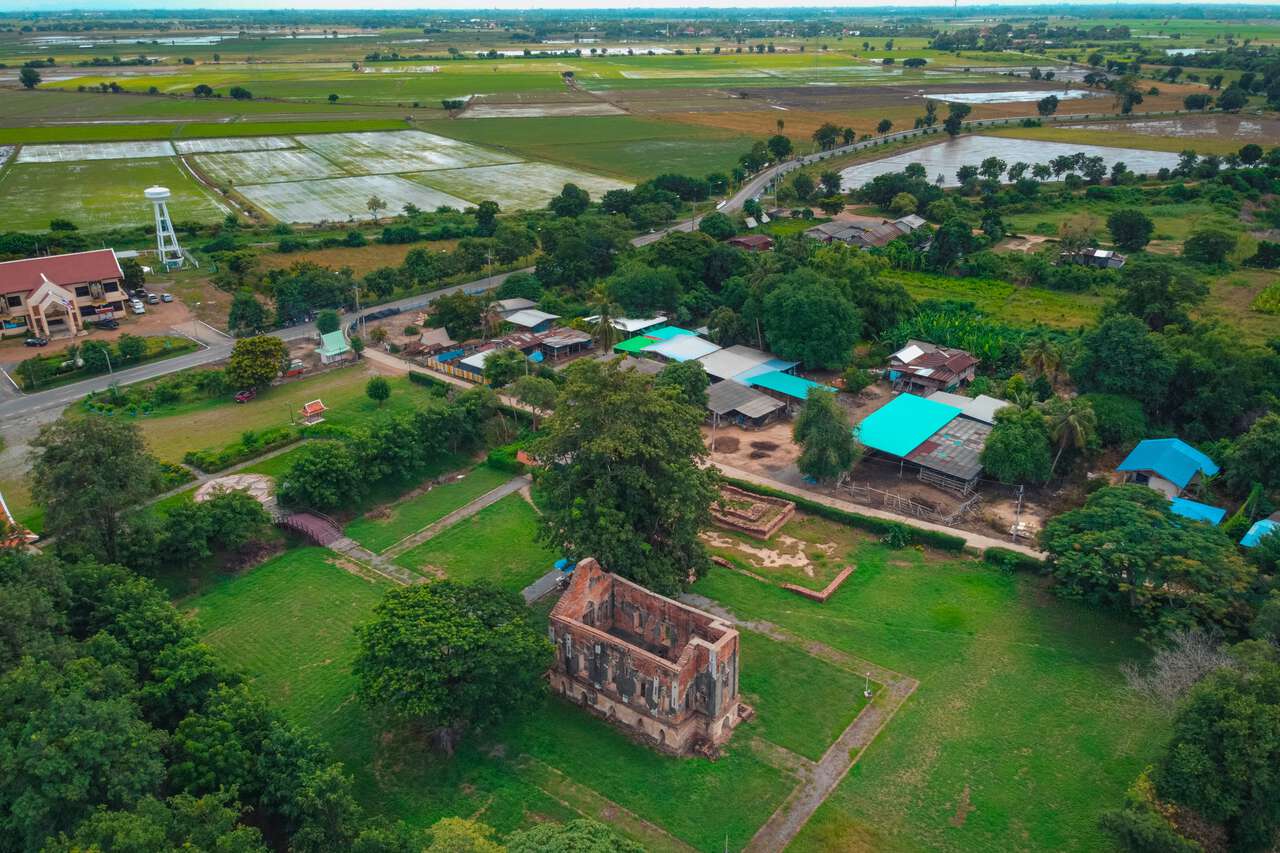 With your own vehicle, you will only need 2 days (1 night) max to see all the attractions I have listed in this guide. Here is a breakdown of the 2-days Ang Thong itinerary:
Day 1: Driving from Bangkok, you can stop at Wat Pa Mok Worawihan and Maharat Buddhist Park along the way. Stop by the temples in the city like Wat Tonson and go all the way up to Wat Chaiyo Worawihan, Wat Sang Kratai, Wat Khun Inthapramun, and Wat Tha It before retreating for the day.
Day 2: Visit Wat Muang in the early morning, stroll around San Chao Rong Thong Vintage Market and visit Phra Tamnak Kham Yat before driving back to Bangkok.
How Much Money Do I Need For Ang Thong
With this 2-days Ang Thong itinerary above, we can calculate roughly how much you will be spending on this trip as follows:
Accommodation: For 1 night of accommodation in Ang Thong, you can expect to pay around 19 USD for accommodation.
Food: Food in Ang Thong should cost around 40 – 60 THB per meal and so you can expect to pay around 200 THB for 2 days in Ang Thong province.
Transportation: For a 2-days car rental (1600 THB) plus gas (~600 THB), you can expect to pay around 2,200 THB for transportation.
Activities: All of the destinations I listed here are all free to enter so you do not have to pay anything for activities.
Total Budget for 2 days in Ang Thong province: 2,994 THB (95.78 USD).
Is It Safe In Ang Thong?
Since you will be driving most of the time, the things to worry about is the road and as some of you may know, Thai drivers aren't the best in the world with lots of fast pick-up trucks and container trucks sharing the road so be sure to be extra vigilant when you are driving in Thailand.
Internet In Thailand
There are 3 major carriers in Thailand, AIS, DTAC, and True, all of which offer a pretty similar range of traveler's packages as well as coverages. I personally use AIS as I have been with them since my first phone and they have a lot of Support Center around Thailand and their coverage hasn't failed me yet so if you are looking for a reliable carrier, I can recommend AIS.
There are 3 packages for tourists, 5 GB for 5 days at 160 THB, 15 GB for 8 days at 299 THB, and 30 GB for 15 days. Depending on how long your trip to Thailand will be, you can pick one of these 3 packages that fit your itinerary the most.
With these 3 packages, you can top-up more in case you need more data or calls for your trip. More often than not, 5 GB is more than enough for me to travel around Thailand for a month.
For more information about Thailand's local sim card: Thailand's Prepaid Data Sim Card.
Travel Insurance
What To Pack For Ang Thong, Thailand
As you know, I am a light traveler and packing light for a trip like this is an art in and of itself. Here are a few tips on what to pack for your trip to Ang Thong, Thailand:
SEE MY PACKING LIST: 47 TRAVEL ESSENTIALS
10 Best Things To Do In Ang Thong
Visit Wat Muang And Its Massive Buddha Statue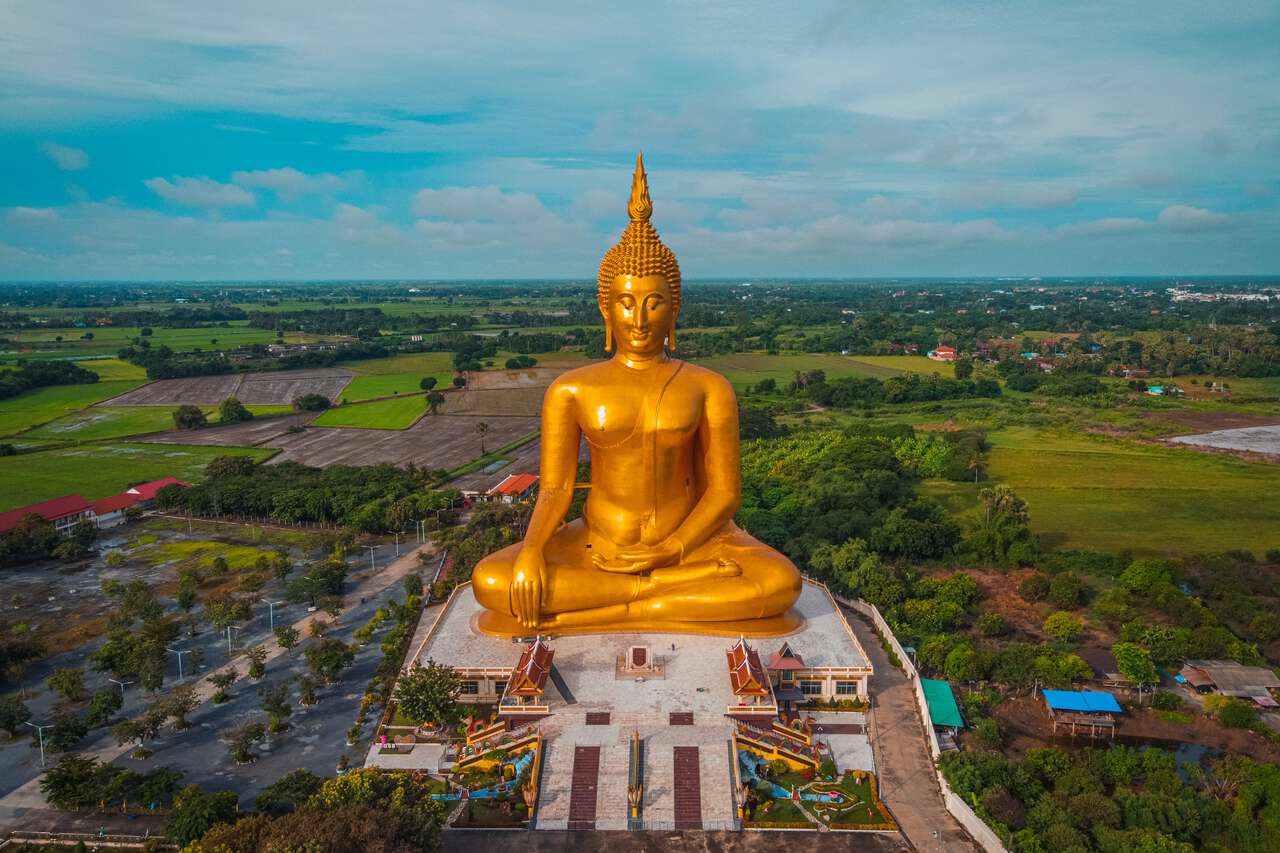 One of the largest Buddha images in Thailand is right here in Ang Thong and it is one of the most stunning sights you will see here. From miles away, you will see The Great Buddha of Thailand and its blindingly gold reflection of the 92m high Buddha Image all surrounded by rich green rice fields and tall palm trees.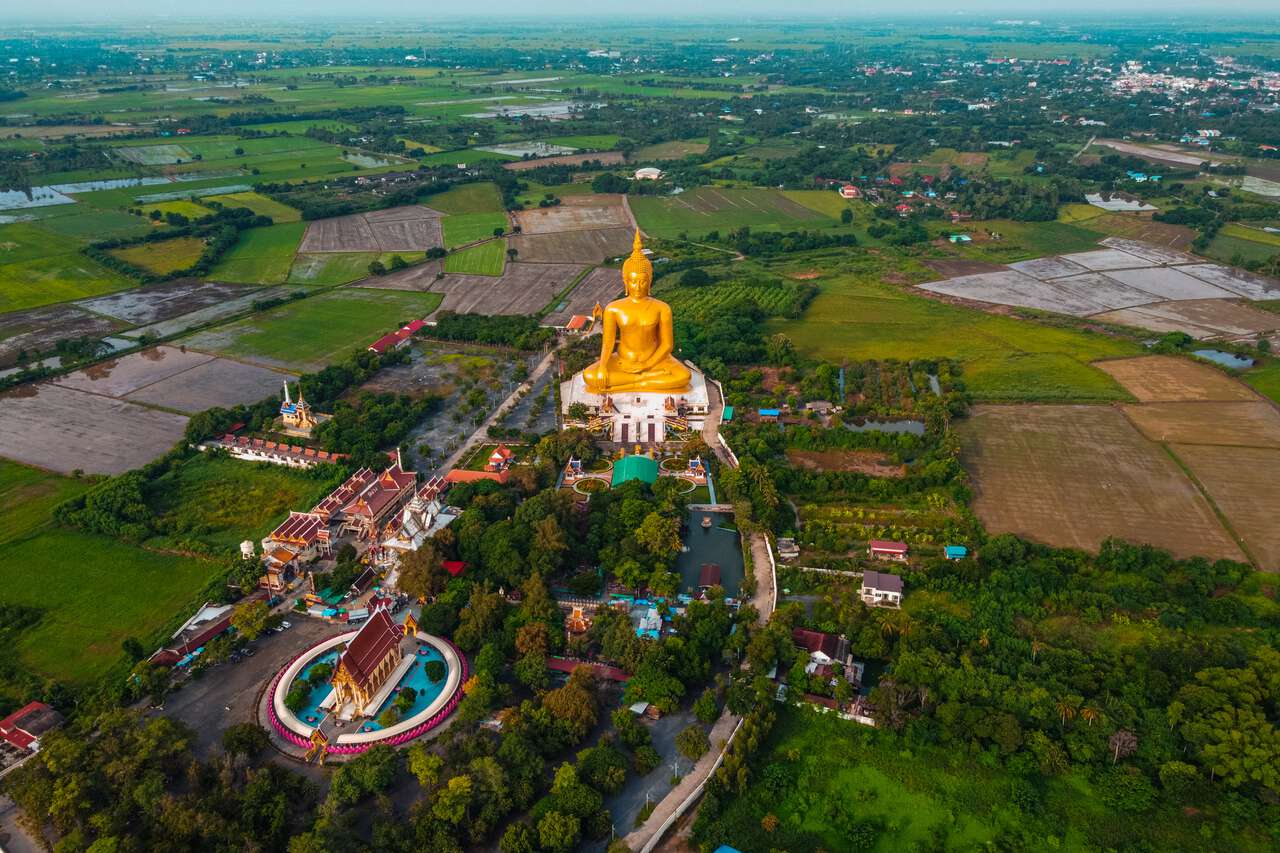 The Great Buddha of Thailand at Wat Muang was completed in 2008 and it has since become the most popular landmark of Ang Thong. It took over 18 years to complete with only donation money from believers and pilgrims and it is said to have a budget of over 100,000,000 THB!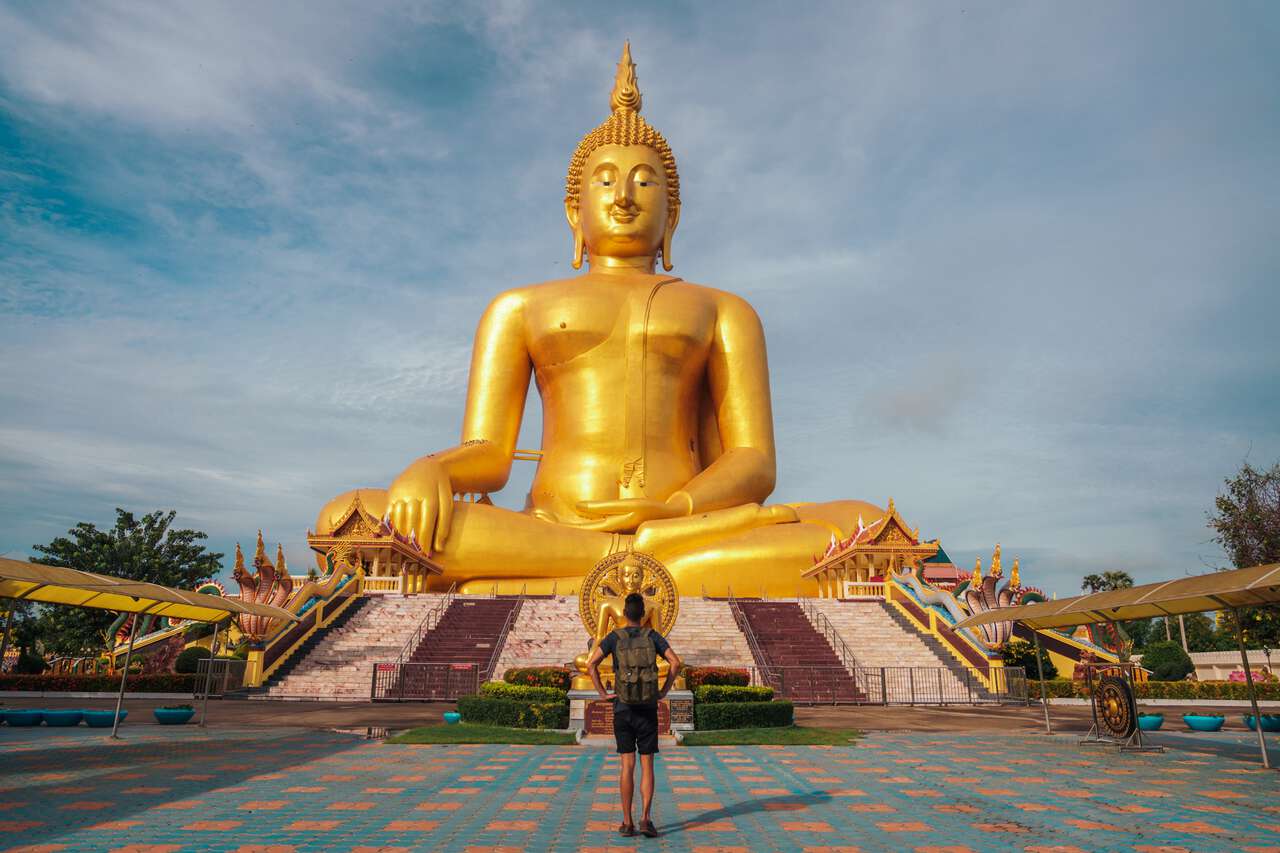 The investment is well-founded though as you will see when you stand in front of it and look up at the gigantic Buddha Image. They really constructed the image to perfection. From the consistently golden colors all around the image, the perfectly symmetrical dimension of the statue, and just the pure scale of it all, is just mind-blowing.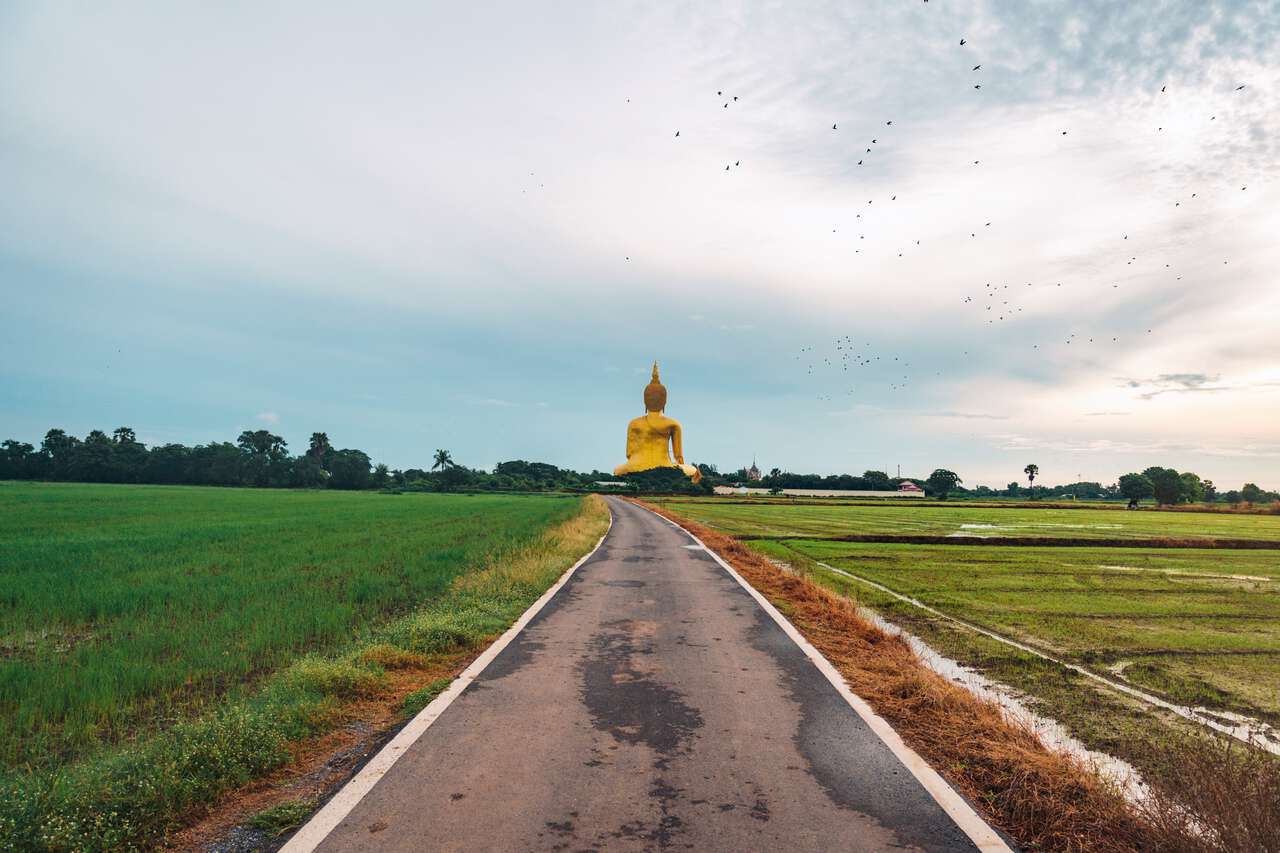 If you are staying at Smile Resort as I did, you can opt-in for a bicycle ride through the backroads of Ang Thong and visit Wat Muang in the morning. The backroads along the rice fields are quite peaceful and scenic, especially in the early morning.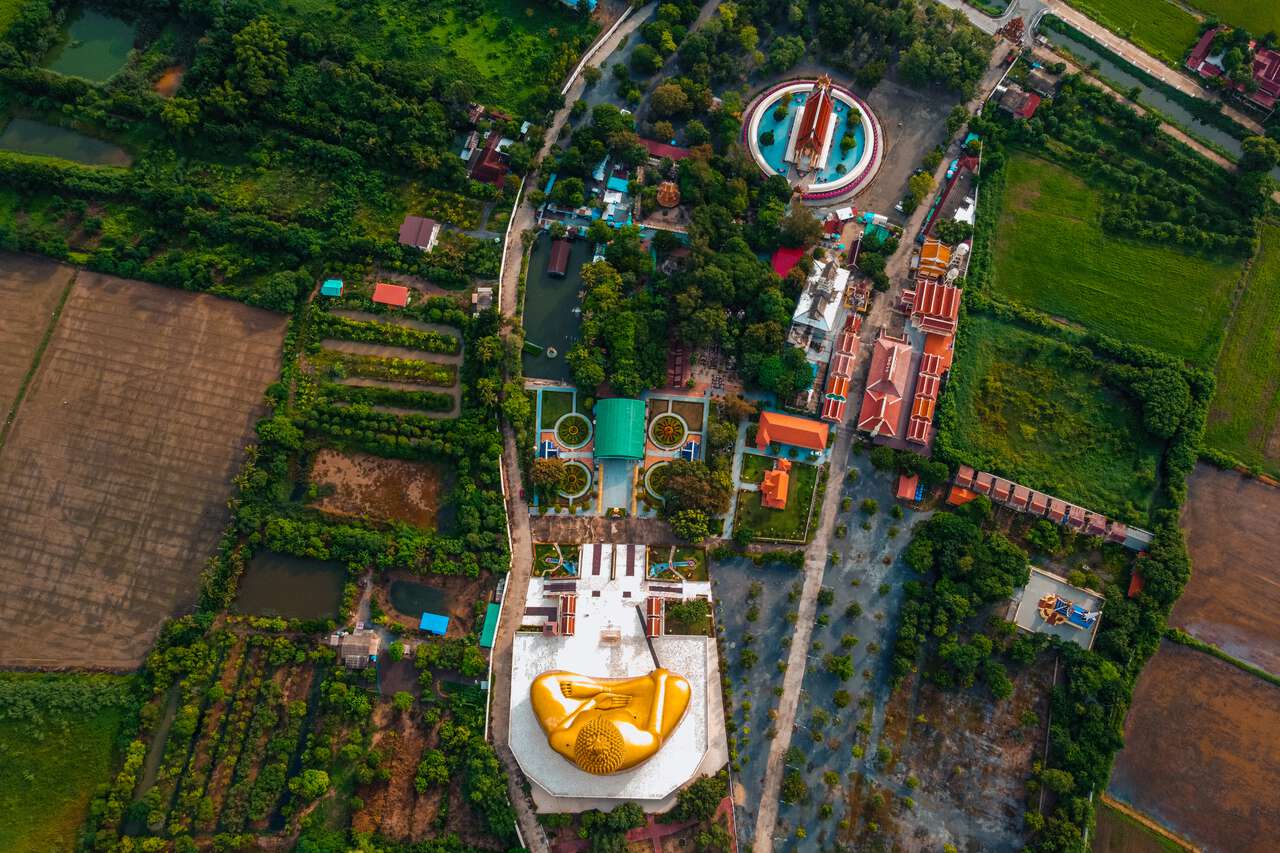 Now, if you have a drone, I highly recommend you visit in the early morning as there won't be as many people around and you can fly around as much as you like. Just be sure to keep your drone's distance away from the big statue and be very careful not to crash it.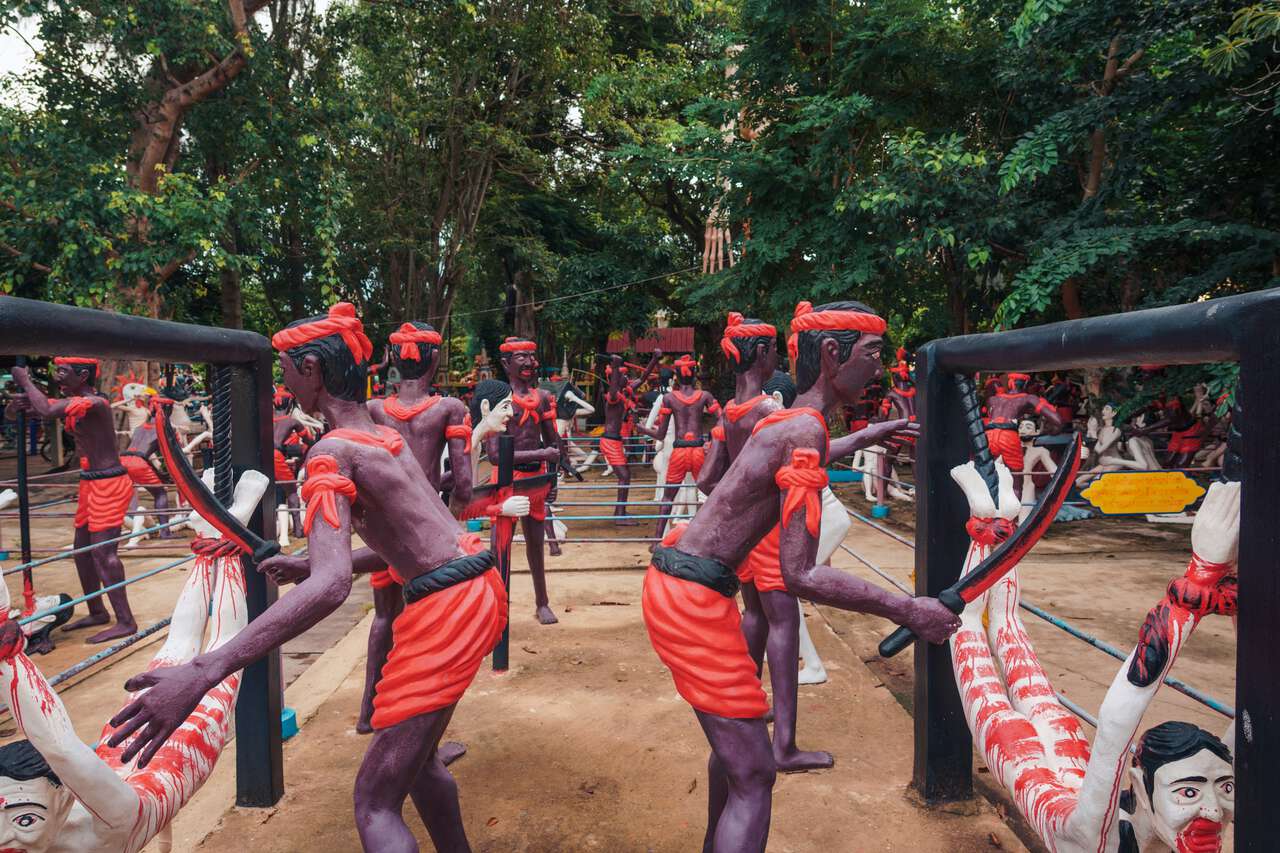 Within the temple, you will also find several gruesome scenes straight from the Buddhist-version of hell with statues of humans being tortured in all kinds of ways from being toss into the bronze cauldron to boil in eternal damnation's hellfire to humans being forced to climb the thorn-covered tree naked.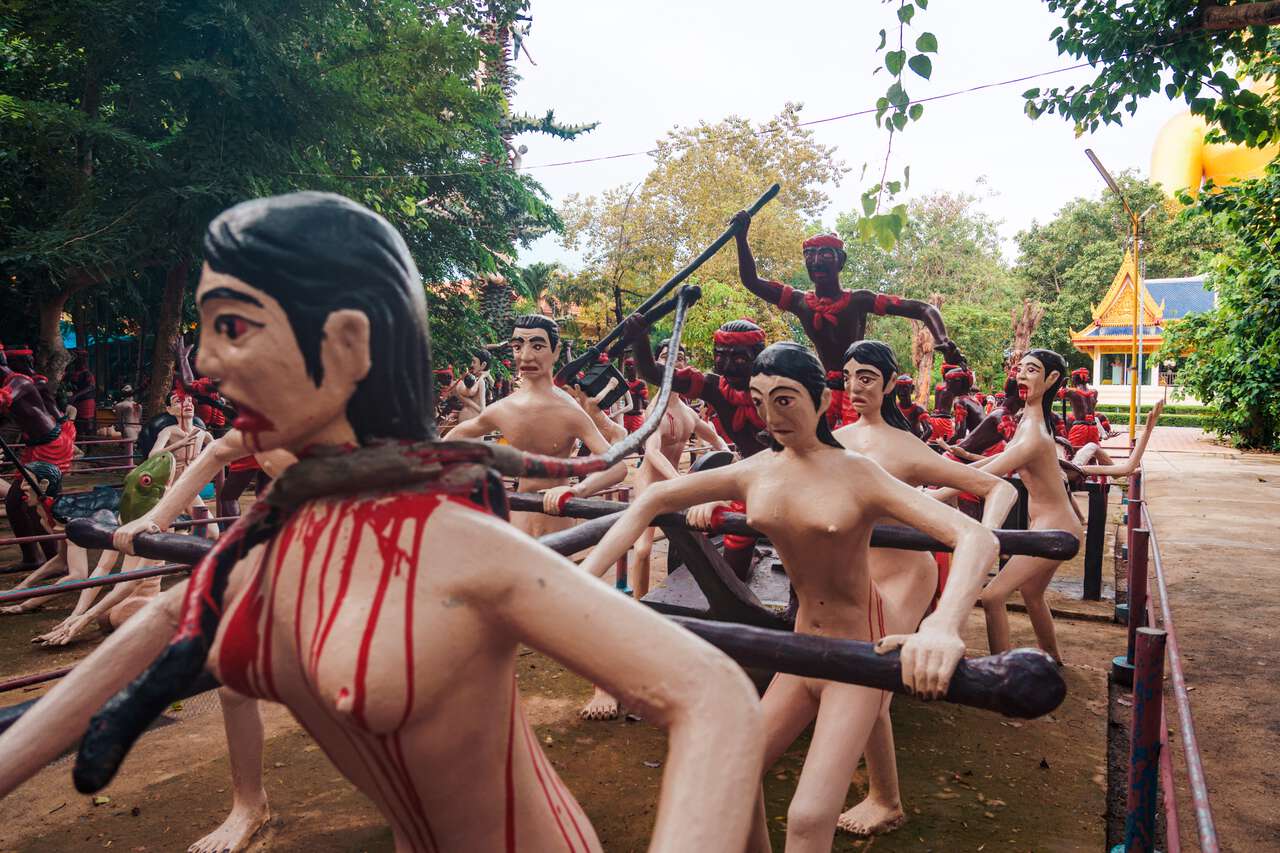 If you see this, you are definitely in the Hell Park of Wat Muang which depicts all kinds of hellish scenarios of the afterlife if you don't make good merit in this life. It's one of the ways Buddhism teaches people to behave in a society.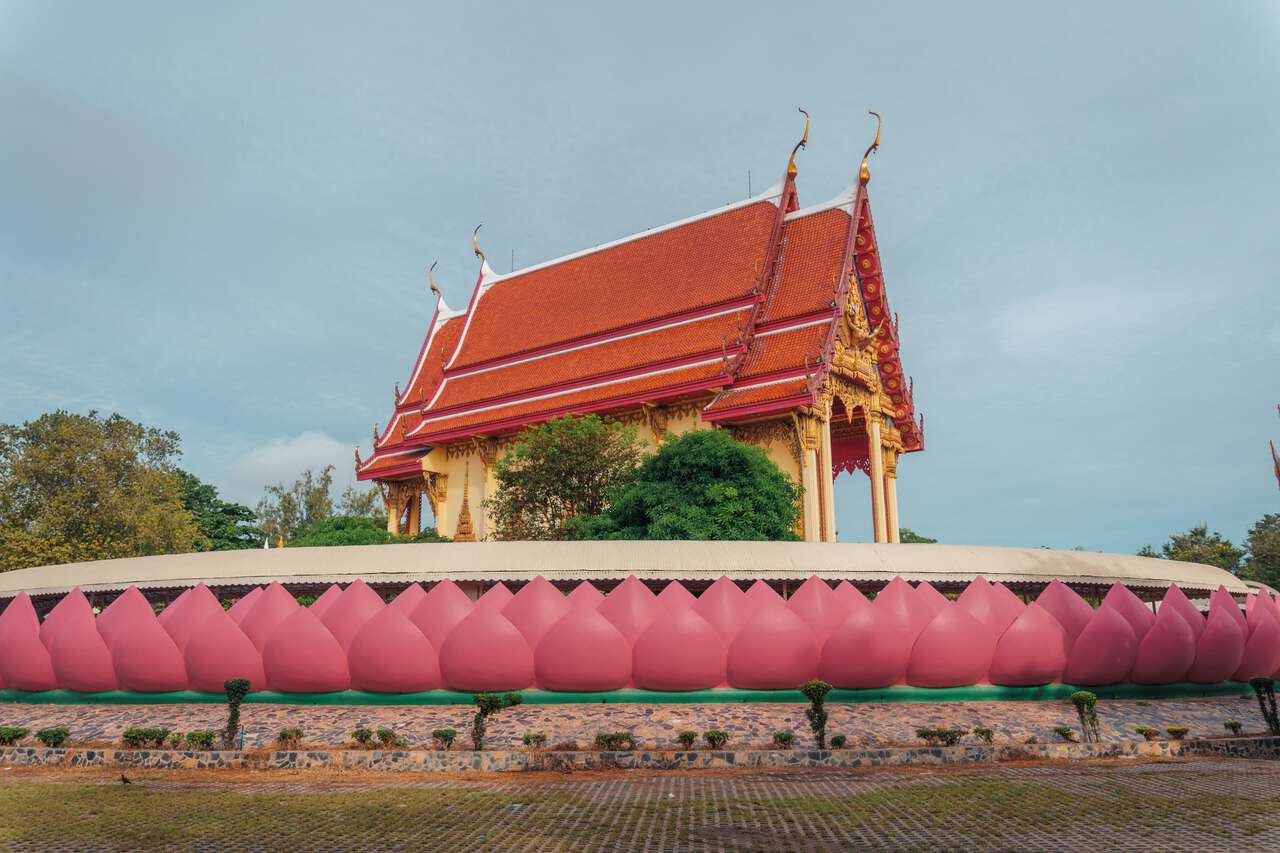 It's funny how certain things like cigarettes and guns are censored on Thai television and yet, these tortured scenes of hell are perfectly fine for kids to wander around 😅.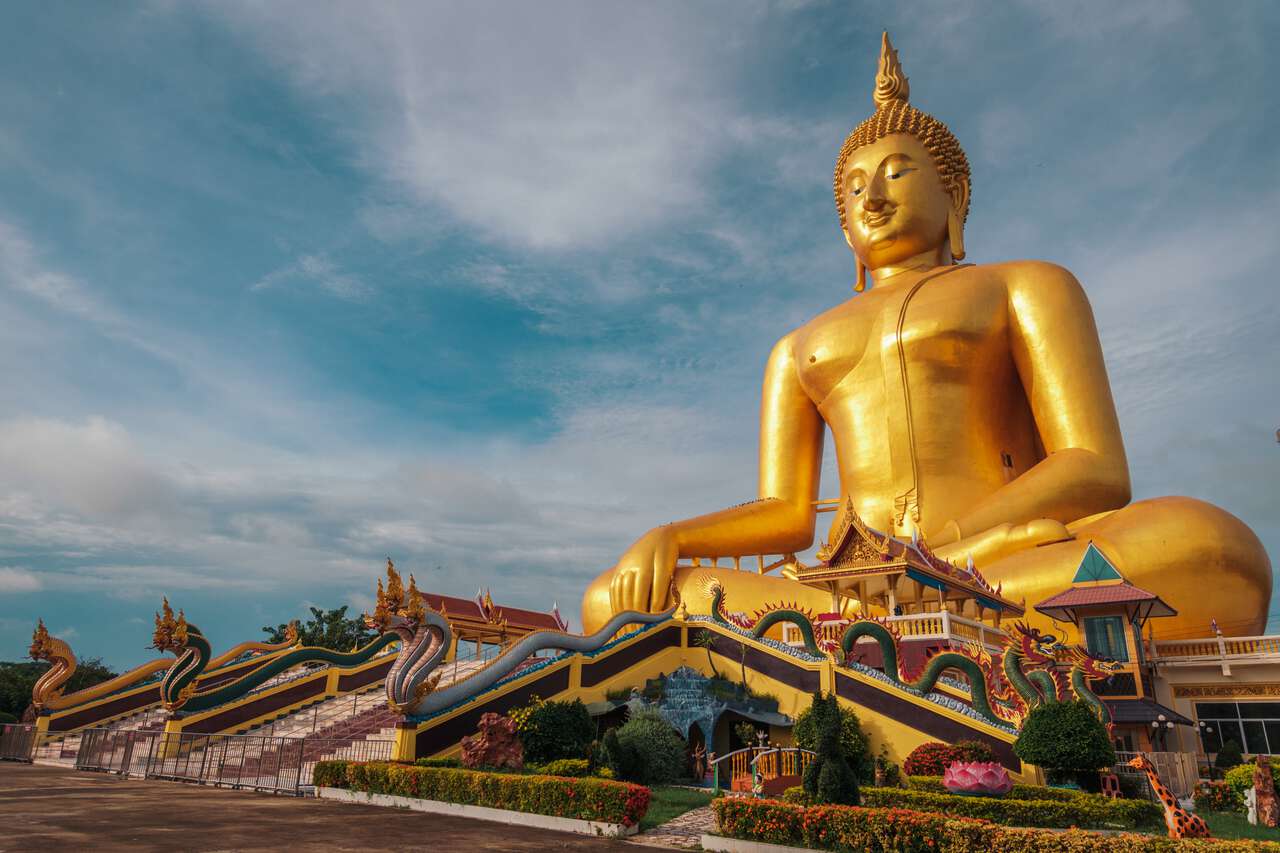 There is no entrance fee to the temple so you are free to enter whenever you like. If you want to avoid the crowds, visit as early in the morning as you can and avoid visiting on weekends.
Stroll Around The San Chao Rong Thong Vintage Market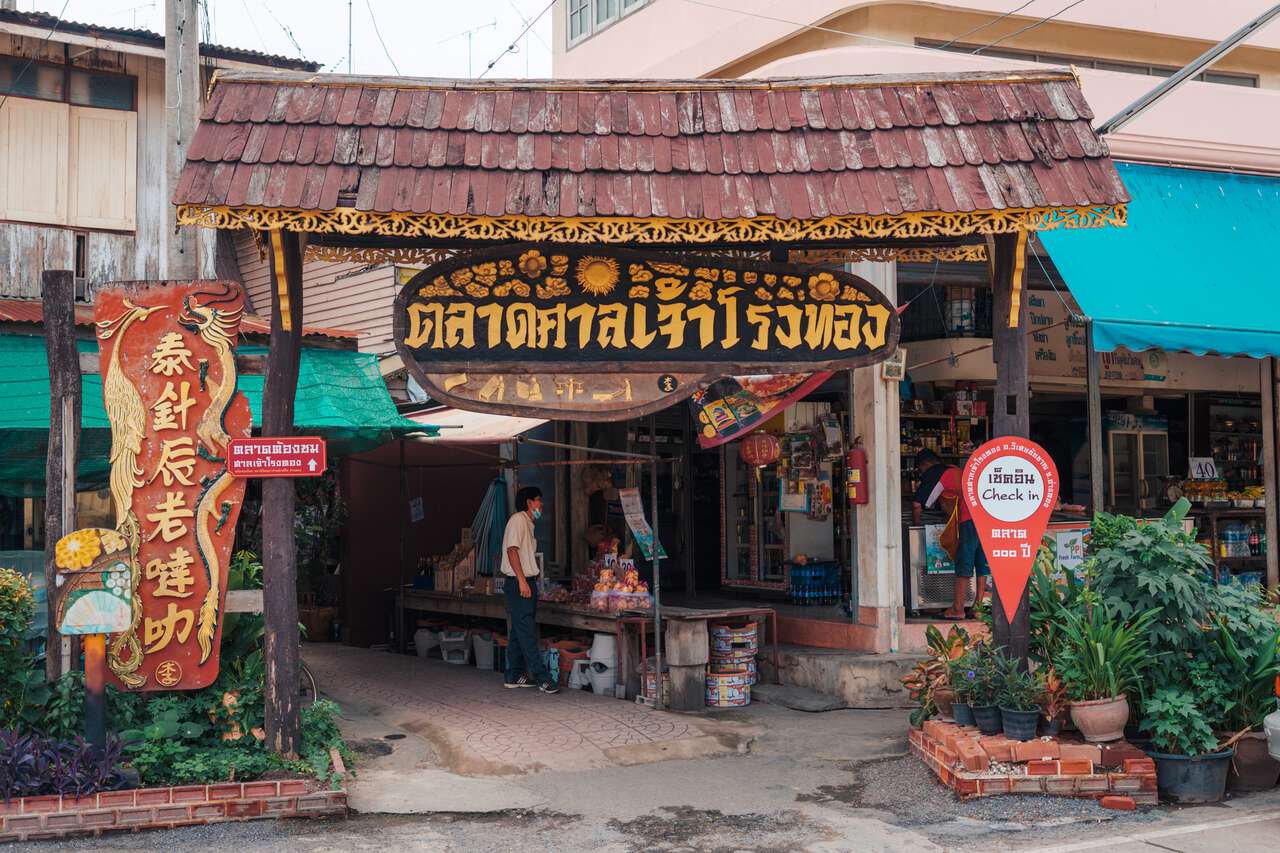 Not too far from Wat Muang, you will find San Chao Rong Thong Vintage Market, a 100 years old market where the life of the people along this portion of the Chao Praya River is preserved and the wooden architectures maintained.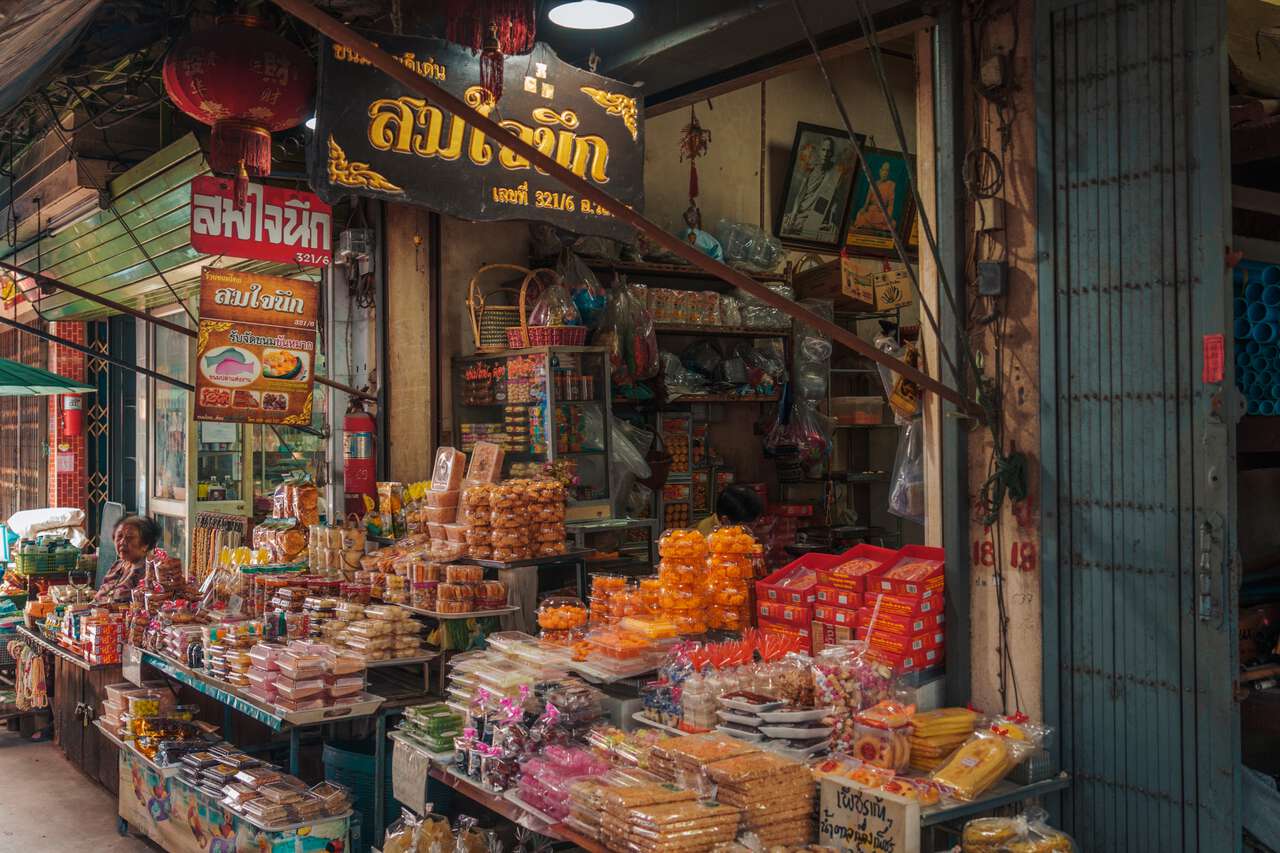 There's not a whole lot of things to buy from the market except street food here and there since the market has always been catered to the locals living around this area instead of tourists and with that, the life of the locals are preserved in a way that other old markets can't.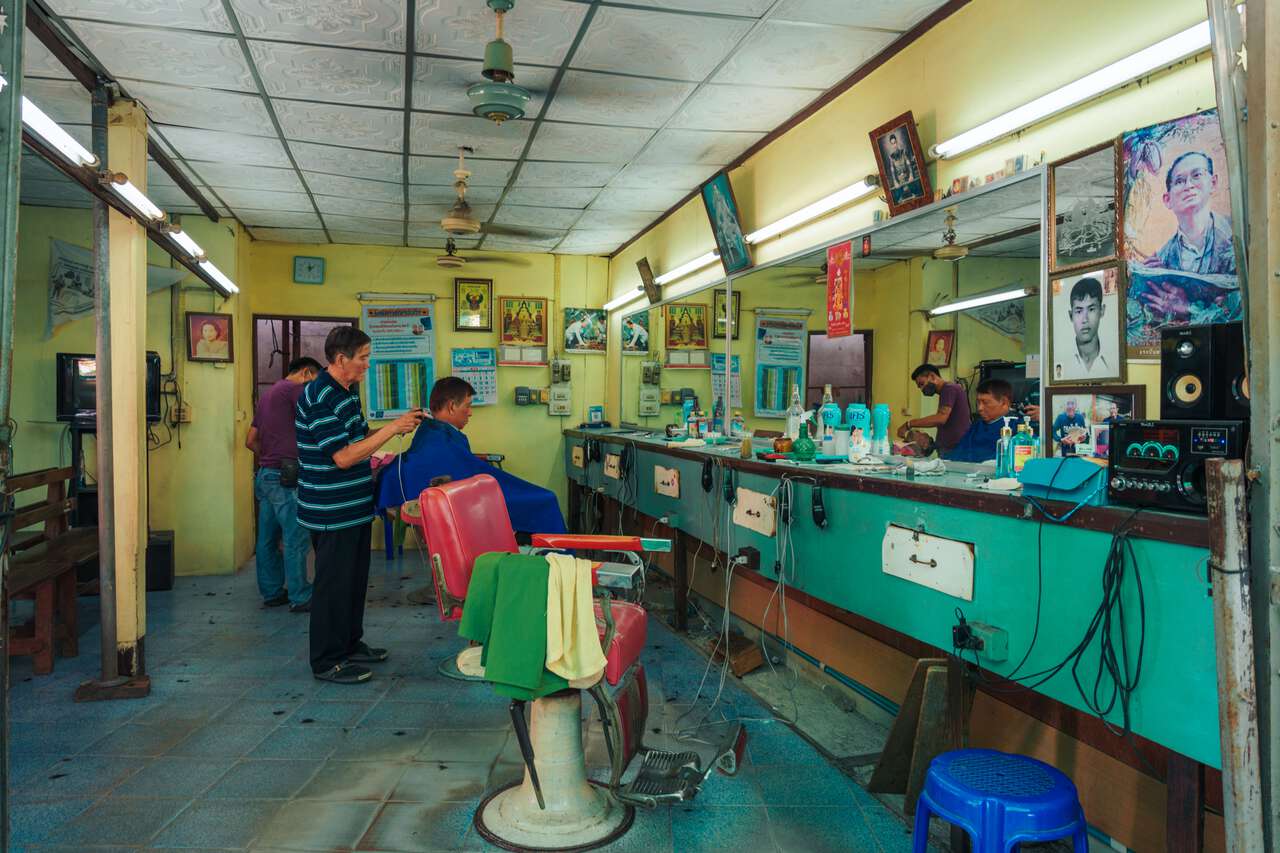 With my camera, I walked around the crisscrossing streets of San Chao Rong Thong Vintage Market, observing and photographing the simple lifestyle of the people around the area from the old-style barber to a very friendly tailor guy who let me take photos of him and his old house.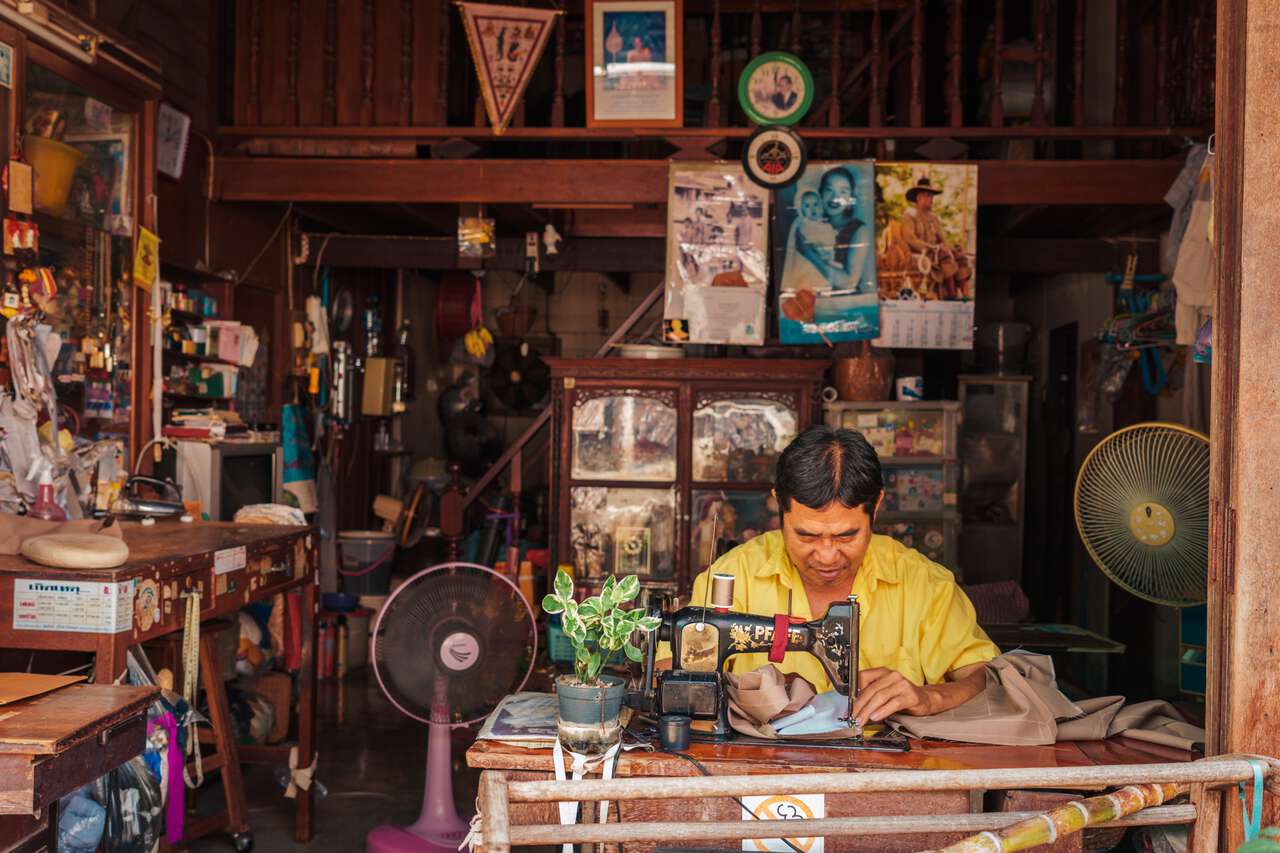 If you have seen old markets in Thailand before, you might find San Chao Rong Thong Vintage Market a little different and more interesting as you will get to see the real-life of the people living there for ages instead of the more tourist-inspired old markets elsewhere. As a travel photographer, I definitely found the market more interesting 😉.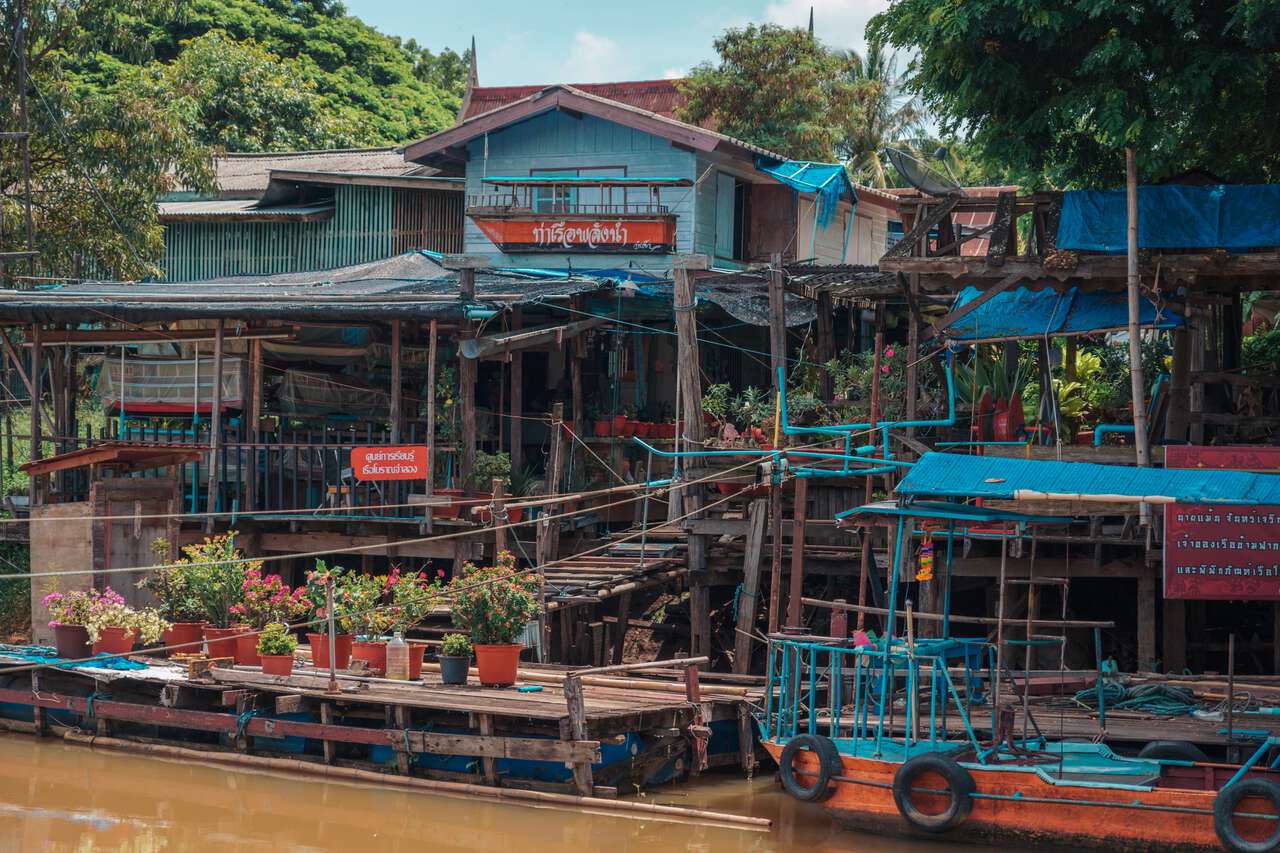 Spend about an hour and walk around the market. By the river, you will also find an old-style river crossing station attached with a ferry and a cable. It looked abandoned when I was there so I'm not sure if the locals are still using it but it sure was interesting to see.
Admire The Beauty Of Phra Tamnak Kham Yat Ruin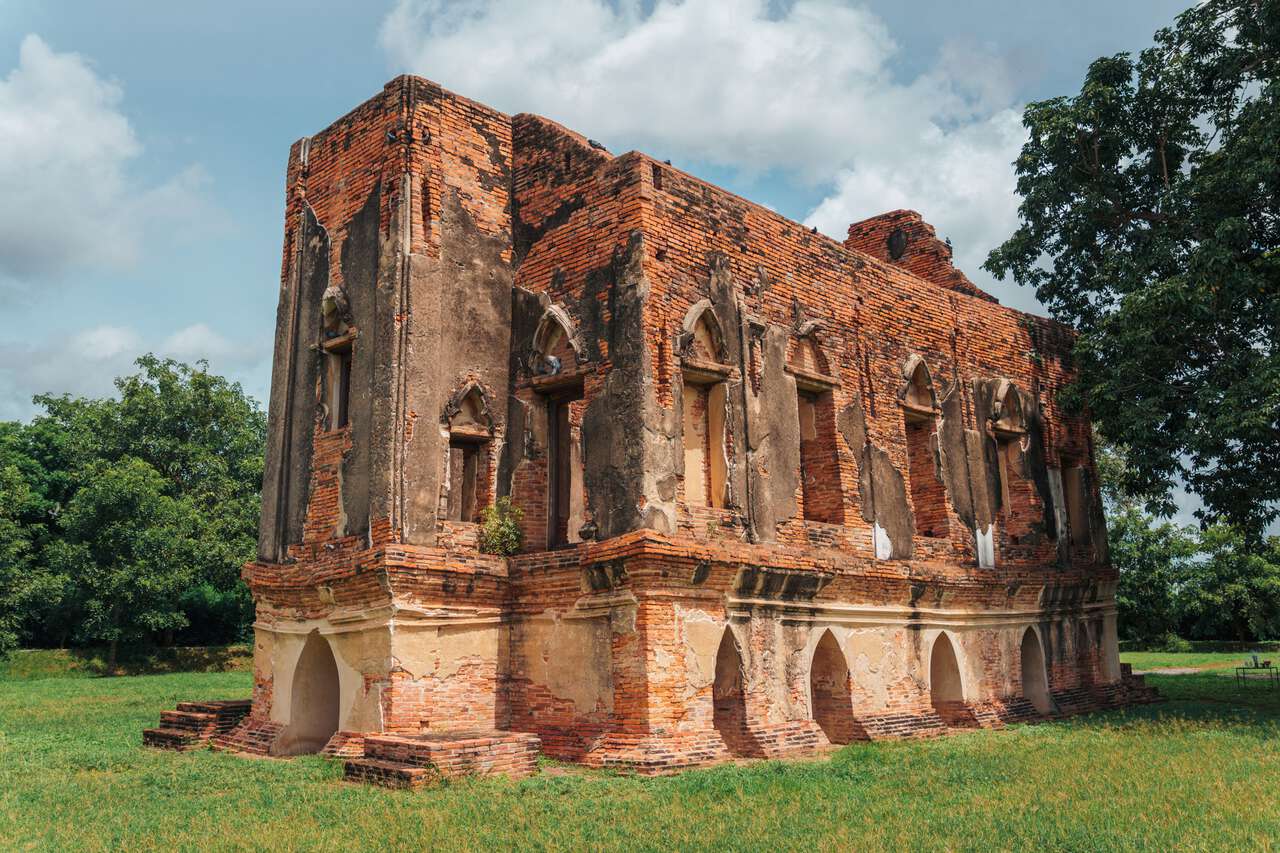 On the outer rim of Ang Thong province, you will find an Ayutthaya-era ruin called Phra Tamnak Kham Yat, which is an old royal pavilion constructed in the 18th Century as a temporary residence for King Borommakot of Ayutthaya to attend the reclining Buddha at Wat Khun In Phramun where we will also be visiting next.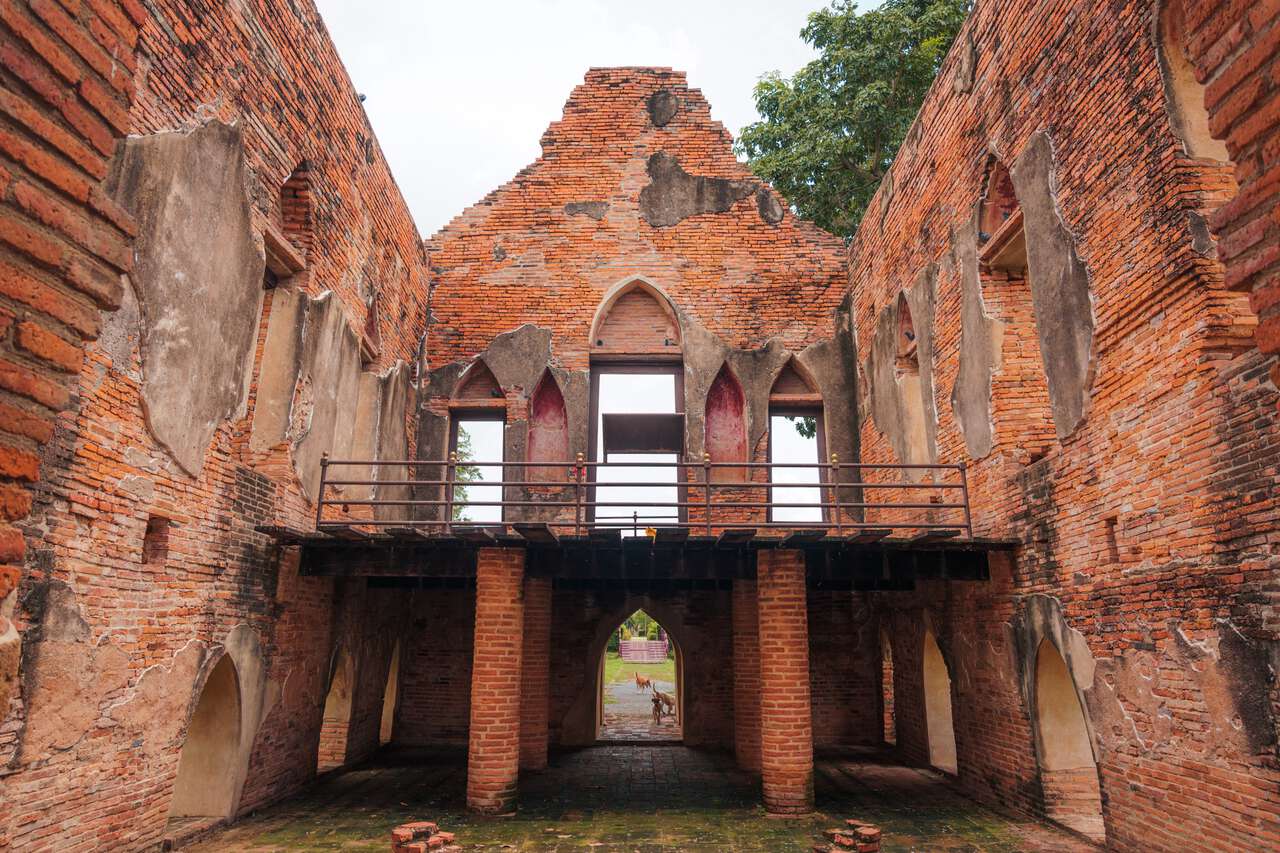 Phra Tamnak Kham Yat Ruin is a great example of how far and wide the Ayutthayan reign was back in the days. The 4 walls of the pavilion are still intact and you can still see some of the window decorations on the outside of the walls.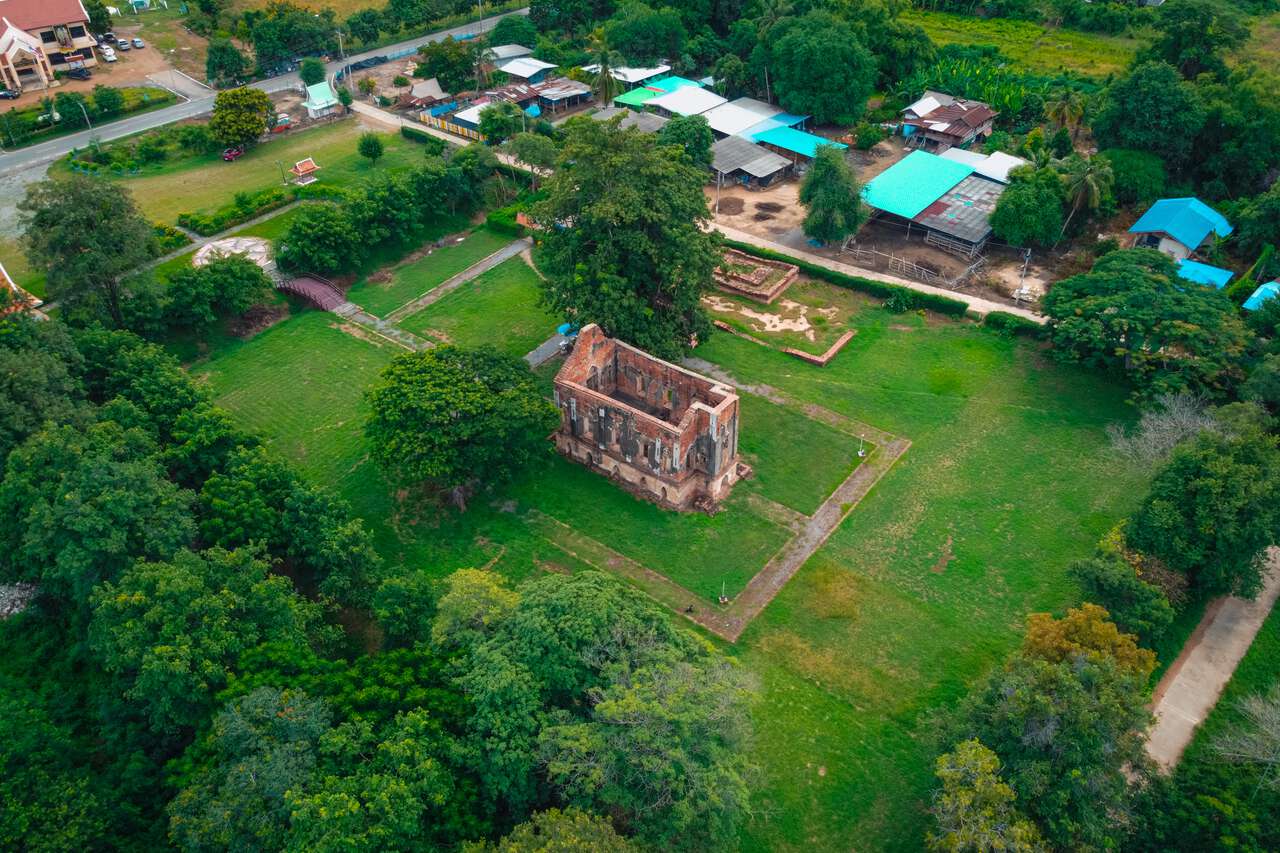 When I was there, there was no one around which is understandable as it is quite far away from Ang Thong city but with your own vehicle, it's only a few minutes' drive away from Wat Muang and a great place to visit when you are in Ang Thong. Phra Tamnak Kham Yat is free to enter and doesn't really have a proper opening-closing time so I ass
Visit Wat Khun Inthapramun And Pay Respect At Its Outdoor Reclining Buddha Image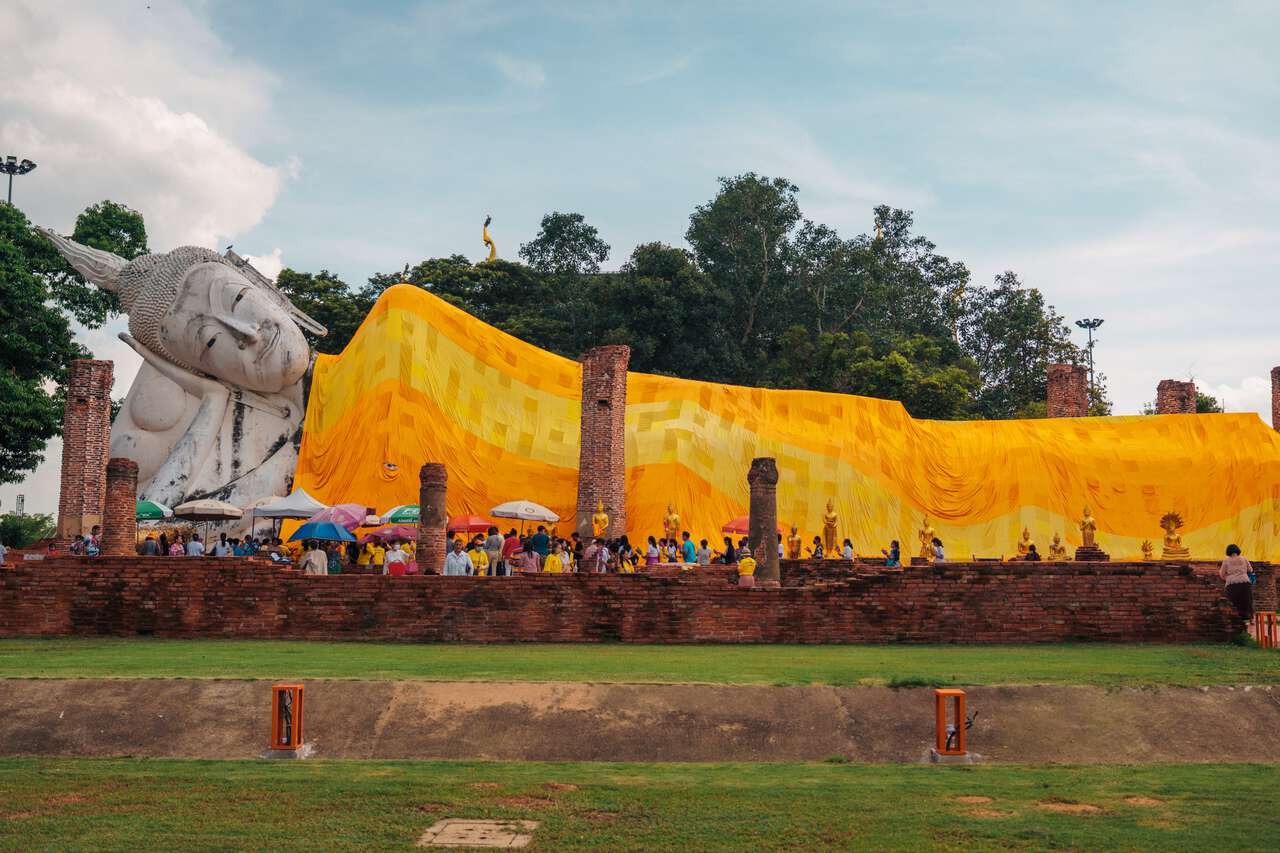 After visiting Phra Tamnak Kham Yat, you can continue east and visit Wat Khun Inthapramun, home to one of the few outdoor reclining Buddha image left in Thailand.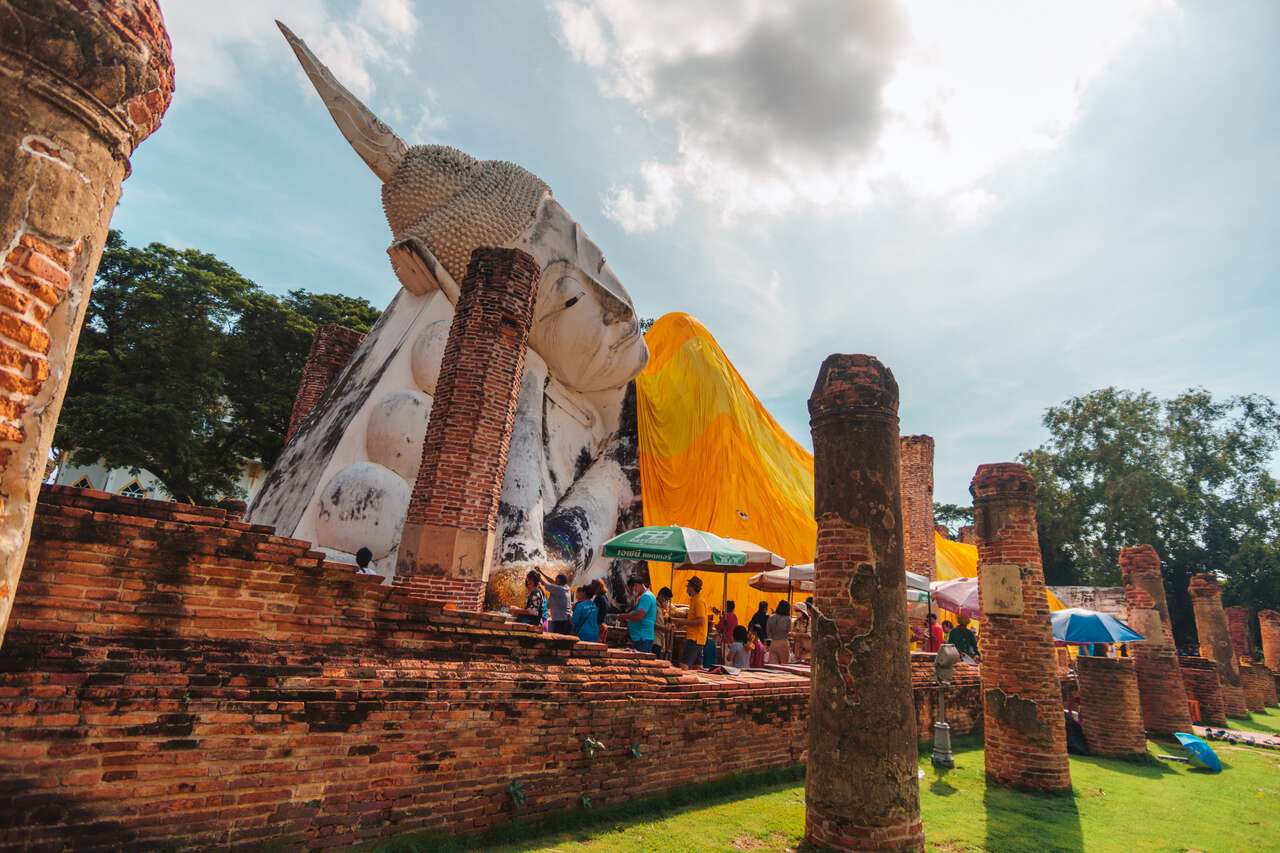 Wat Khun Inthapramun and the 50 m long reclining Buddha image is one of the most revered and oldest temples in Ang Thong. It was built during the Sukhothai reign in the 13th – 14th Century and people come all over the country to pay respect to the reclining Buddha image.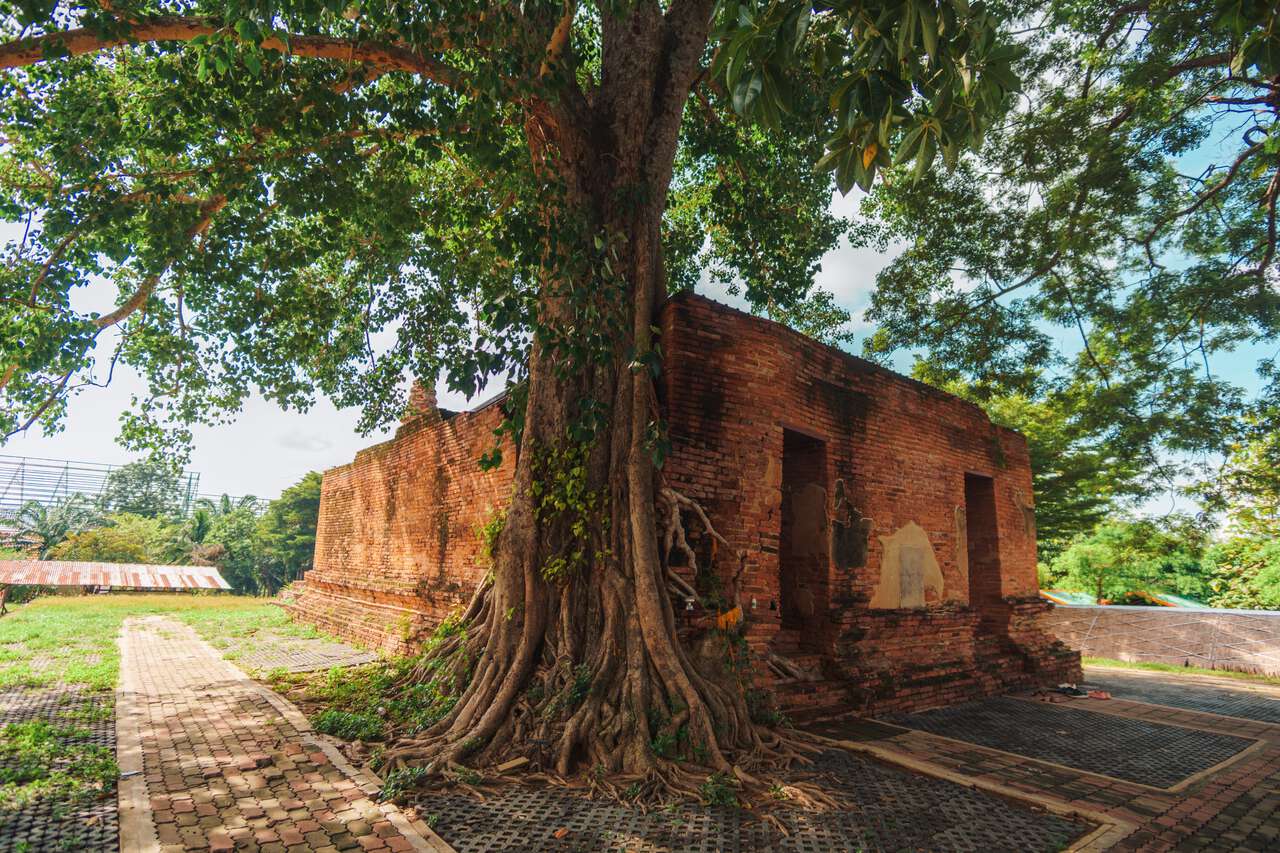 Originally, the Buddha image was housed inside a temple but due to a fire that exposed the statue to the element, it was left abandoned for hundreds of years before being rediscovered and revered to this day. 3 kings since Ayutthaya to the previous Rama IX have paid homage to this Buddha statue.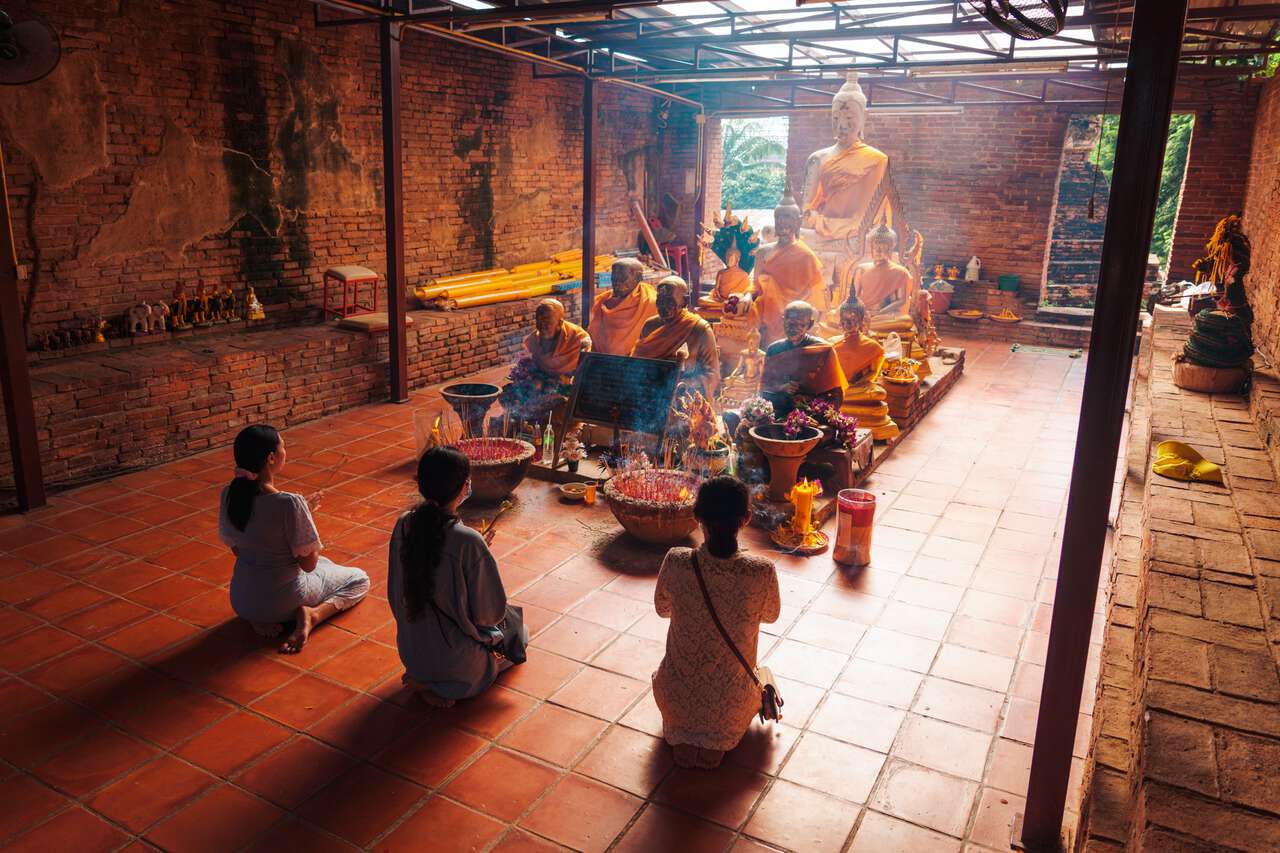 Legend has it that Wat Khun Inthapramun is named after a revenue officer who secretly embezzled from the government to build the Buddha statue. When the king asked where he got the money, he refused to answer as he feared that the King would get all the credit for building it, and so he was sentenced to death by the king.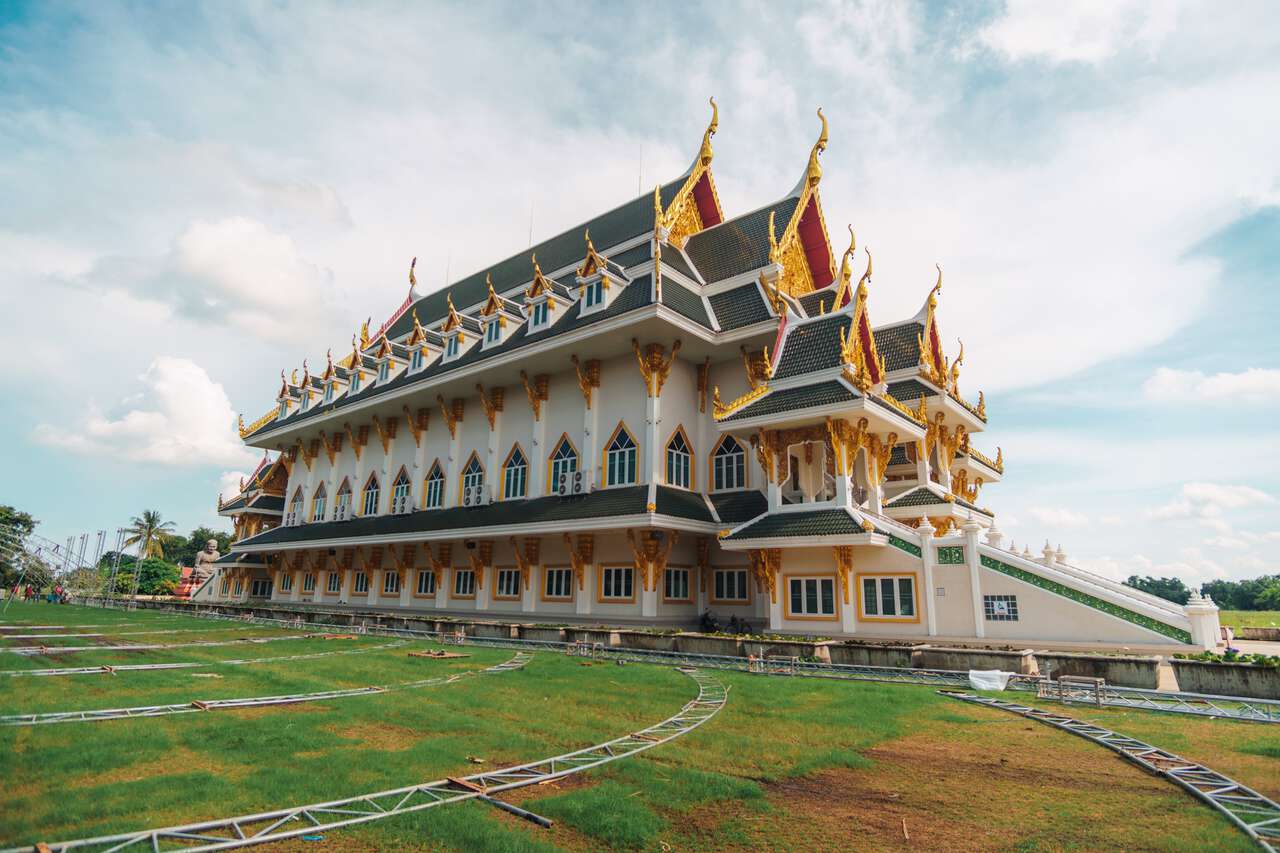 The temple is free to enter and it opens from 6 AM to 6 PM every day. There's plenty of parking lot here but I recommend you don't park at the first parking lot you find. Drive closer to the reclining Buddha statue and there will be more parking lot for you inside.
Scale The Wat Tha It's Golden Pagoda
Not too far from Wat Khun Inthapramun, you will find a golden pyramid-like pagoda at Wat Tha It temple where you can scale and get a nice view of the landscape of Ang Thong.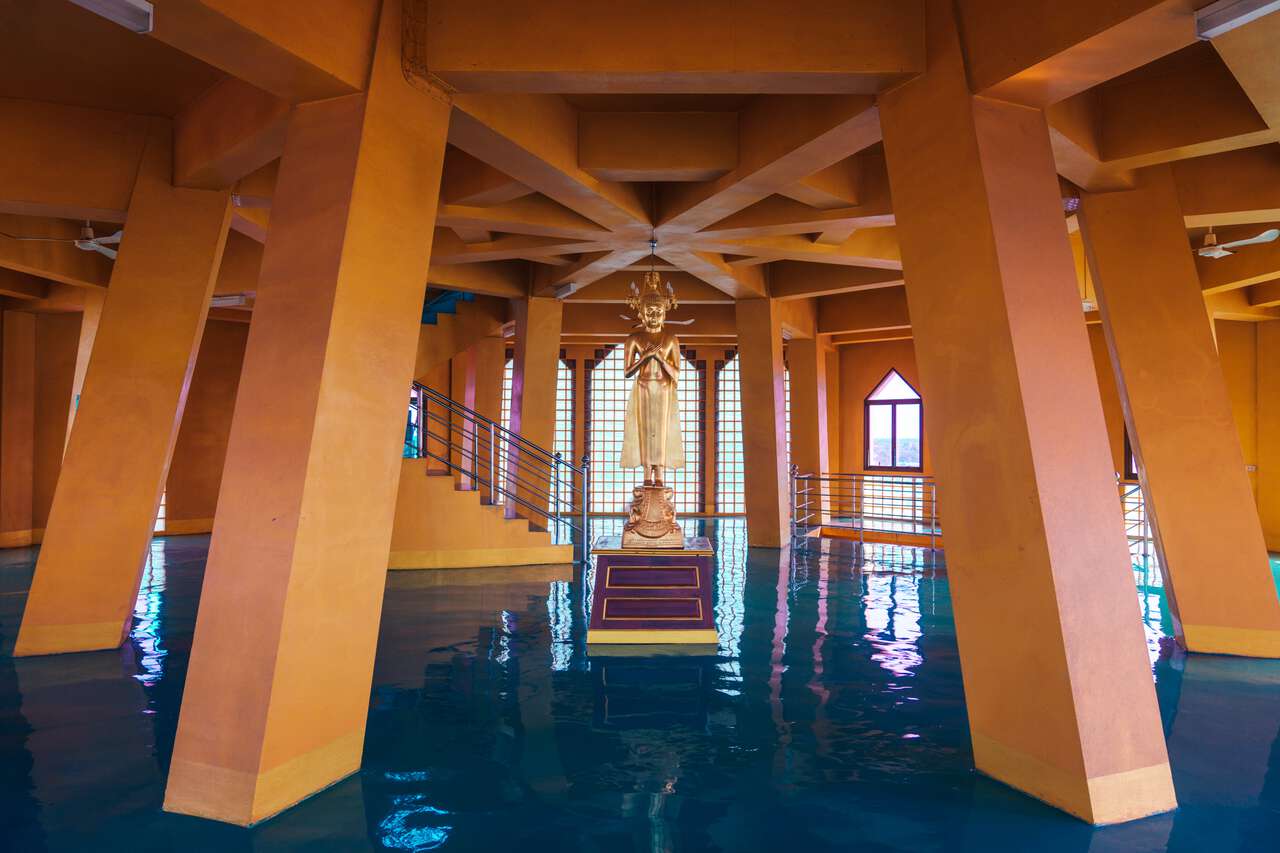 The golden pyramid-like pagoda consists of 7 floors, all design to emit different colors of light. The climb itself is pretty easy and the view at the top is quite nice although, the windows don't open all the way, so you would have to sneak your camera out to be able to take some photos. You can see The Great Buddha of Thailand all the way from here.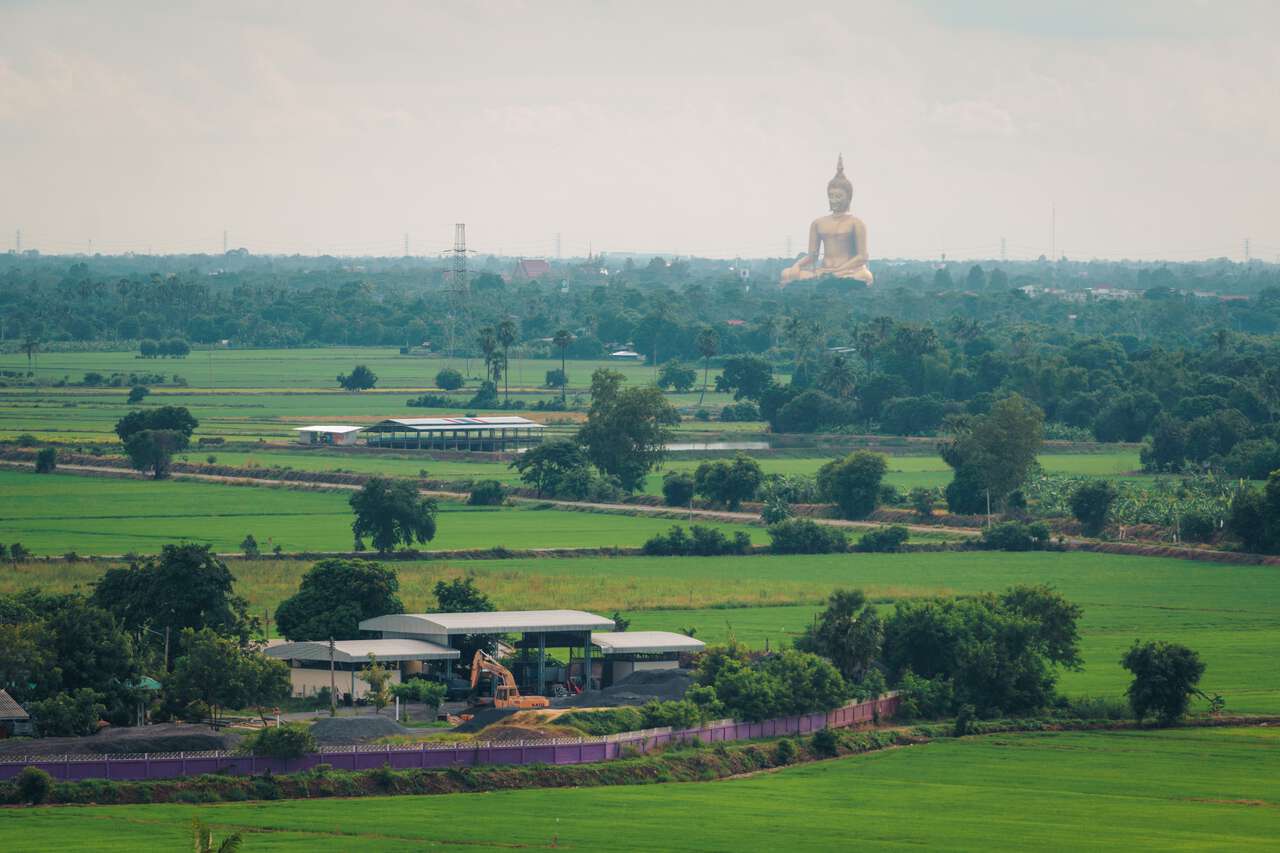 It's free to enter and scale the pagoda of Wat Tha It. The temple is opened from 6 AM – 6 PM. You won't find as many people here as elsewhere and the road to the temple is very narrow so be extra careful when driving here. The temple itself is worth a visit only if you are already at Wat Khun Inthapramun as it is only a few kilometers away.
Explore The Overgrown Banyan Temple At Wat Sang Kratai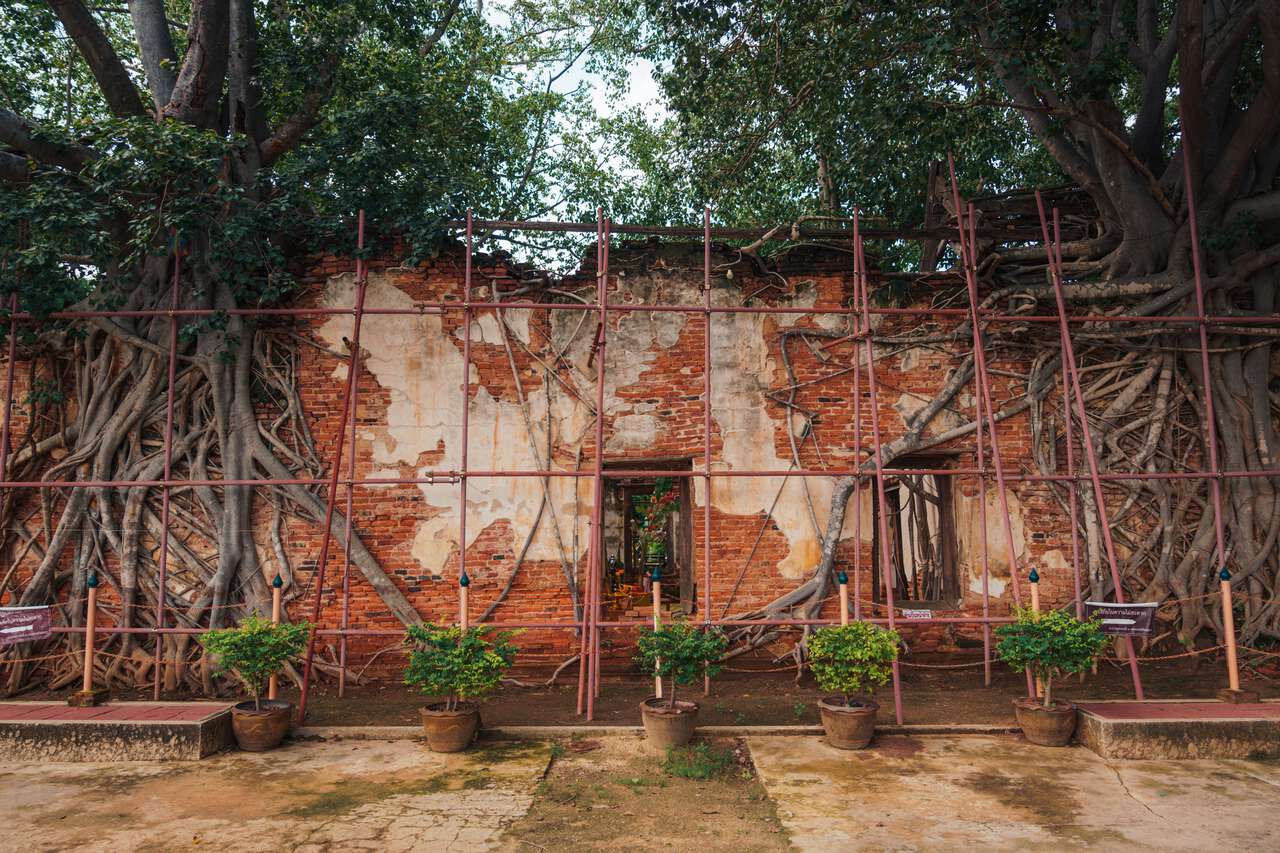 After exploring the outer part of Ang Thong, it is time to see what's there to do in Ang Thong City. One of the most popular landmarks in Ang Thong City is Wat Sang Kratai, an old overgrown temple with 3 Banyan tree roots supporting the structure.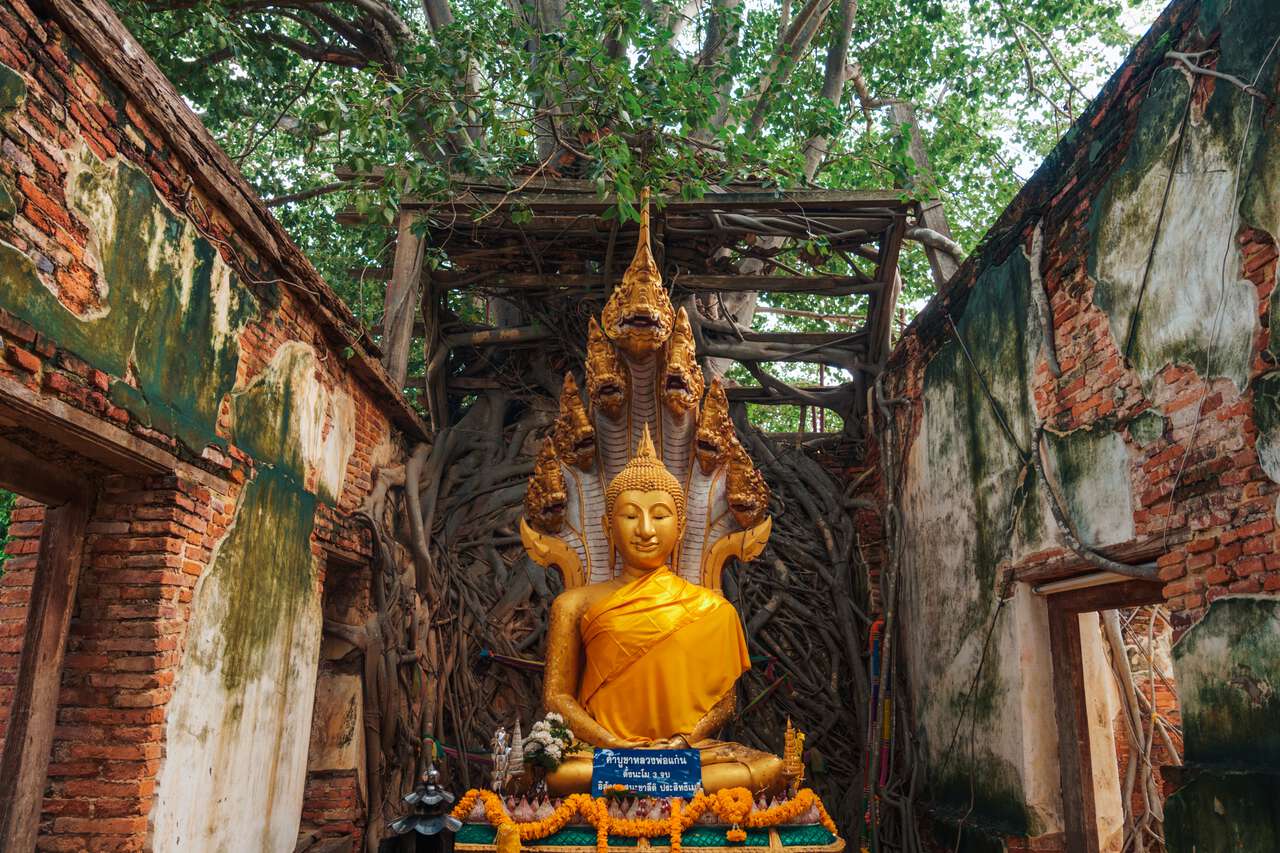 Inside Wat Sang Kratai, you will find a few Buddha images where locals like to come and pay respect. It's beautiful inside with the Banyan trees on 3 corners of the structure and the overgrown roots stretching its ways out supporting the very structure you are standing in. Nature always finds a way.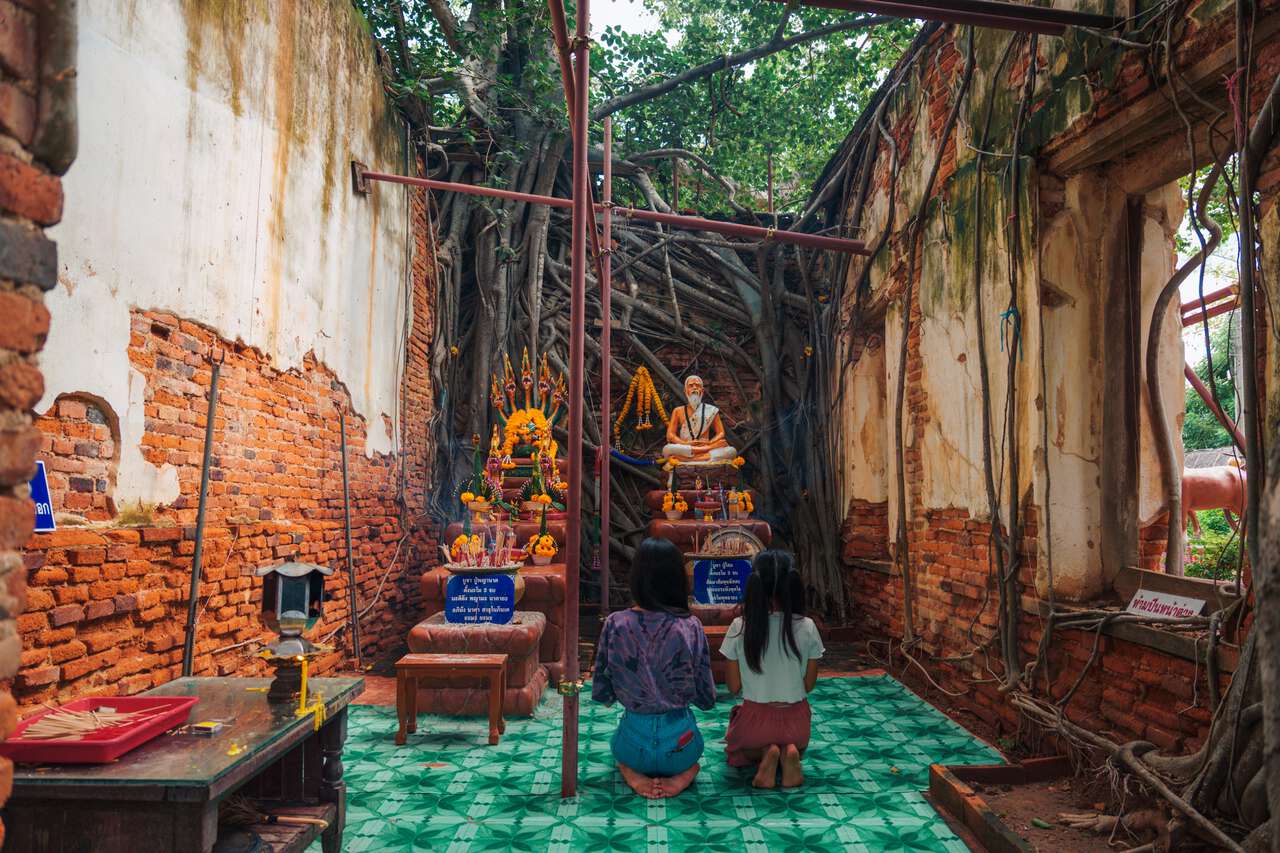 Wat Sang Kratai, like most active worship places outside of touristy areas, is free to enter. The temple has bo opening and closing time and so you can probably visit any time you want.
Be Amazed At The Giant Sitting Buddha Image At Wat Chaiyo Worawihan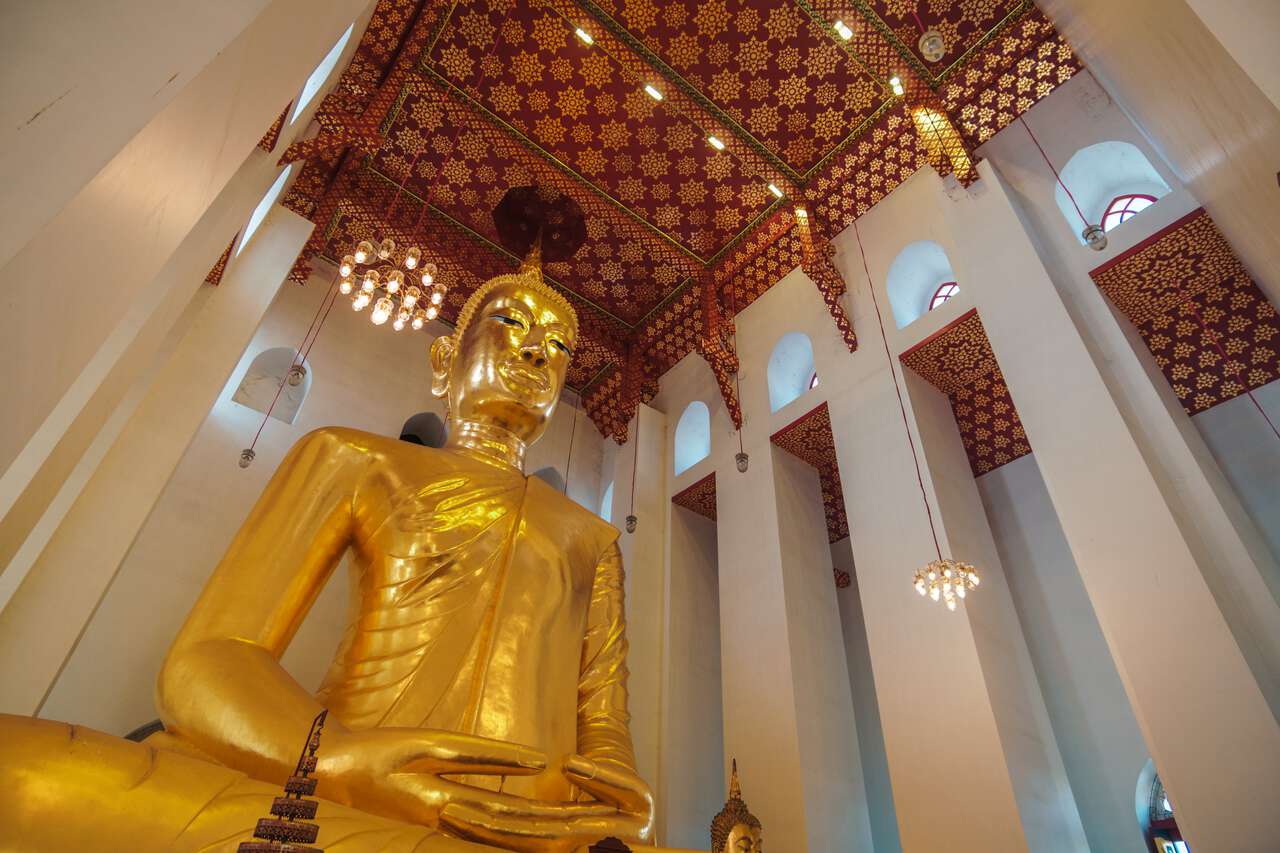 At the northern edge of Ang Thong province, you will find another revered temple, Wat Chaiyo Worawihan, home to the sacred seated Buddha image housed inside a temple.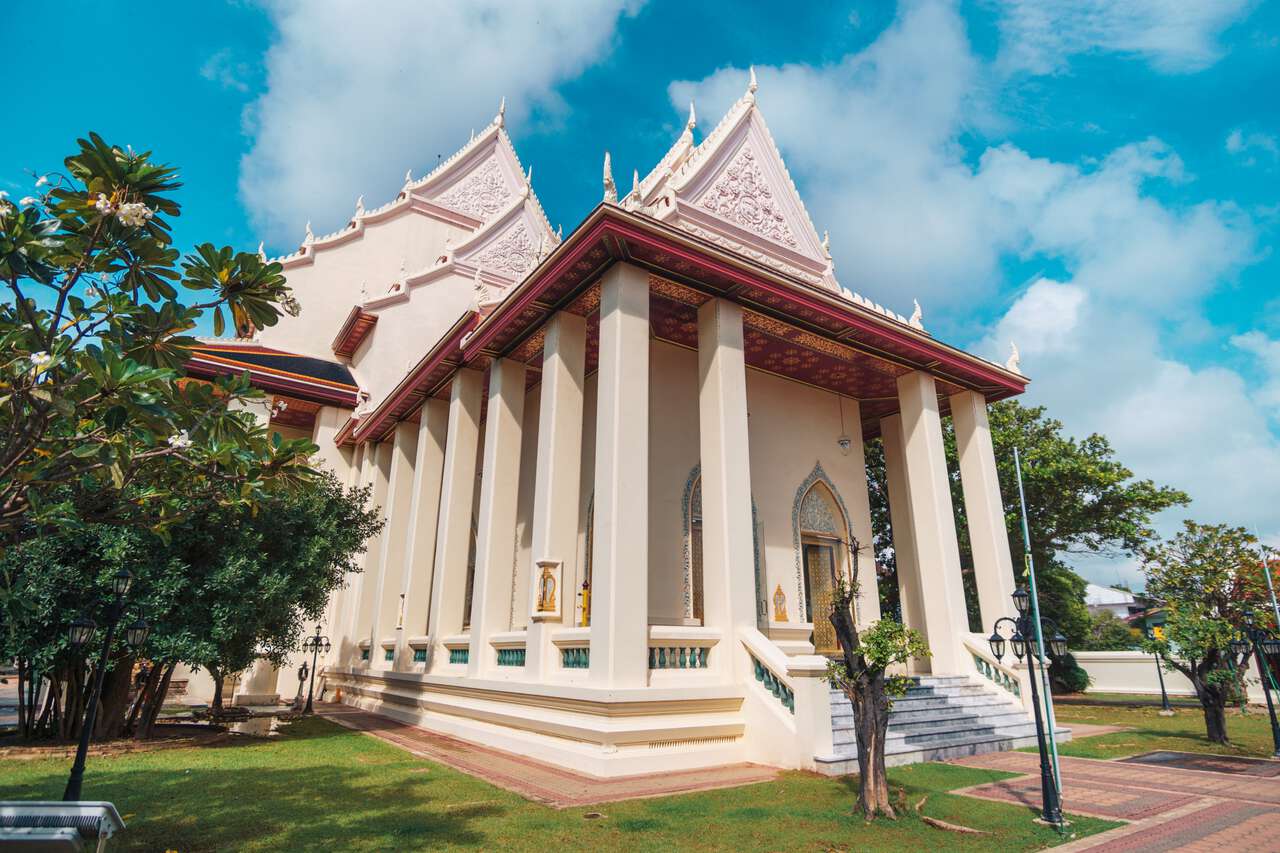 It is a popular place for locals to come and pay respect to the Buddha image and take photos with the revered statue. There is also an old market in front of the temple where you can buy snacks and food before you hit the road again.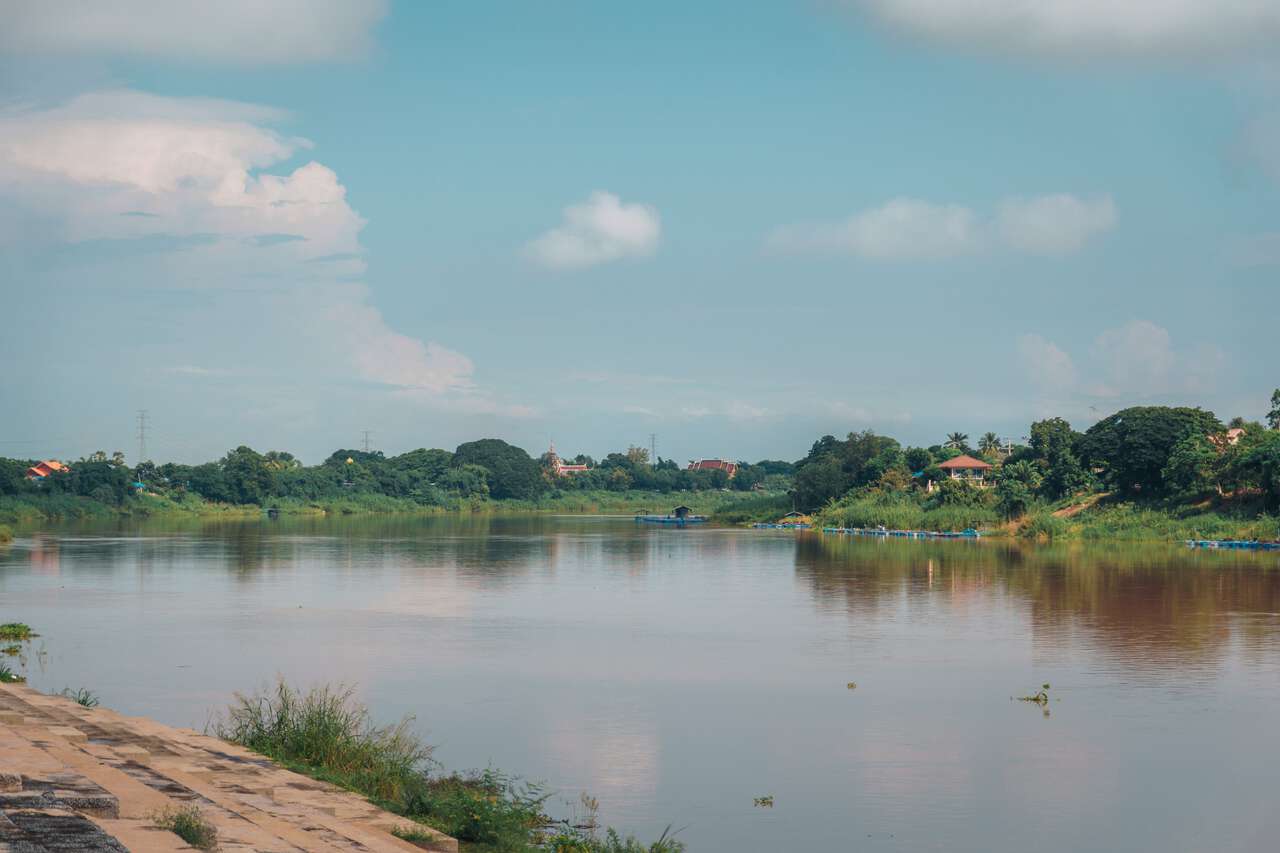 Wat Chaiyo Worawihan opens from 7 AM to 5 PM and it is free to enter. Be sure to spend some time exploring the temple ground and check out the view of the Chao Praya river behind the temple.
Walk Around The Old Market At Maharat Buddhist Park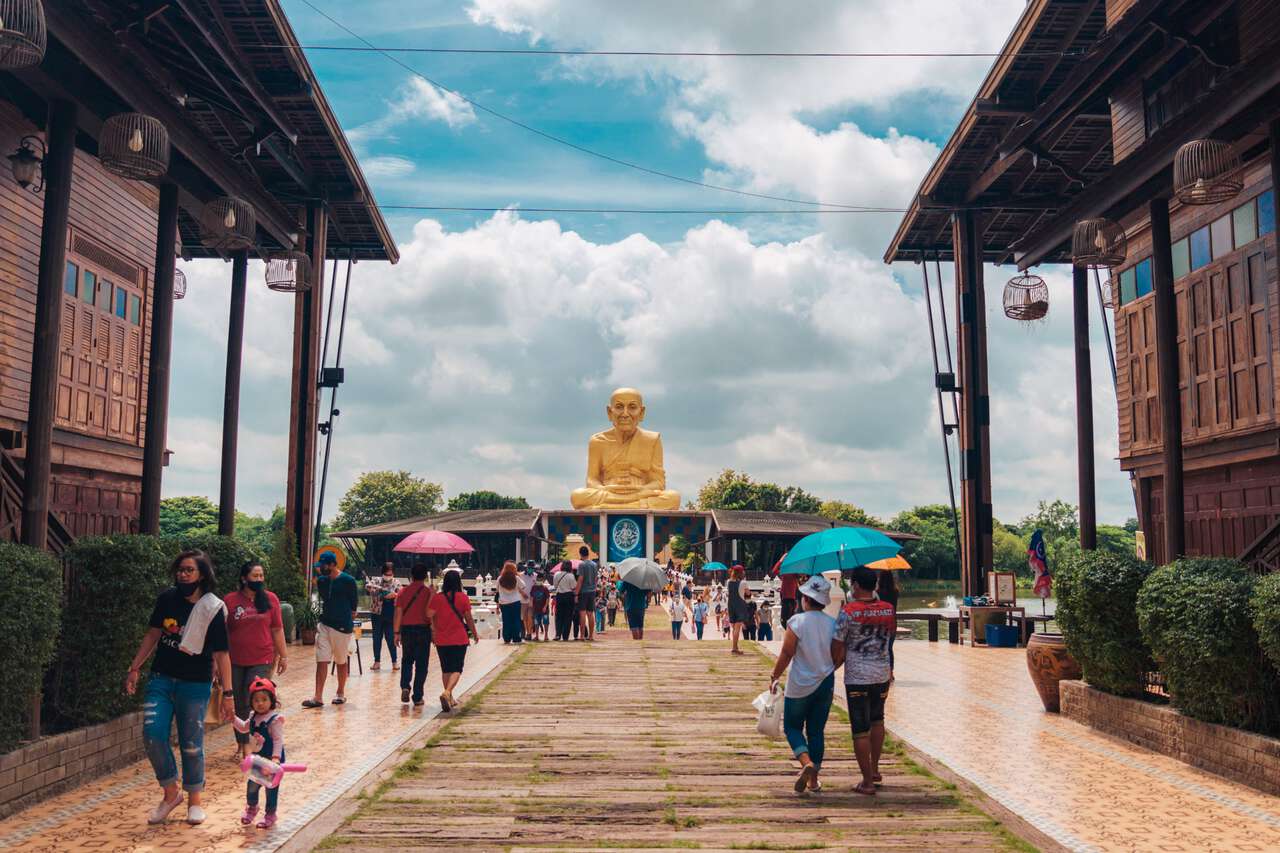 Maharat Buddhist Park is technically in Ayutthaya province but since you are driving from Bangkok to Ang Thong, it is a no-brainer to stop here before you continue your journey to/from Ang Thong.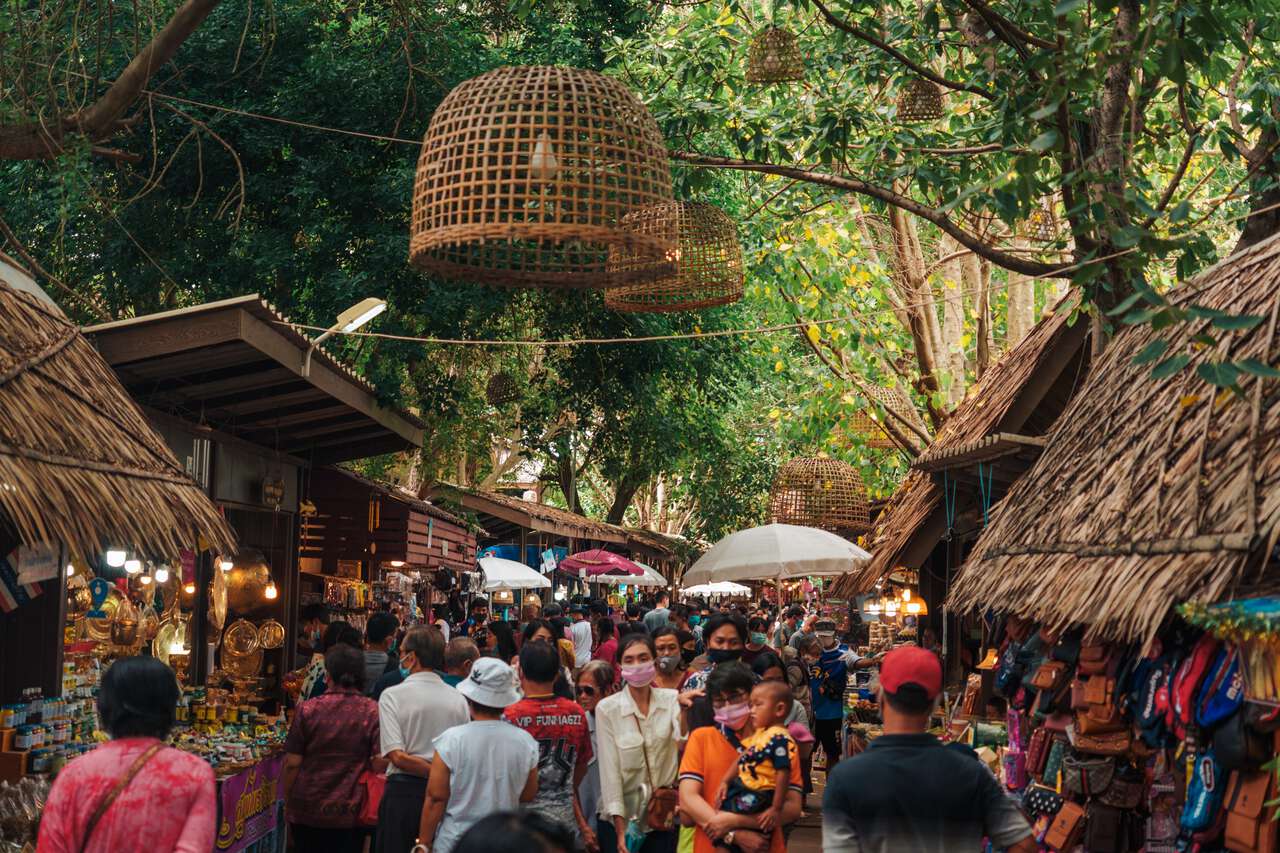 Maharat Buddhist Park is a newly built park consisting of a large golden statue of Luong Phor Tuad monk, a very revered monk in Thailand, an old-school Thai traditional market selling all kinds of Thai traditional foods and desserts, and a whole slew of things for Buddhists to participate.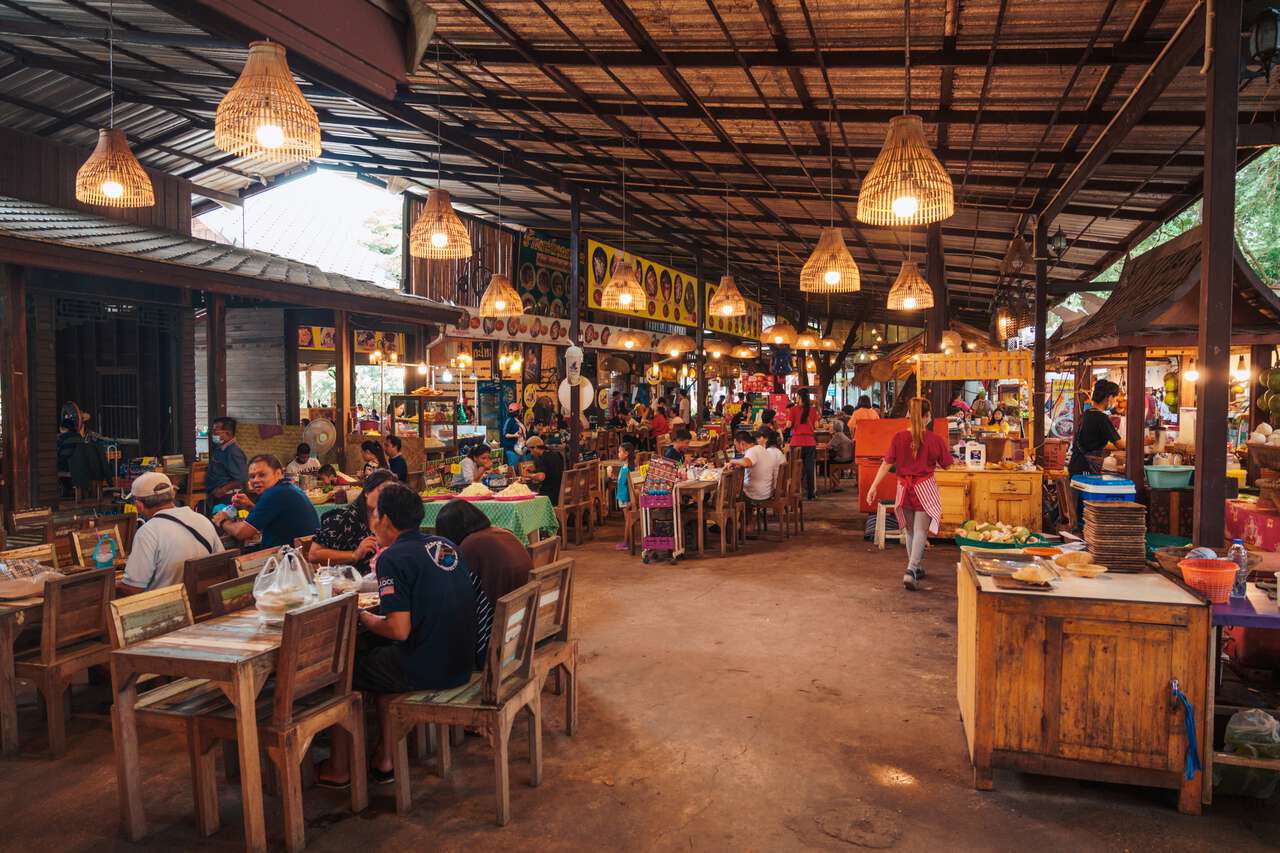 You will love the old market here as you will find plenty of options available for food and snacks. There are also plenty of seating areas under shade and you will get to see some Thai traditional performances from the locals while enjoying your food.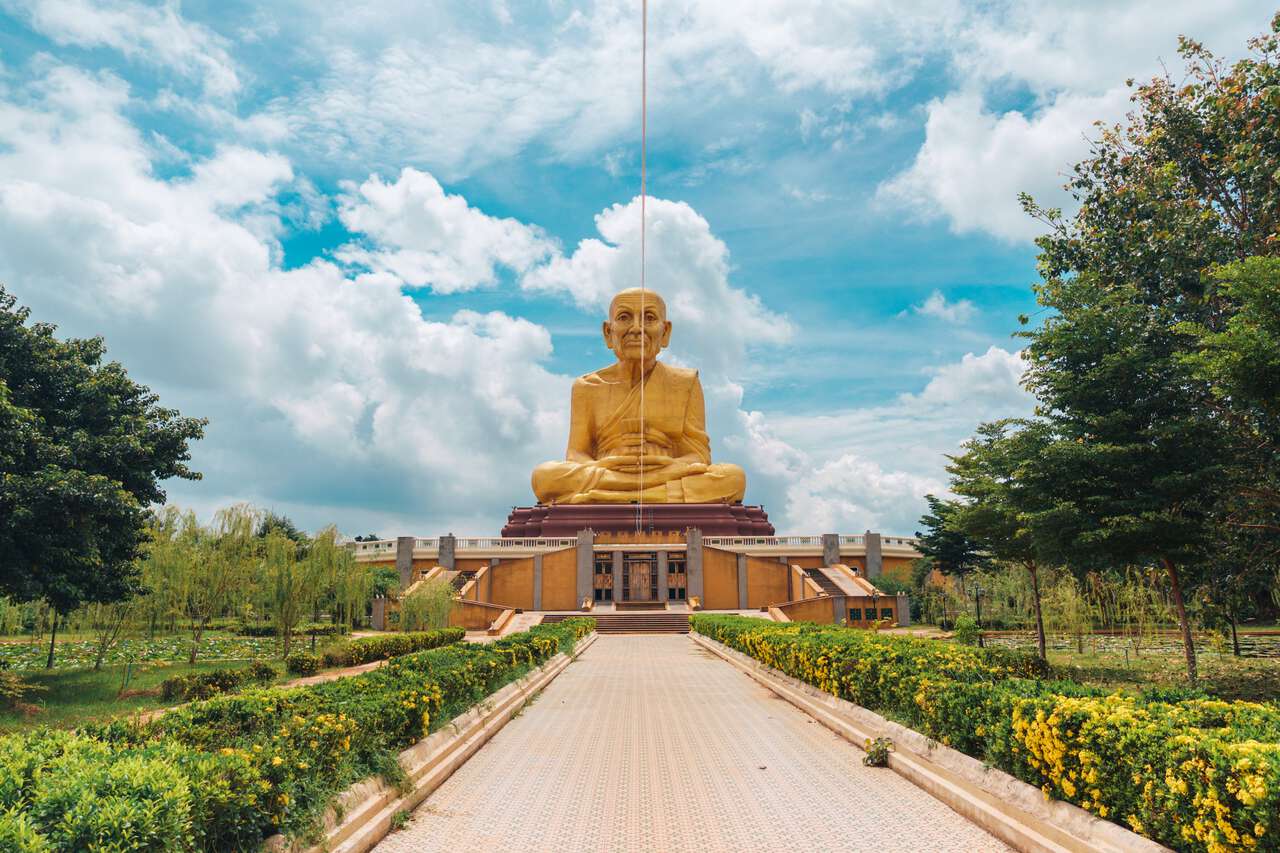 Maharat Buddhist Park opens from 7 AM – 5 PM and it is free to enter. If you are there on the weekends, you will have to be a bit patient when it comes to finding a parking space. There's a lot of parking spaces but due to its proximity to the highway and Bangkok, Maharat Buddhist Park gets a lot of local tourists also.
Pay Respect To The Revered Reclining Buddha Image At Wat Pa Mok Worawihan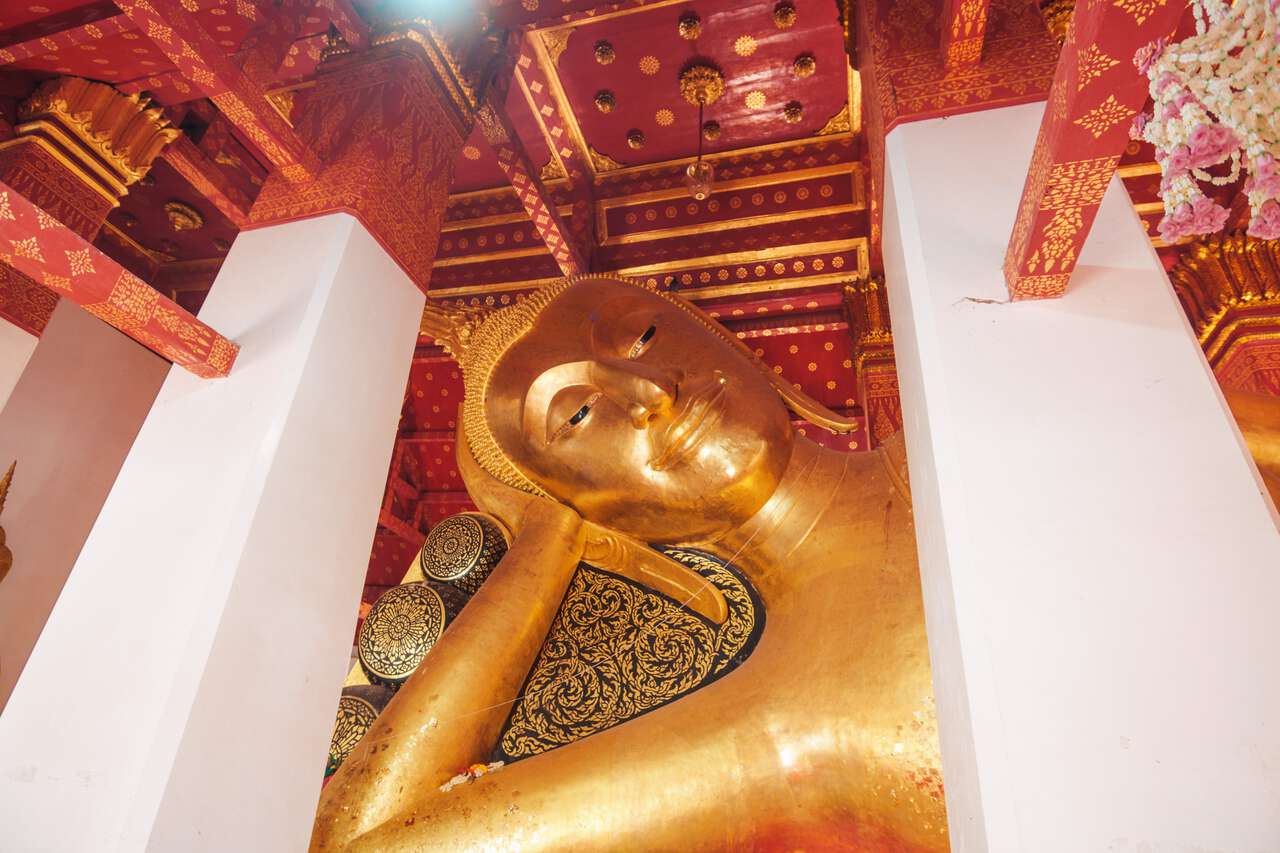 At the southern edge of Ang Thong province, you will find another old and highly revered Reclining Buddha Image at Wat Pa Mok Worawihan. This reclining Buddha image is smaller and gets fewer tourists than the one at Wat Khun In Phramun but it is still a nice place to visit especially if you are on your way from Bangkok to Ang Thong.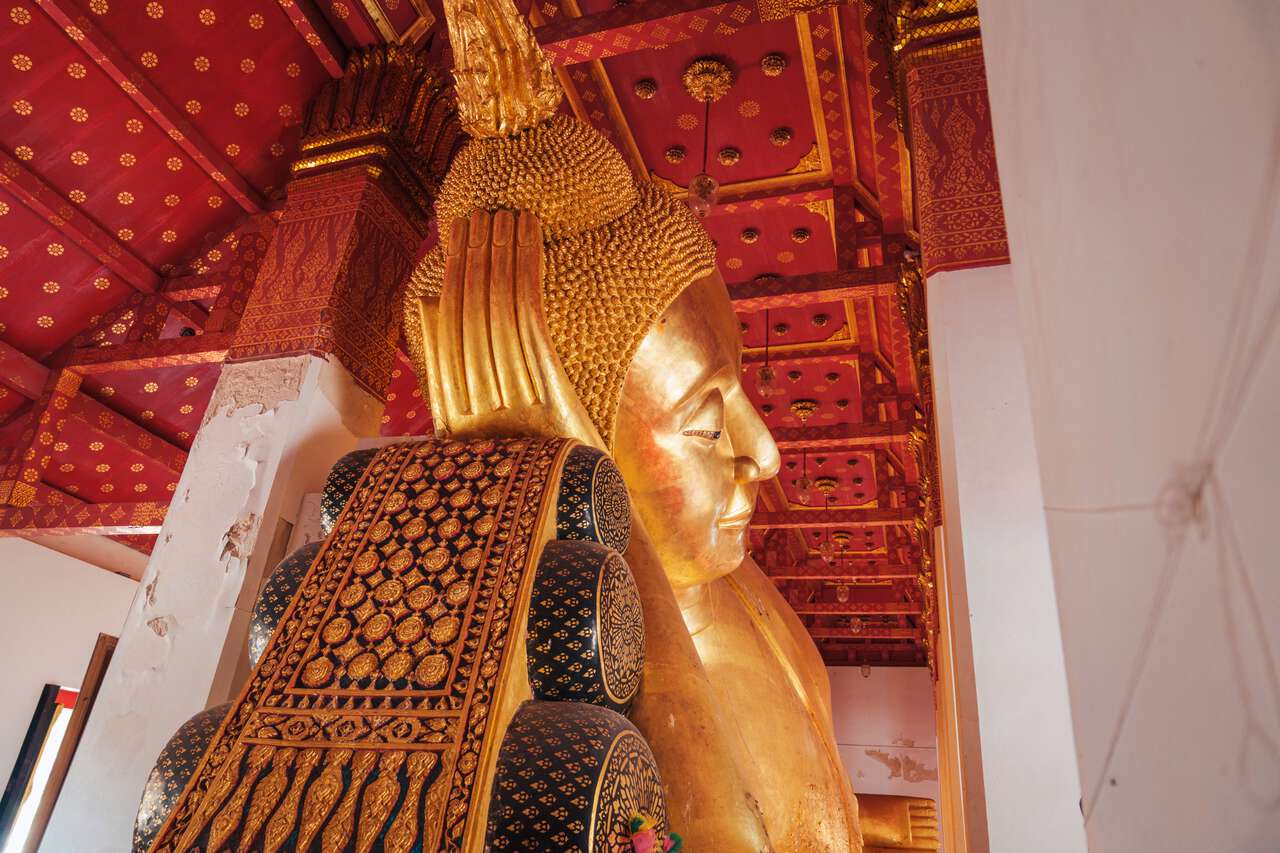 The reclining Buddha image of Wat Pa Mok Worawihan is 23 meters long, housed inside a temple that was believed to have been built in the Sukothai period from the 13th – 14th Century.
According to the local legends, this Buddha image was swept from an unknown source along the Chao Praya river and the locals were able to recover it and enshrined it by the riverbank of Chao Praya river where it was discovered.
As the river bank shifted, the image was then moved to the current location and it was integrated into a temple nearby to become Wat Pa Mok Worawihan. The temple opens from 7 AM to 5 PM and it is free to enter.
Check Out The Big Seated Buddha Image At Wat Tonson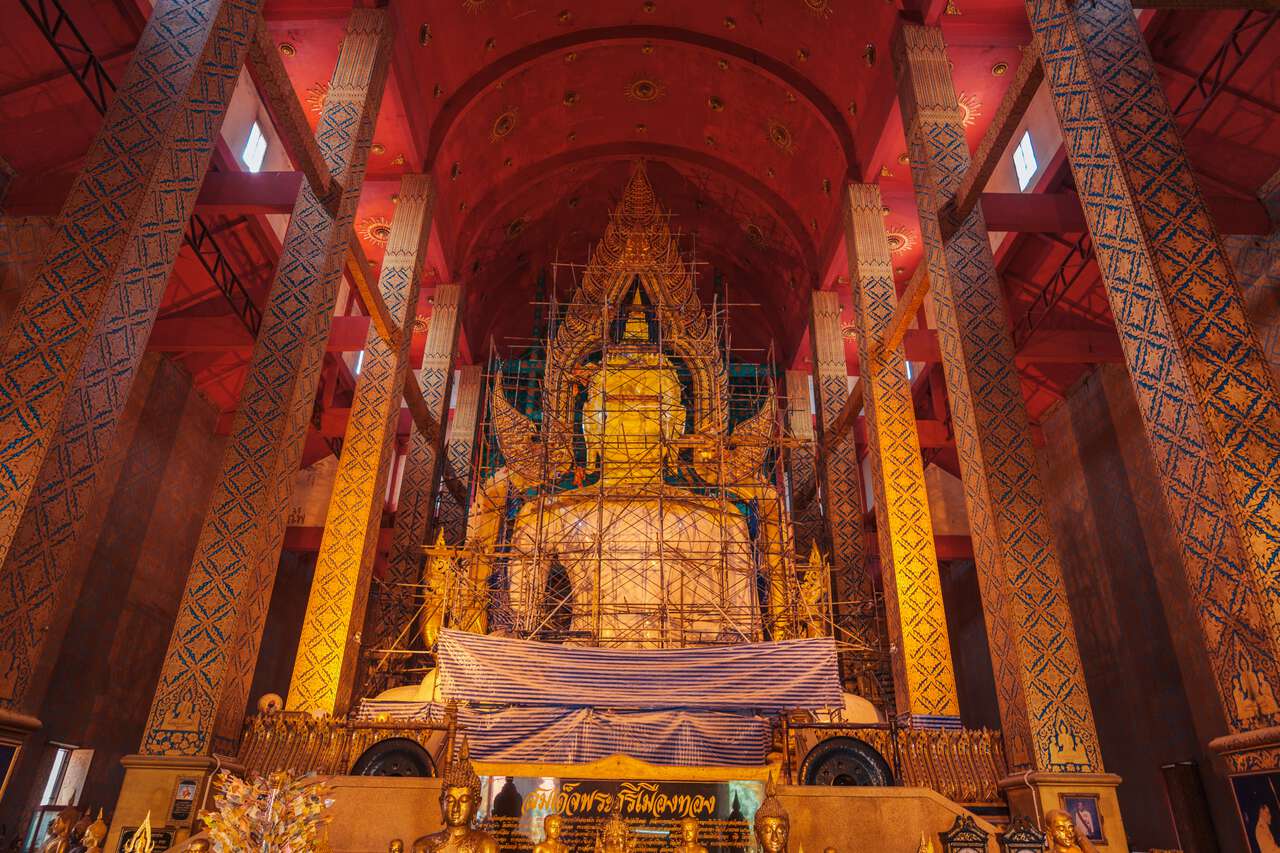 Wat Tonson is another old temple located on the riverbank of Chao Praya River, home to one of the first biggest metal Buddha statue in the country and revered by many.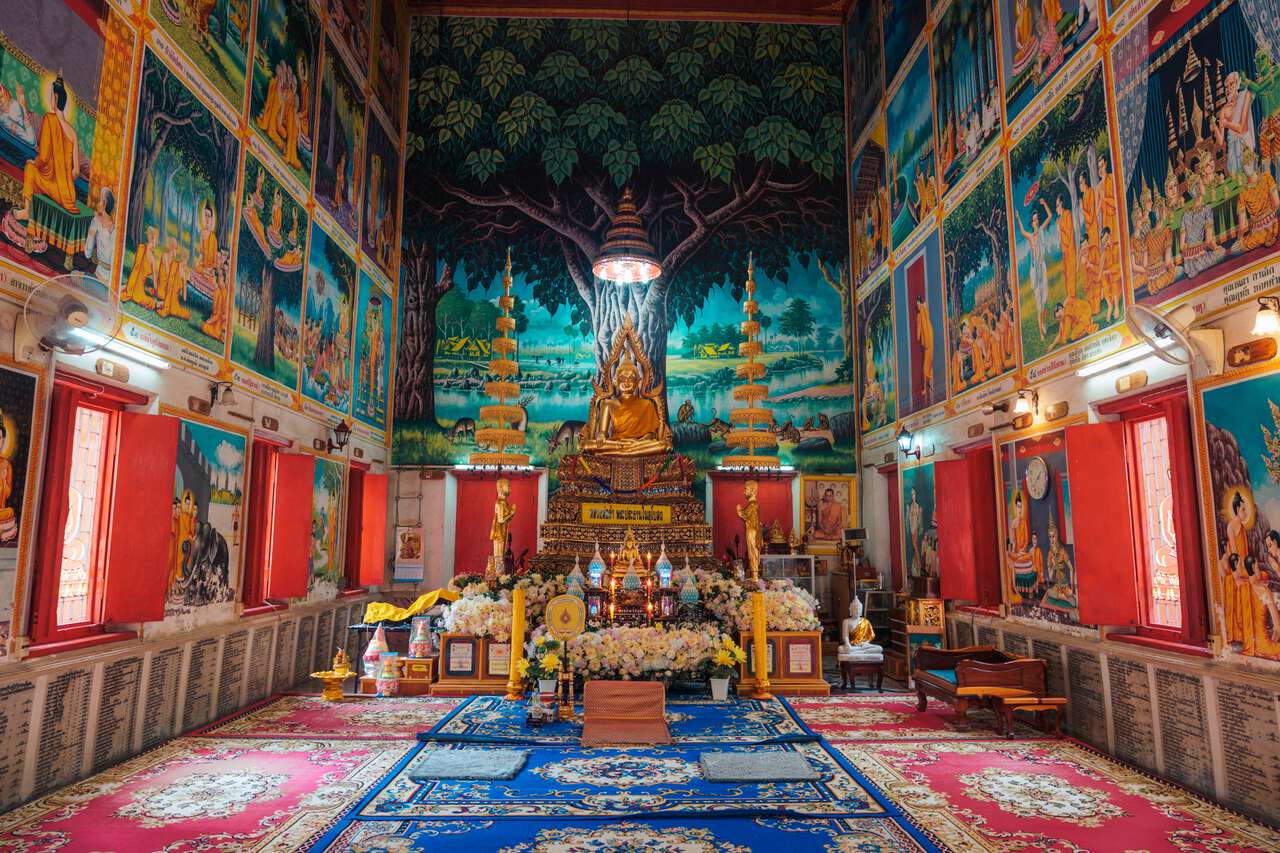 Stories have it that the temple was built in Ayutthaya era in the 18th Century but due to its lack of venerable objects like other temples, it was almost deserted until a former leading abbot of Ang Thong started expanding the temple in 1945 and started constructing the seated Buddha image that the locals have come to revere.
Unfortunately, when I was there, the Buddha image was still under renovation so it may not look as impressive in my photos here. The temple opens from 7 AM – 5 PM and again, it is free to enter.
What To Eat And Drink In Ang Thong
Have Lao Coffee At The Lao Cafe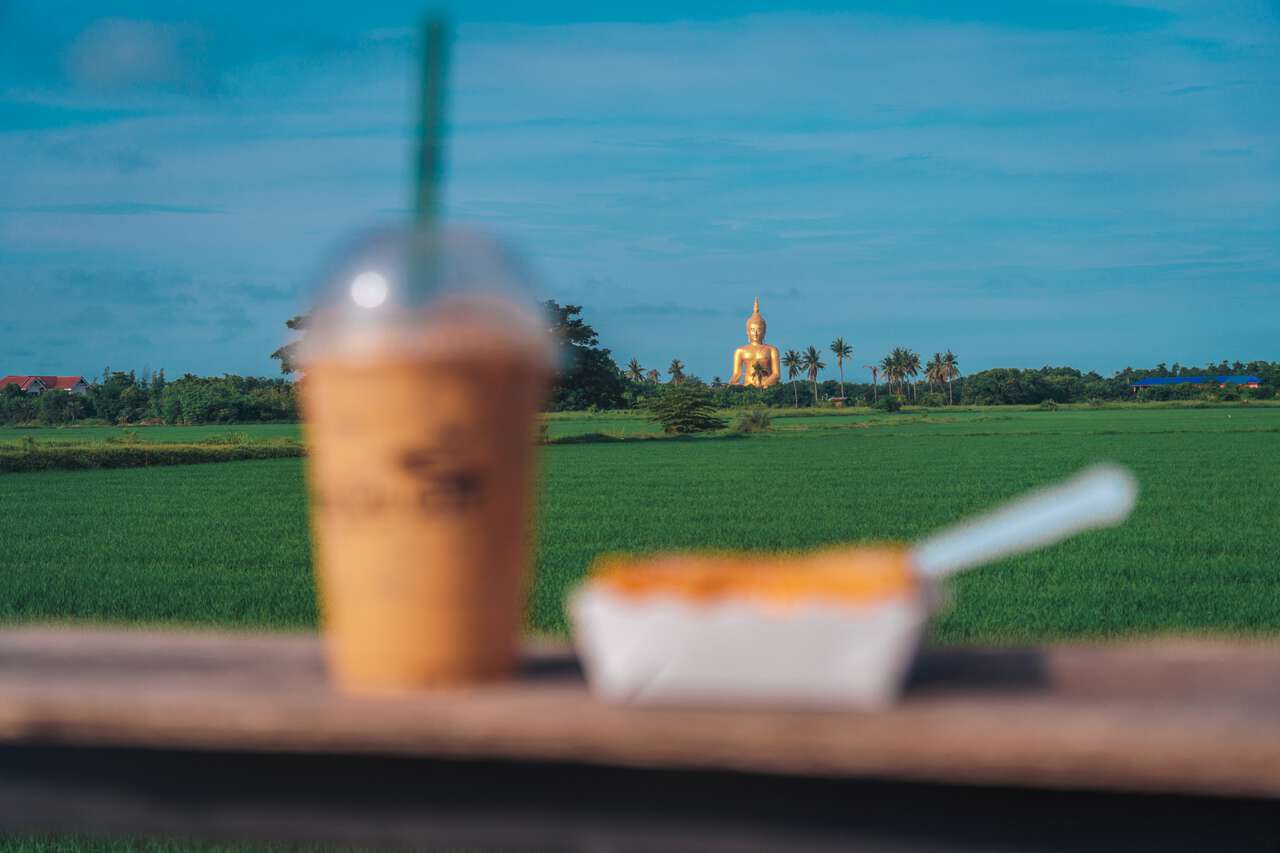 If you are looking for a nice cafe with the best view in Ang Thong, the Lao Cafe is the best place to be. I often frequent here for breakfast and just a relaxed afternoon with a glass of iced Lao coffee and butter and sugar toasts.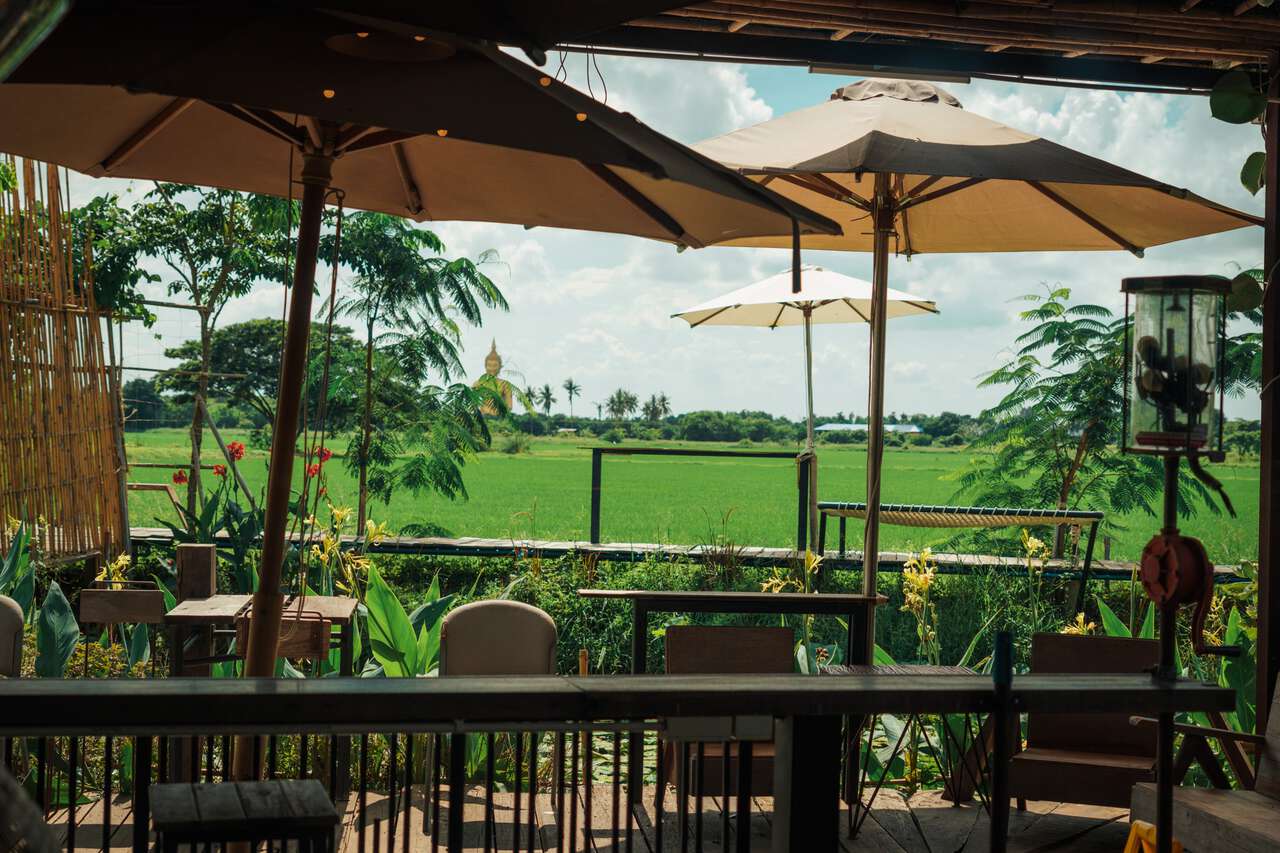 The Lao Cafe is located off the highway but due to its location, you will be able to see the Great Buddha of Thailand statue facing perfectly at the outdoor seating area of the cafe from across the rice fields.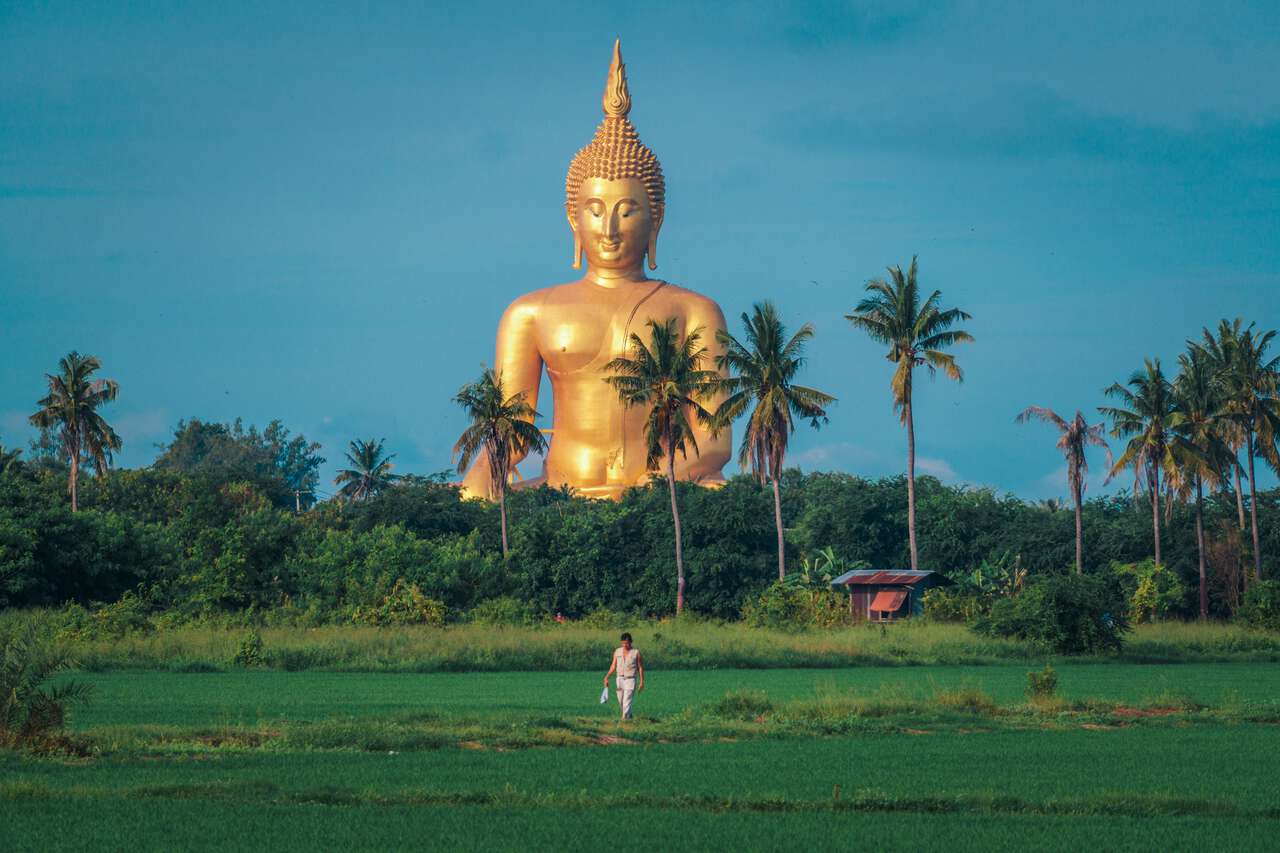 It is probably the best view of the Great Buddha of Thailand statue as you are far enough to comprehend the scale of the Buddha image statue with the rest of the surrounding landscape.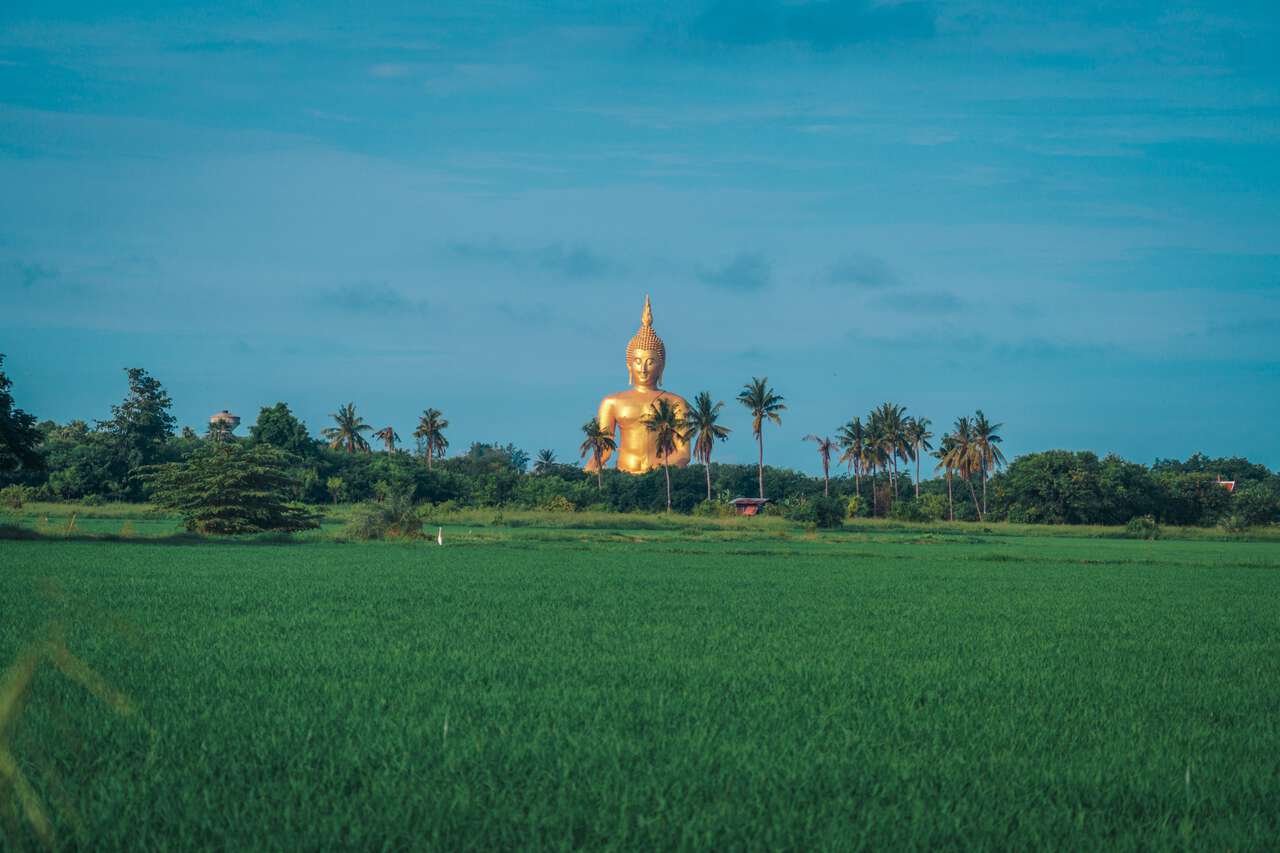 Plus, they serve delicious sweet and strong Lao-style coffee, breakfast, and lunch while they have an air-conditioned area for those who are looking to escape the afternoon heat of Ang Thong. The Lao Cafe is hands down the perfect place to slow down your trip, sit back, relax, and enjoy the greatest landmark of Ang Thong.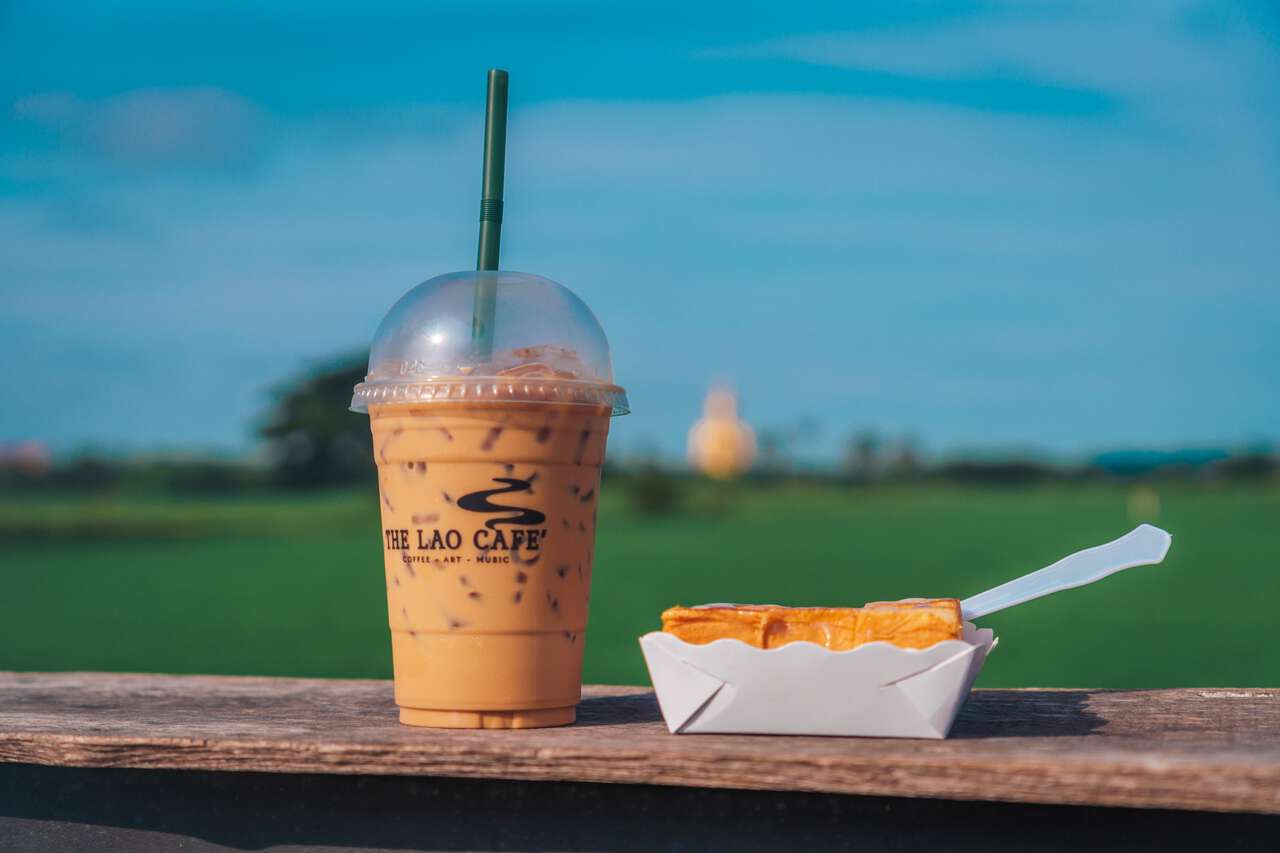 The Lao Cafe is opened from 8 AM to 7:30 PM every day. There are some parking spaces inside the cafe area but if it gets crowded, you will have to park along the side of the road. The cost of coffee is fairly affordable at around 60 – 80 THB per drink.
Eat The Prawn Pad Thai At Niramit Restaurant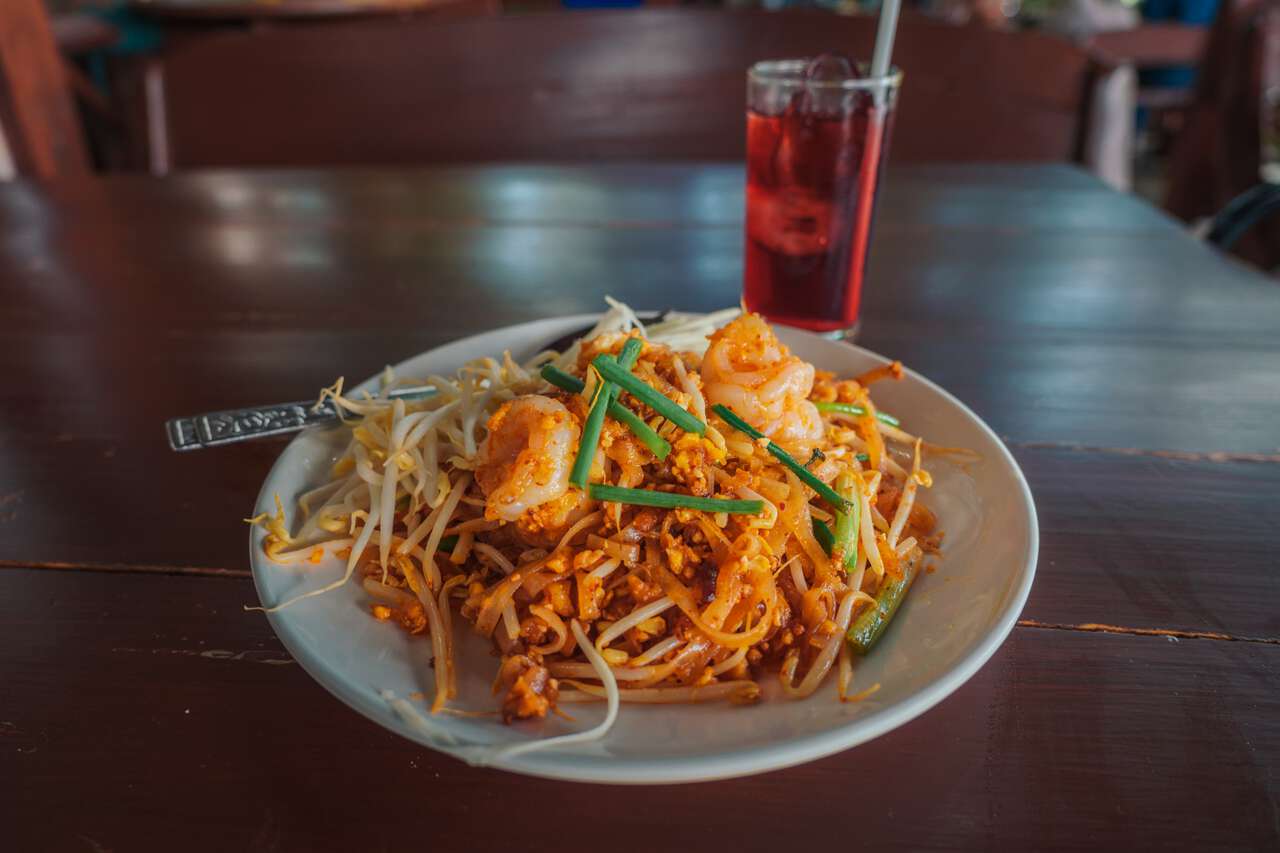 Another popular restaurant among locals is Niramit Restaurant where they serve all kinds of delicious Thai dishes at a fairly affordable price. Niramit Restaurant is known for its prawn and other seafood dishes which is great if you are in a big group where you can share many seafood dishes among your friends.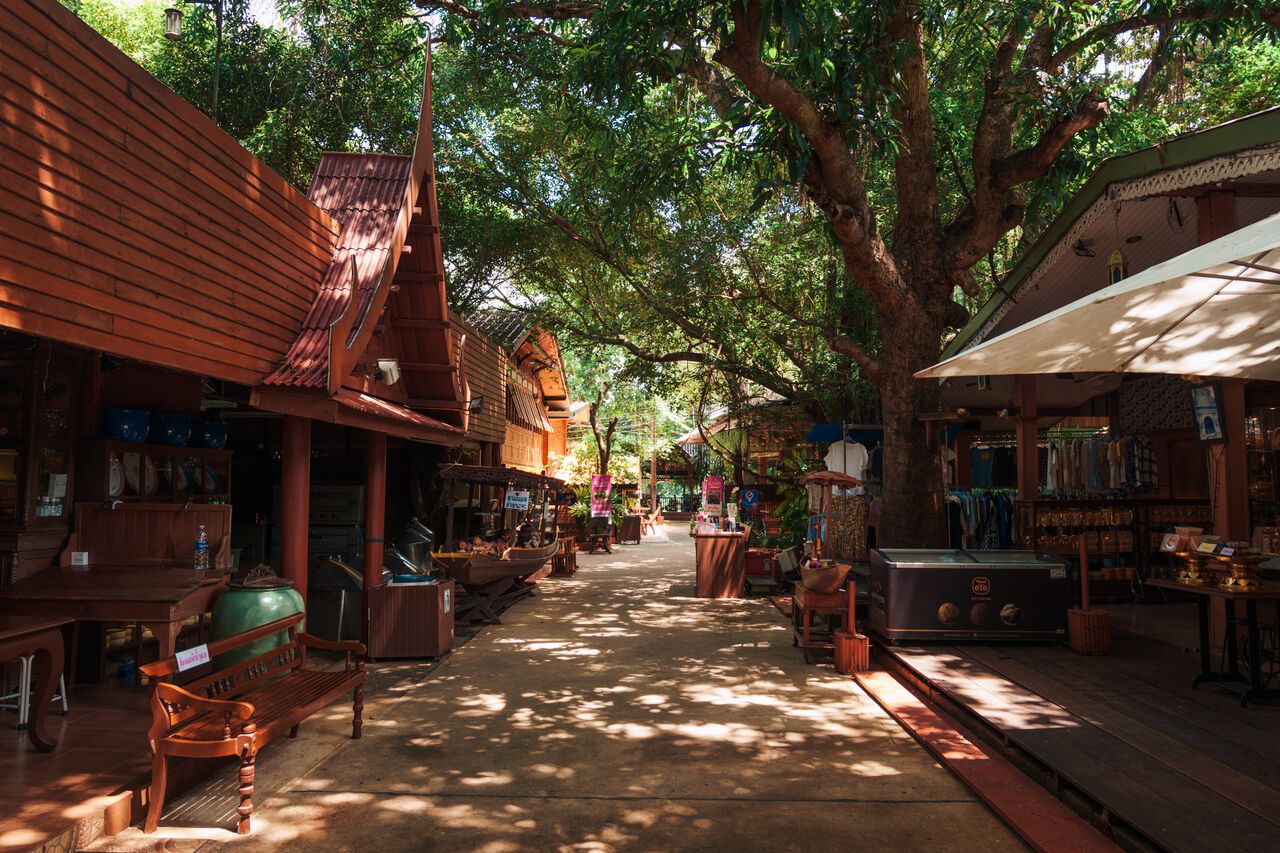 If you are a solo traveler like me, you can also get the Prawn Pad Thai dish for one which was delicious and only 50 THB. The prawns are huge and juicy and the Pad Thai seasoning was sprinkled with spice to get your taste buds going.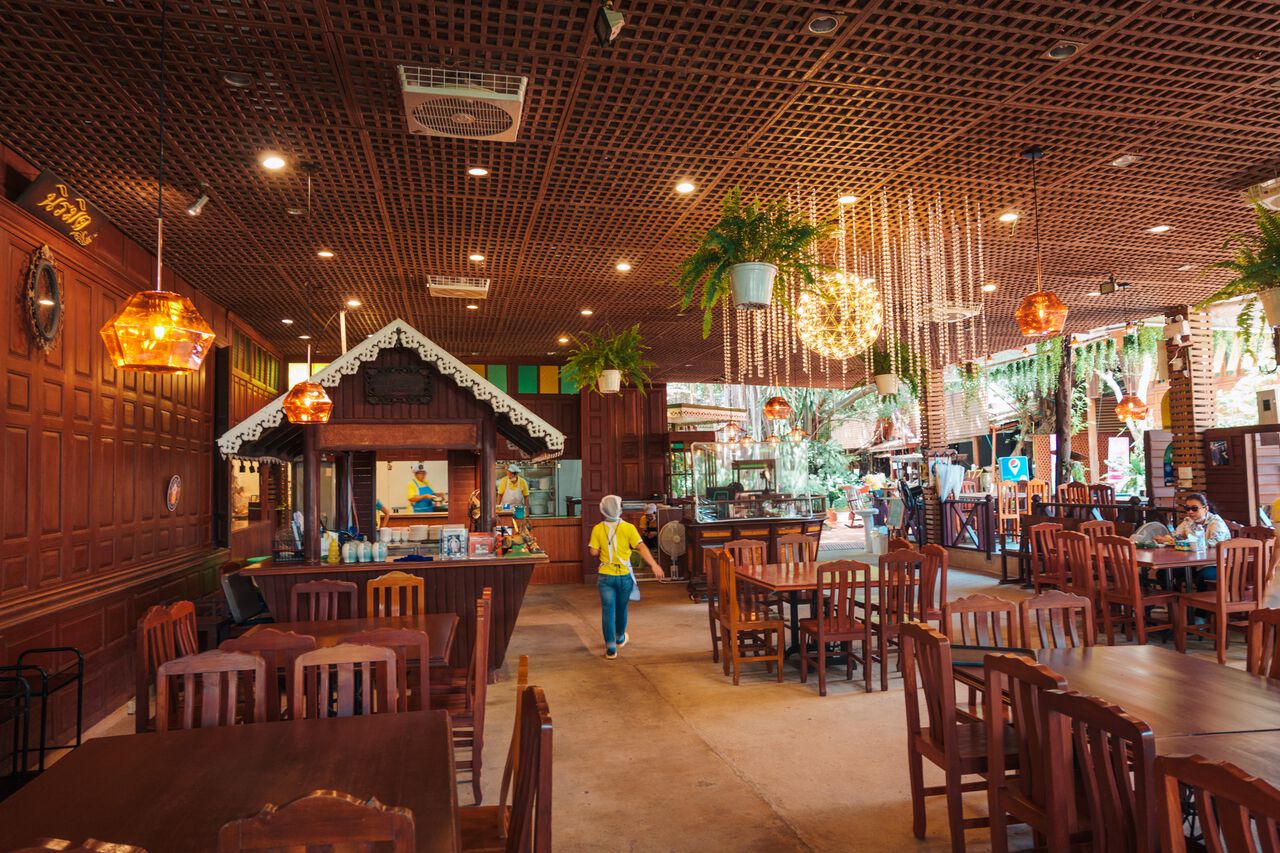 They have a few parking spots in the restaurant or you can park at the Wat Nang Nai Thammikaram's parking lot, explore San Chao Rong Thong Vintage market, and then just walk to Niramit Restaurant. Niramit Restaurant opens from 10 AM to 8 PM.
Have Thai-Style Steak At The DR. STEAK Restaurant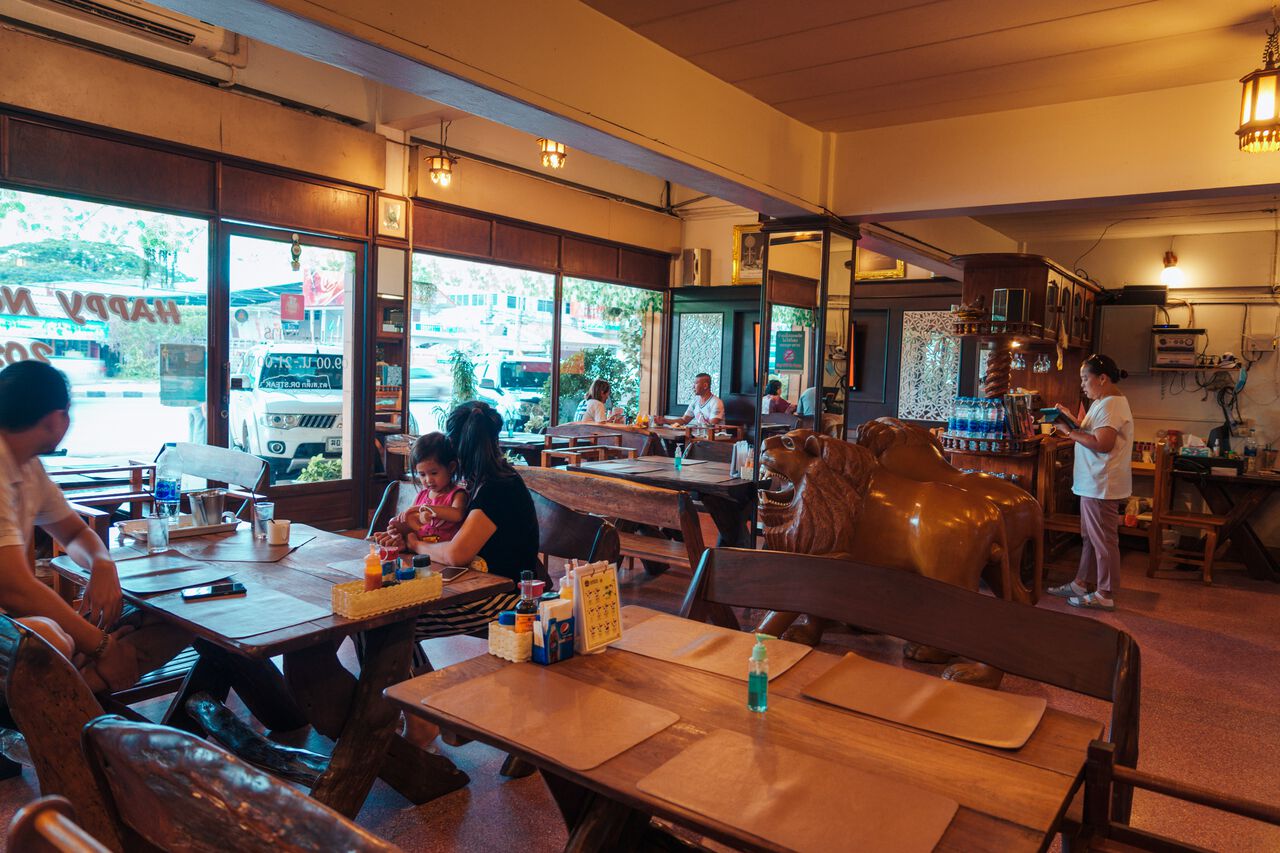 Last but not least, if you are staying at Smile Resort like I did and are looking for a restaurant nearby to have dinner, DR. STEAK Restaurant, located only 10 minutes walk away from the resort is a great choice for you.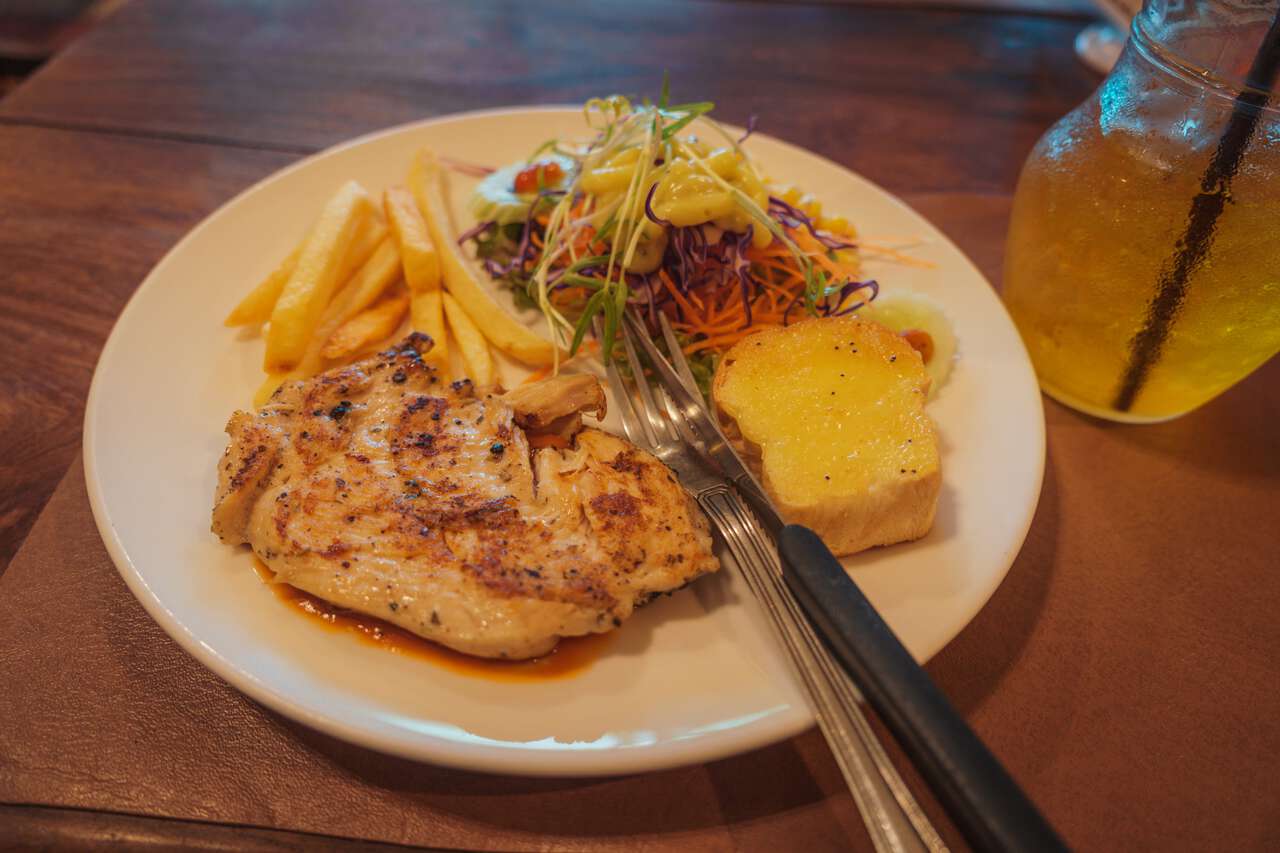 DR. STEAK Restaurant, as the name suggested, serves Thai-style steaks which often come with a steak of your choosing, a small portion of salads, and buttered bread. You can also indulge yourself in Thai-traditional desserts and drinks that go really well with their steaks.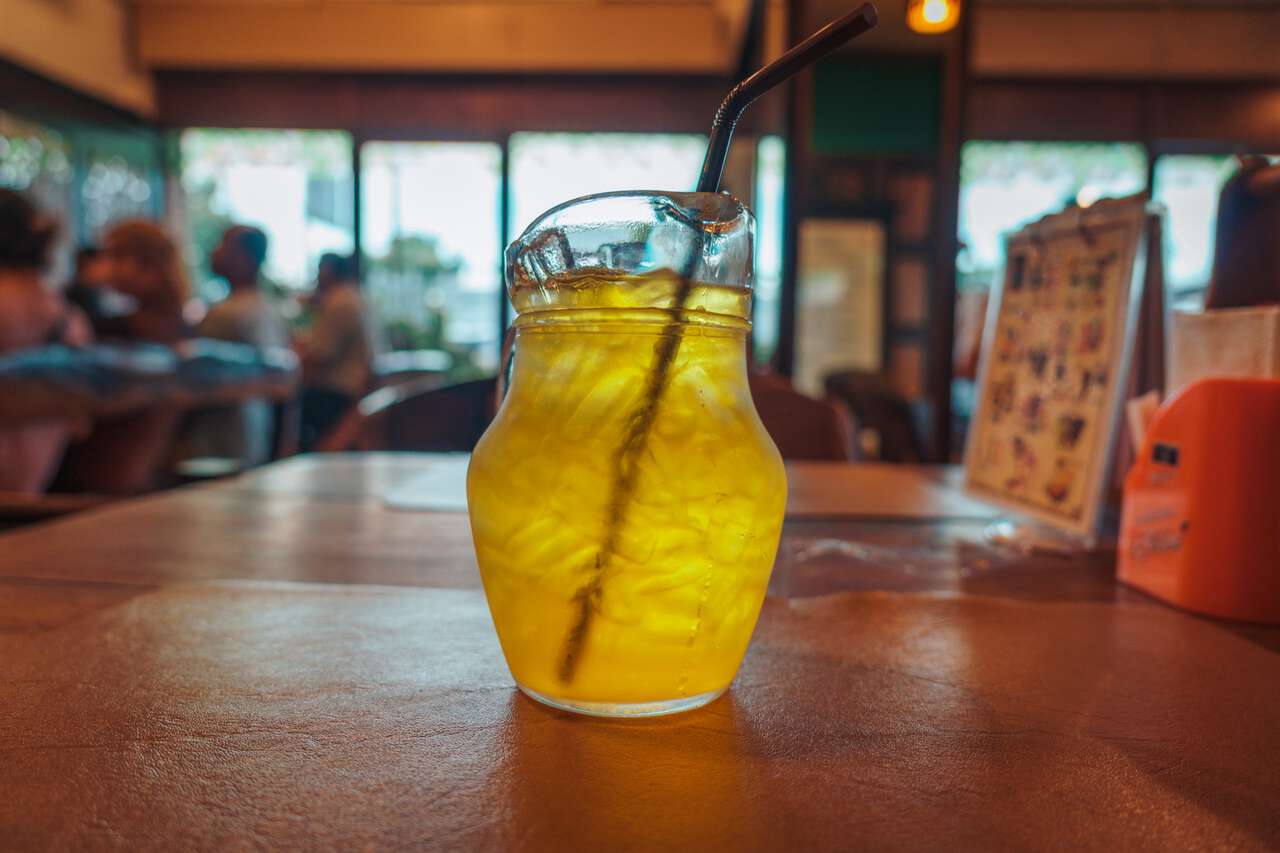 The cost of steaks here varied from 70 – 200 THB depending on the type of steak you want. The restaurant is located along the main road. It opens from 9 AM to 9 PM. There are a few parking spaces in front of the restaurant but you can also park along the road, no problem.
And there you have it, a complete travel guide and top 10 things to do in Ang Thong. If you are planning to visit Ang Thong and have some questions regarding this itinerary, do not hesitate to ask me in the comments below.